Chef Padma Lakshmi's New York City Home Is a Beautiful Blend of Colors — Go Inside
Television host Padma Lakshmi has been living in her New York City home since the early 2010s. Watch videos and see a photo inside her luxurious property.
Padma Lakshmi spends most of her time in the kitchen. She prepares meals in her New York City home with her daughter, Krishna, when she is not on Bravo's "Top Chef."
There's more to the star's house than her kitchen, though. The mansion consists of a main living area, a stunning entrance, a formal dining room, and various bedrooms and bathrooms.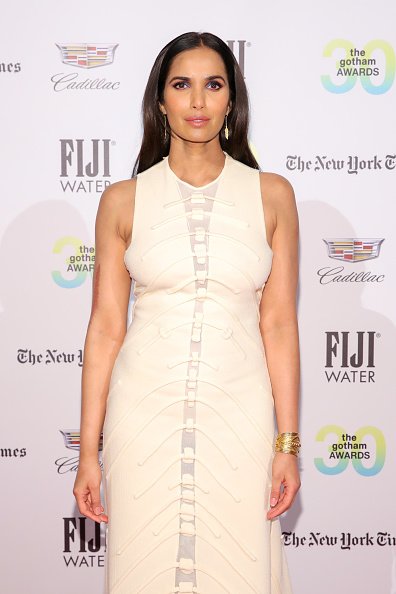 A BEAUTIFUL ABODE
Lakshmi's house is undoubtedly fitted with the latest kitchen technology because she is always creating new recipes. The space has high-end appliances, endless storage space, and a bar top.
The celebrity chef made sure to include all the desirable amenities when she moved into her home. Among her luxury features are black countertops she had custom-made.
Lakshmi has shared plenty of other views of her magnificent abode in addition to the kitchen. During the holiday season of 2020, she showcased her beautiful living room while decorating a tree.
Lakshmi also shared a glimpse inside her abode while cuddling with their dog on a velvet couch. Her home has a lot of colors that are influenced by her Indian culture.
A vaulted ceiling, brick walls, and hardwood floors grace the residence. The entryway is decorated with sea-green walls, artwork, and vintage doors. One bedroom offers a large bookcase.
After her diagnosis, she was told she would never have children naturally.
A SUCCESSFUL WOMAN
Emmy-nominated Lakshmi is an acclaimed actress, food expert, model, New York Times bestselling author, and the 2016 Ellis Island Medal of Honor winner.
The star was born in India and raised in America. She hosts and executive produces Bravo's Emmy award-winning "Top Chef," which is now in its 15th season. 
She received a Bachelor's Degree in Theatre Arts from Clark University and kicked off her career as a fashion model in Europe and the United States. She is known as India's first supermodel.
Lakshmi is a successful entrepreneur as well. Her debut line, The Padma Collection, can be found at Bloomingdale's; she also has a culinary product line called Padma's Easy Exotic.
A 'MIRACLE' BABY
As a child, Lakshmi had undiagnosed endometriosis. She wasn't diagnosed with endometriosis until she was 36 when Dr. Tamer Seckin identified her symptoms.
After her diagnosis, she was told she would never have children naturally, so she sees Krishna as a miracle. She shares her daughter with Adam Dell, her off-and-on boyfriend.