Chris Meloni Teases Fans with a Photo from the Set of 'Law & Order' Spin-off 'Organized Crime'
Chris Meloni gets fans excited over his return to the "Law & Order" franchise in the spinoff, "Organized Crime," with more Instagram pics of how production is coming along. Meloni left the series in 2011 due to contact issues.
Yet again, Chris Meloni has teased fans about his much-anticipated appearance on "Law & Order, Organized Crime." The actor shared a photo along with a caption aimed at keeping fans patient while waiting for his return to social media.   
In the snap, Meloni is peeking through a glass door bearing a white piece of paper that's written, "Law & Order, Organized Crime." Below that is his character's name, Elliot Stabler.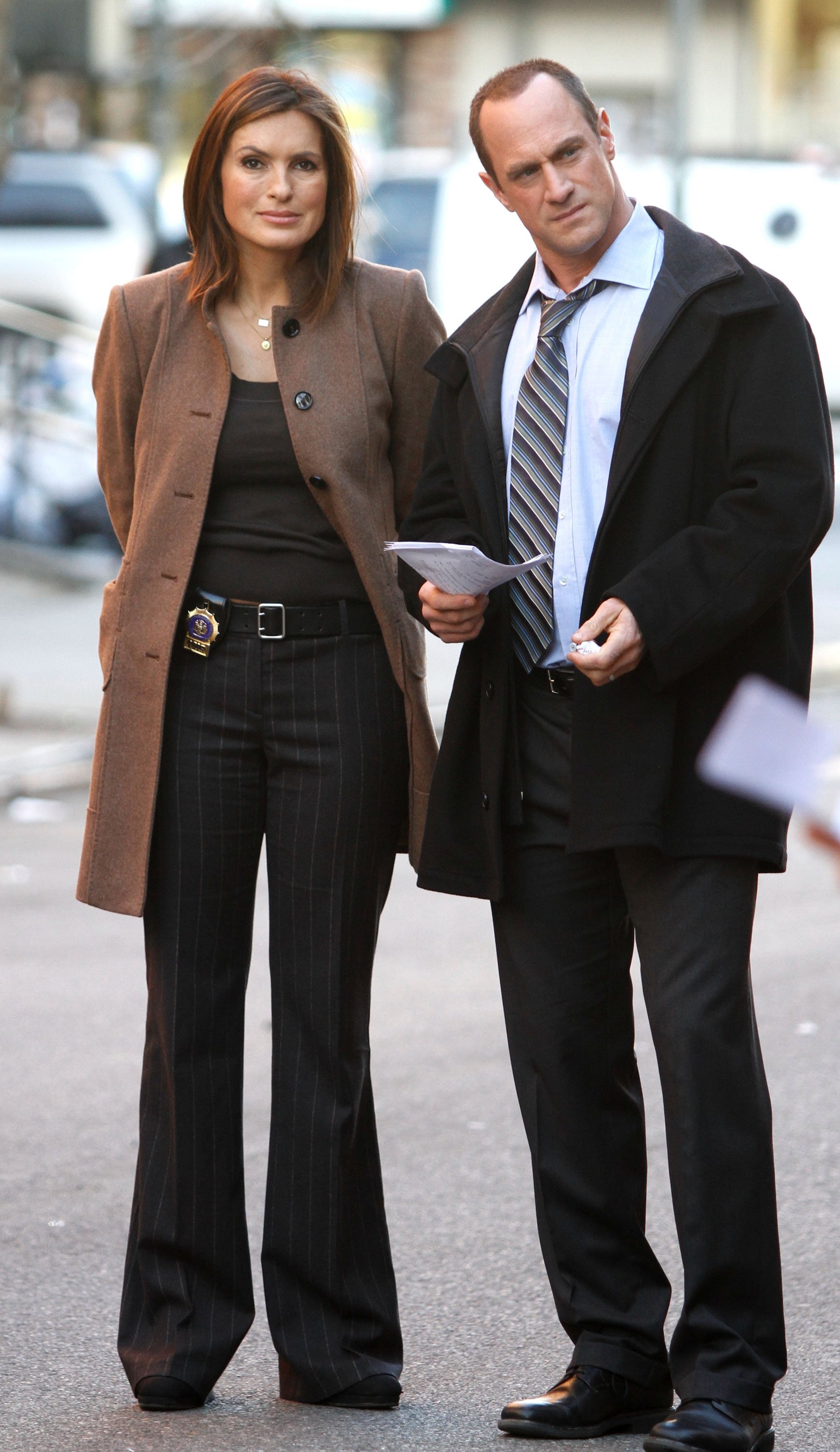 Meloni's caption reads, "we're working on it," which immediately sent commenters into a frenzy. One follower mentioned how excited he was to see Stabler and Olivia Benson, played by Mariska Hargitay, back together. 
Even stars couldn't hide their delight with the likes of Debra Messing, of "Will and Grace" fame, "The Late Show's" Laura Benanti, and fellow "Law & Order" castmember Denmore Barnes getting in on the action. One commenter exclaimed: 
"I've never fanned out over anything before and I'm with famous people all the time, but this! I can't take it."
Meloni and his castmate, Hargitay, have enjoyed their game of tantalizing fans with snippets of the new show's preparations over the past few weeks. This includes pics of zoom table reads and plenty of Instagram photos. 
The two also played their own version of 'tag your it' earlier this month, when Meloni captioned a black and white pic of the two of them "a little bit closer." Hargitay followed up a few hours later with her color picture captioned "now even closer." 
Their characters have never developed a romantic relationship. 
Meloni will have a guest appearance in "SVU," which has made history as the longest-running drama series by entering its 22nd season. This will provide the prelude for his start on "Organized Crime." 
Speaking to "The Talk," Meloni hinted that fans would be provided with answers that will explain his character's sudden departure from the show in 2011. Furthermore, when asked about his and Hargitay's work relationship, Meloni was excited, saying: 
"We will both be looking forward to playing with each other in each other's sandbox." 
Hargitay and Meloni's characters' history on the show began in 1999 when SVU premiered. Although they work as partners throughout their years on the show, their characters have never developed a romantic relationship. 
That working relationship came to an abrupt end in 2011 when Meloni left the show. It was discovered that contractual disagreements had been the cause for his exit, which saw his character written out of the show. 
After news first broke in March last year that a new spinoff was on its way, the Coronavirus pandemic and subsequent lockdown restrictions disrupted the production, causing a delay in the premiere date. 
Even though filming has evidently resumed, no official premiere date has been announced. It's no wonder Meloni and Hargitay have been teasing fans on social media. They must know how much they are anticipating seeing them back on their screens.