Madonna Celebrates Daughter Mercy James' 15th Birthday at a Skate Park — See Video
Madonna recently took her daughter Mercy James to a skate park to celebrate her fifteenth birthday. Find out how well the budding skateboarder displayed her skills.
Queen of Pop Madonna took to Instagram to share how her family celebrated the fifteenth birthday of her adopted daughter, Chuifundo Mercy James. 
In the video she posted, Madonna and her family are seen at a local skate park with her beau, Ahlamalik Williams. She captioned the clip: "SkatePark extravaganza for Mercy James Birthday!"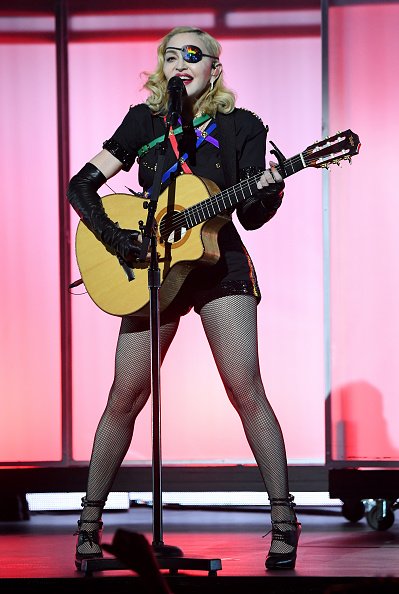 Mercy shared her incredible skateboarding skills for the cameras alongside her siblings. She also taught the twins, Stella and Estere, how to ride their skateboards.
Madonna, who is regarded by many people as one of the most influential figures in pop culture, also shared a series of photos that includes a sweet mother-daughter selfie pictured by Mercy.
"This is how we celebrate the birthday of Chifundo James- Warrior in training!!," Madonna captioned the adorable posts. The singer wore a tie-dyed blue sweater in the photos.
Mercy was successfully adopted by Madonna when she was four years old. Though Madonna sought custody of Mercy in court, Malawi's adoption laws eventually placed her in an orphanage.
While in her birth country, she developed a natural resistance to malaria.
After adopting Mercy and David, Madonna decided to adopt another set of female twins, so she went to Malawi and started adopting Stella and Esther.
The "Like a Prayer" singer succeeded in adopting the children in 2006 from the Home of Hope Orphanage in Mchinji, Malawi. Madonna has two biological children, Lourdes and Rocco.
Mercy was born in Thwonde, a village in Southern Malawi, Africa. While in her birth country, she developed a natural resistance to malaria, a disease affecting many people in Africa.
Mercy was born under Aquarius, a sun-sign associated with late January. Aquarians tend to be more reserved. On the other hand, Madonna was born in the opposite sign, Leo.
Mercy's fourteenth birthday was celebrated in Lisbon, where Madonna brought her on stage to wish her a happy birthday. The star was beaming with pride as Mercy said she looks up to her.
Meanwhile, in 2017, the Mercy James Institute for Pediatric Surgery and Intensive Care at Queen Central Hospital in Malawi was opened in her honor by Raising Malawi's founder.