Chris Brown's Adorable Son Aeko Looks Thoughtful Sporting Colorful Hooded Overalls
Chris Brown and Ammika Harris's son, one-year-old Aeko Brown, looked thoughtful and jolly in a pair of colorful overalls with a hood featured on his daddy's Instagram story yesterday.
Chris Brown shared a picture on his Instagram story of his son, Aeko Brown, who appeared to be ruminating on something in his black overalls patterned with a green and blue graffiti-style design.
Aeko is captivating, bundled up in his one-piece outfit. There is no doubt that his proud father could not resist showing off his only son with his fans and followers.
Aeko is pictured standing, looking slightly lost as he stares at something off-camera. It is raining, and the charming child is wearing a hood to protect him from the elements and something woolen and warm underneath.
In the last few months, both Brown and Harris have been posting idyllic pictures of their son and together as a family. The internet has been relishing in the trio's aesthetic. Harris recently captioned an Instagram post:
"Moon pie. (whenever I don't feel good, this little man would come and comfort me, holding my hand/arm)."
Last year, Harris shared the most adorable video of her son laughing on Instagram to honor reaching the six-month mark. The footage left followers swooning at Aeko's cuteness.
Aeko is undoubtedly going to be a heartbreaker when he grows up. With his melted chocolate brown eyes and perfect head of curls, it is unsurprising that his parents are obsessed with him.
Harris was seen holding hands with Brown during a music video shoot in 2020.
Aeko was born in November 2019, and although Brown and Harris split shortly after they announced his arrival, Aeko's father promised to take care of them financially, medically, and emotionally.
Joyce Hawkins, Aeko's grandmother, is also very taken with her only grandson and frequently posts about him. She recently shared a picture of him looking very dapper in a light brown outfit. She captioned the image:
"AWWWWW MEME LOVE YOU!!!"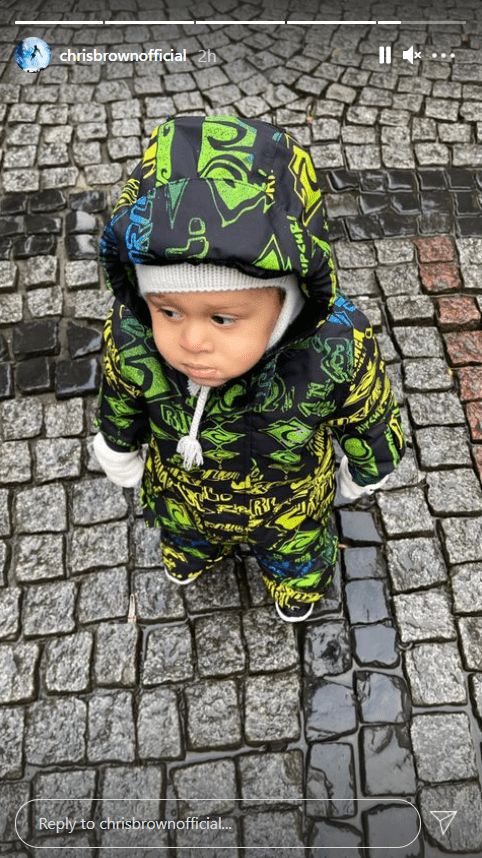 Harris was seen
holding hands
with Brown during a music video shoot in 2020. Rumors have been circulating that Aeko's parents are once again romantically involved.
Brown was filming a music video with Young Thug in Los Angeles when Harris and the "With You" singer were captured holding hands on the set. 
Aeko's parents have yet to confirm whether they are indeed back together, especially after their severe split when Brown even unfollowed his baby mama on Instagram.
Brown's fans and followers would love to see them united again, but until then, they can enjoy the incredibly gorgeous pictures of their genetically-blessed child.