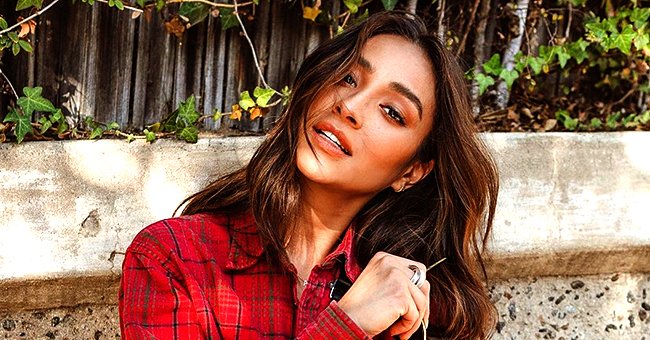 Instagram/shaymitchell
'Pretty Little Liars' Star Shay Mitchell Looks Breathtaking Wearing a White Bikini on a Yacht
"Pretty Little Liars" actress Shay Mitchell privileged her 29.5 million Instagram followers with pictures of her in a breathtaking white swimsuit and posing seductively on a yacht.
33-year-old Shay Mitchell (who starred as Emily Fields in "Pretty Little Liars") recently posted some stunning shots on her Instagram wearing a gorgeous white bikini on a yacht.
The Canadian model looks flawless in the two-piece over which she has a striped oversized lilac shirt. Mitchell is positioned delicately at the edge of the boat, flaunting her long, elegant legs.
Mitchell has a pair of white-rimmed sunglasses to match her swimming costume, and the sleeves of the button-up shirt she is wearing are rolled up to her slender elbows. Mitchell's fans were blown away by her grace.
In the second image, she arches her back in a close-up shot showcasing her toned physique with the beautiful backdrop of the cobalt ocean behind her. Her swimsuit contrasts the blue of the sea. She titled her post with a pun, saying:
"This day was boatloads of fun."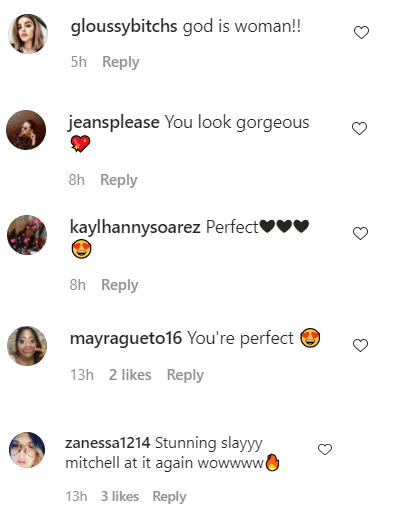 Screenshot showing comments on Shay Mitchell's IG post | Source: Instagram/shaymitchell
After 33-hours of intense labor, in October 2019, Mitchell gave birth to a baby girl named Atlas Noa with her boyfriend, Matte Babel. Her daughter's name was inspired by her love of globe-trotting and was suggested by a family friend.
Mitchell loves international travel, which she often documents on her social media feeds, and even has a travel accessories brand called BÉIS. She is also devoted to her daughter and shares love letters to Atlas with her fans.
Although Mitchell and her boyfriend are deeply in love, she has no desire to tie the knot any time soon.
Since Mitchell has become a mother, she works as a paid spokesperson for Pampers and its Share The Love campaign. The young entrepreneur also launched a baby collection under her travel line BÉIS.
But that's not all. Mitchell recently announced that she would be launching a workout program called "Four Weeks of Focus" designed by Kelsey Heenan for her, her friend Stephanie Shepard, and Mitchell's followers. She said:
"I just wanted a new start. I wanted something that I could commit to, and this felt like the perfect program for that."
Although Mitchell and her boyfriend are deeply in love, she has no desire to tie the knot any time soon. Mitchell said she loves weddings but that she is personally not ready to get engaged to Babel.
Babel has checked with Mitchell several times, and she has maintained that it is not what she wants at the moment. She is just enjoying watching him become a father to their daughter so far.
Mitchell also explained that she and Babel have their co-parenting strategy figured out already. Babel takes the night shifts after she feeds Atlas. She reiterated how grateful she was to have time together as a family.
Besides her new baby, Mitchell has her hands full with her strict workout regimes. She used to train with Kira Stokes but will now be completing Heenan's intense four-week program.
Please fill in your e-mail so we can share with you our top stories!