Meaghan Oppenheimer Is 'Lucifer' Star Tom Ellis' Second Wife — All about His Personal Life
Hollywood hunk Tom Ellis may be the toast of many ladies, but he is currently happily married to his second wife, Meaghan Oppenheimer. Here is all you need to know about his personal life. 
Talented actor Tom Ellis is no stranger to ladies' attention and has racked up quite a fascinating dating history since he first found fame on the hit BBC One soap opera "EastEnders" in 2006.
The British actor followed that up by portraying the lovable Gary Preston on BBC's "Miranda," which earned him the moniker "Miranda's boyfriend" amongst UK fans.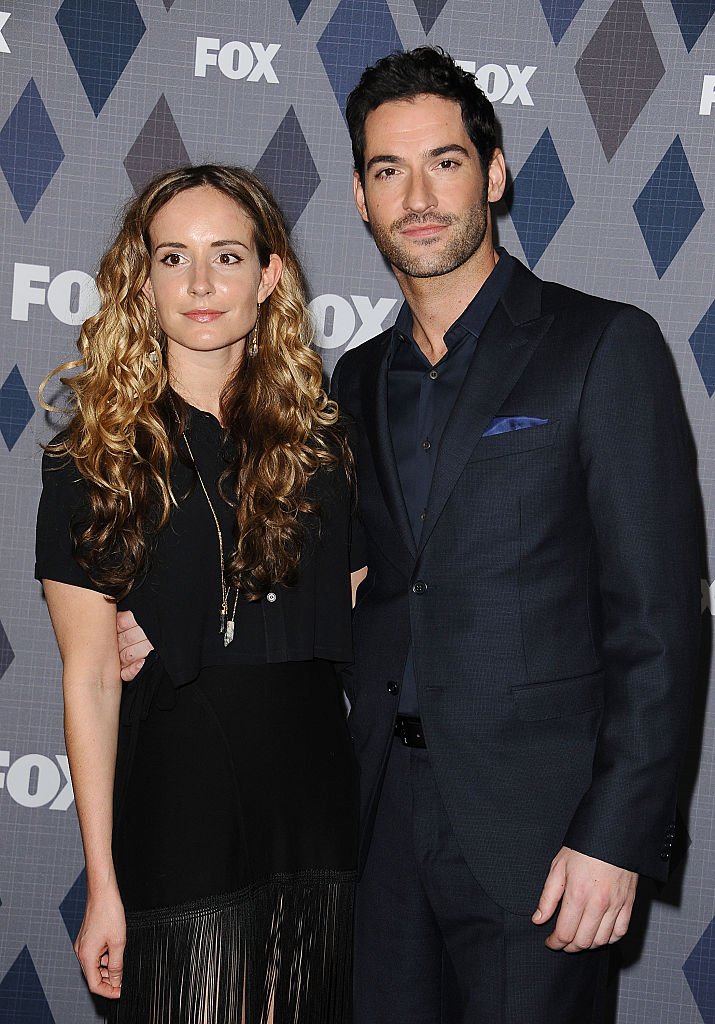 However, Ellis achieved unprecedented fame with his portrayal of Lucifer Morningstar in the popular series "Lucifer," which premiered on January 25, 2016.
Thanks to "Lucifer," the 42-year-old actor became an instant hit with the ladies and was even named as People's Sexiest Man of the Week barely a month later. 
Despite having many female fans swoon over him, Ellis had his eyes set on only one woman, Meaghan Oppenheimer. And he left many broken hearts after he decided to give marriage a second chance in 2019.
MEET TOM ELLIS'S WIFE
Tom Ellis's wife, Meaghan Oppenheimer, was born Meaghan Reed on March 28, 1986, in Tulsa, Oklahoma. She is no stranger to showbiz and began her entertainment career as a child actress. 
After a brief acting career, Oppenheimer switched her focus to writing, where she has enjoyed relative success. Some of her writing credits include the "Not Fade Away" episode of "Fear The Walking Dead." 
More importantly, Oppenheimer created the Facebook Watch series "Queen America," — a dark comedy that explores the world of pageants, starring Catherine Zeta-Jones as a beauty pageant coach.
ELLIS AND OPPENHEIMER MEETING
There is no exact specifics to the timeline of Tom Ellis and Meaghan Oppenheimer's relationship, but the duo is believed to have begun dating sometime in 2015.
Outwaithe was devastated after discovering Ellis's betrayal and quickly moved to end the marriage.
They managed to keep their romance under the radar at the early stages until Ellis decided to take their relationship to the next level by popping the question in March 2017.
On March 27, 2017, Oppenheimer shared the news of their engagement with her Instagram followers. Fans immediately flooded their social media with congratulatory messages and also asked for ways to give gifts for their special day. 
In response, the couple urged their fans to donate to Planned Parenthood instead of wedding gifts. The duo ramped up their support for the organization in the wake of the heavy abortion restrictions enacted in several states in America.
TOM ELLIS MARRIES MEAGHAN OPPENHEIMER 
Hollywood couple, Tom Ellis and Meaghan Oppenheimer tied the knot on June 1, 2019, at a classy and intimate ceremony in Santa Ynez Valley in California. 
Several of Tom Ellis' "Lucifer" co-stars, including DB Woodside, Rachael Harris, Lesley-Ann Brandt, and Kevin Alejandro, attended the wedding to support the hunky actor. 
Tom Ellis' daughters, Florence, 12, and Marnie, 8, from his previous marriage to actress Tamzin Outhwaite, also attended the wedding and acted as the flower girls. The "Lucifer" star is also dad to a teenage daughter, Nora, from a previous relationship.
Ellis and Outhwaite were together for nine years, but their marriage crumbled in 2014 after it emerged that the 42-year-old actor had stepped out on his wife.
TOM ELLIS' ADULTEROUS PAST
Tom Ellis and Tamzin Outhwaite began dating in 2005 after they were introduced by a mutual friend James McAvoy. Within weeks of dating, Ellis admitted he had found his soulmate, and the two later tied the knot in 2006.
With the arrival of their daughters and Ellis' career experiencing an upward surge, the duo quickly became one of the entertainment industry's most loved couples. 
Sadly, things quickly took a sour turn in 2013, after it emerged Ellis had committed adultery. He later admitted having a one-night stand while filming "Gothica" in the US. 
In 2015, Outhwaite later hinted that Ellis's betrayal was more than just a one-night stand. Several media reports also claimed that Ellis had a brief affair with Australian actress Emilie de Ravin.
Outwaithe was devastated after discovering Ellis's betrayal and quickly moved to end the marriage. They finalized their divorce in 2014, and the two have since moved on with their lives. 
TOM ELLIS'S BOND WITH KIDS
Despite the bitter ending to their marriage, the two have managed to build a cordial relationship for the sake of their daughters. More importantly, the two are actively involved in their girls' upbringing.
Over the years, Tom Ellis built a close bond with his daughters, but his acting schedule means he does not get to spend as much time as he would love with them. 
And this may be the reason why Ellis's daughters are not so thrilled about his acting profile. During an interview with People, he explained:
"Time and time again, if I'm on the telly, I'll go: 'Look, it's Dad on the telly,' and they'll sort of look up … give it a cursory glance and then carry on..."
Last year, Tom Ellis was separated from his daughters for seven months — the longest since his split from his ex-wife. While filming the fifth season of "Lucifer," he got trapped in Los Angeles due to the novel coronavirus outbreak. 
And travel restrictions placed by authorities meant he could not fly to the UK for a highly-anticipated reunion with his girls, who he was initially scheduled to meet after concluding filming.
Meanwhile, filming of the hit Netflix series had to be temporarily shut down due to the pandemic. In August 2020, the much-anticipated fifth season of "Lucifer" returned to Netflix. 
Since Fox Network famously canceled the show in 2018, it has enjoyed global success and recognition, culminating in Netflix signing it up for a final sixth season.
Even though Ellis is now faced with the end of his show, there is still reason to be excited about the future for the actor, whose stock has risen considerably in the last half a decade. Fans may even see a collaboration between Ellis and his wife, Oppenheimer.