Brandy & Her 18-Year-Old Daughter Sy'Rai Look like Twins Posing with Face Masks on Their Chins
Brandy Rayana Norwood and her 18-year-old daughter, Sy'Rai, greatly resemble each other in a recent picture shared in the R&B songstress' Instagram story.
Brandy and her teenage daughter, Sy'Rai Smith, could really be twins in the picture where they're posing with face masks on their chins, which was posted on her mother's Instagram page recently.
41-year-old Brandy has over 4 million followers on Instagram and privileged these fans with a sweet selfie taken with her daughter. Brandy and her daughter have similar smiles in the image.
Void of any makeup, both women flaunt their unblemished skin in the morning sunshine. Brandy and her daughter have their masks on around their necks. It is likely that they just pulled them down for the picture.
Brandy and Sy'Rai have the same face shape, similar dark eyes, and identical foreheads. The likeness between mother and daughter is uncanny. Sy'Rai showed off her mom in a recent TikTok video which Brandy reposted, saying:
"Showing off your Mama Boop."
Both Brandy and her daughter have revealed their heartwarming mother-daughter relationship on their respective social media accounts. Brandy's daughter is fast following in her footsteps.
At the age of 17, Sy'Rai produced her first song with her cousin, Aaron Smith, titled "At Your Best." But that's not all. She also has an upcoming clothing line called Privileged Apparel LA.
Sy'Rai helped her mother overcome her depression and learn to live again.
Sy'Rai attends college at the Los Angeles Recording School and has achieved popularity on social media, especially in TikTok. She has over 120 thousand Instagram followers as well.
Brandy fell pregnant with her daughter in her 20s with her then-producer Big Bert. Brandy had been in the public eye since she was a child herself. In an interview, she confessed that:
"I had to pull myself together, I had to pull it all together and make it all make sense."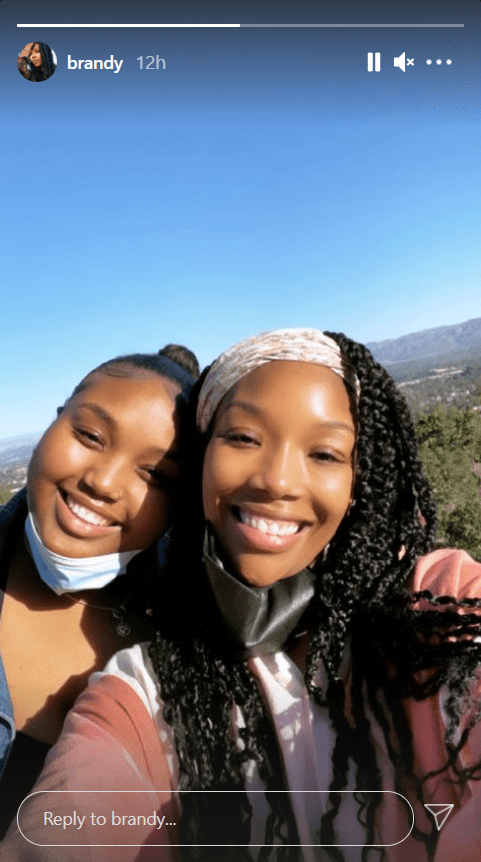 After several heartbreaks and a tragic car accident in 2006, the "The Boy is Mine" singer fell into an emotional rut. Sy'Rai helped her mother overcome her depression and learn to live again.
Brandy explained that she knew that she had a daughter to take care of and that she had to be strong for Sy'Rai's sake. It was also her daughter's presence that enabled her to pull herself out of that dark place.
Brandy finally released a new album titled "B7," eight years after her last one because she was musically, creatively, spiritually lost at the time. Brandy's latest collection of songs is heartfelt.
She even wondered if she was too candid by discussing her mental health in songs like "Bye Bipolar" and "Borderline." Even still, it's good to have Brandy back in business.