Rescue Operation in India Is Underway as Glacier Flood Leaves Hundreds of People Missing
Over the weekend, tragedy struck in India when a glacier broke close to the second-highest peak in the country leading to a rescue operation to save hundreds of people who've gone missing.
On Sunday, below India's second-highest peak, the Nanda Devi, a glacier broke leading to flooding. A small Rishiganga hydro-electric project was swept away by the water.
A bigger project that was located further down the Dhauliganga River was also damaged. The project was being built by the state firm NTPC and so far some reports state that 19 bodies have been recovered from the flood.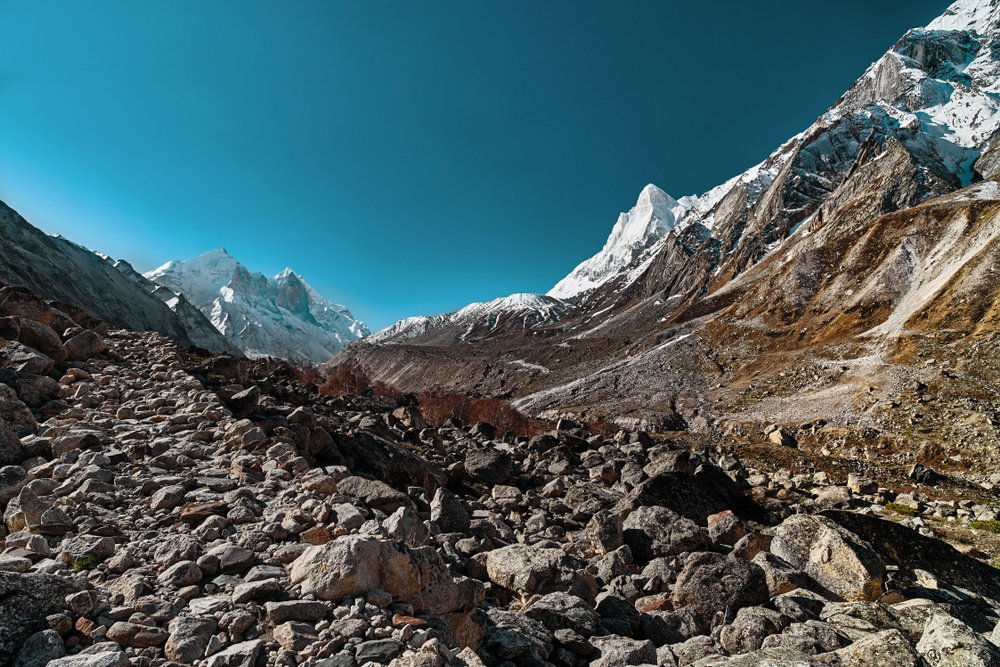 According to officials, most of the people who are missing were actually working on the two projects. The projects are part of the many that the Indian government has been building.
They are built in the mountains of Uttarakhand state in an effort to develop the country. On Monday, rescuers searched for the missing people after a Himalayan glacier broke away.
#WATCH: Uttarakhand Chief Minister Trivendra Singh Rawat conducts aerial survey of areas affected due to glacier disaster in Chamoli. pic.twitter.com/Ych084CVpV

— ANI (@ANI) February 9, 2021
The glacier's flooding swept away bridges, broke dams, torrents of water washed away construction debris, and rocks down a mountain valley. India's State Chief Minister Trivendra Singh Rawat gave this update:
"As of now, around 203 people are missing."
#WATCH I Uttarakhand: A joint team of ITBP, Army, NDRF and SDRF enters into the Tapovan tunnel to check the water level inside the tunnel ahead of the point till where the debris has been cleared.

(Video Source: ITBP) pic.twitter.com/D53UNKp0iI

— ANI (@ANI) February 9, 2021
Rawat also took to Twitter on Monday where he shared that rescuers had worked through the night to reach the mouth of the tunnel. The chief minister said rescue efforts were ongoing.
"People" magazine also estimated the number at 26 dead and 150 missing on Monday afternoon.
He also hoped more lives would be saved but so far eleven bodies had sadly been recovered. The minister shared his prayers and thoughts with everyone who was affected.
#WATCH: Rescue operations underway at the tunnel in Chamoli, Uttarakhand where around 35 people are feared to be trapped.

(Video Source: Indian Army) pic.twitter.com/Mwj31NDoUR

— ANI (@ANI) February 9, 2021
According to the assistant professor of glaciology & hydrology at the Indian Institute of Technology in Indore, Mohd Farooq Azam, a hanging glacier had fractured. His theory was:
"The water accumulated and locked in the debris-snow below the glacier was released when the glacier-rock mass fell."
Our brave-hearts worked throughout the night and have reached the mouth of tunnel...rescue operations are ongoing in full swing & we are hoping to save more lives. Unfortunately, rescue teams have also recovered 11 dead bodies so far. Our thoughts and prayers are with everyone.

— Trivendra Singh Rawat (@tsrawatbjp) February 8, 2021
On Monday, AP News revealed that more than three dozen power plant workers were trapped in a tunnel in northern India. It reported at the time that twenty-six people were dead while 165 were missing.
Over 2,000 paramilitary groups, military members, and police officers took part in the search-and-rescue efforts. "People" magazine also estimated the number at 26 dead and 150 missing on Monday afternoon.