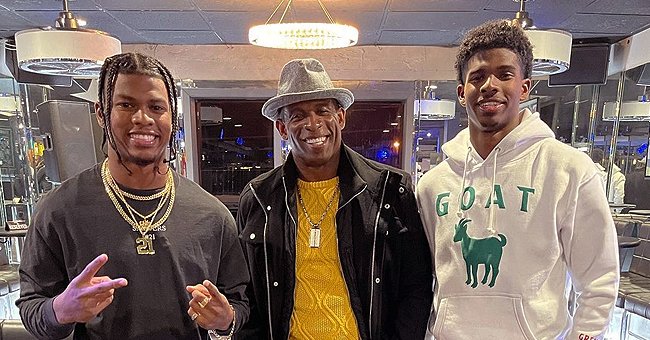 Instagram/deionsanders
Deion Sanders Poses with His 2 Grown-up Sons in These New Photos — Do They Have Similar Smiles?

Former NFL star Deion Sanders recently shared an Instagram post to celebrate his grown-up sons on their birthdays. The trio looks lively as they pose while hanging out together.
Nothing is quite as beautiful as a working father-son relationship, but it usually takes a lot of commitment and understanding from both parties, especially the father.
Former professional footballer Deion Sanders' relationship with his two grown-up sons Shilo, 21, and Shedur, 19, has been through different phases. Still, the trio finally seems to have found common ground in recent years.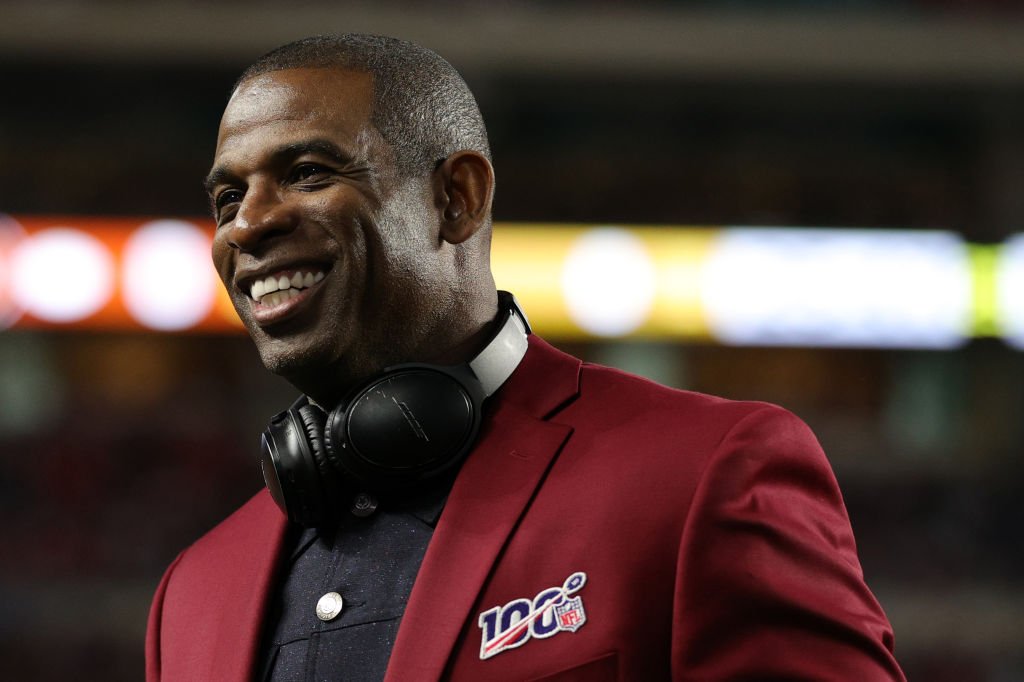 Deion Sanders on the field prior to Super Bowl LIV between the San Francisco 49ers and the Kansas City Chiefs at Hard Rock Stadium on February 02, 2020 | Photo: Getty Images
Sanders recently got together with his two sons to celebrate their birthdays which are coincidentally two days apart. The retired NFL star took to his Instagram page to post a slideshow from his day out with his boys.
The slideshow begins with a video of Shilo and Shedur greeting each other cheerfully. It also features a photo of Sanders posing with his sons, and the trio seem to be having a good time as they flash similar smiles. Sanders wrote in the caption:
"Happy HAPPY Happy Birthday to my sons @shedeursanders & @shilosanders 19 & 21 Feb 7 & 9th. I Love y'all to Life. One of y'all is my FAVORITE SON."
The third photo captures Sanders and his sons sitting in what appears to be a studio with a microphone positioned in front of the retired NFL pro who is busy on his phone.
Sanders shares his sons with his ex-wife Pilar Sanders. The former couple also shares a 17-year-old daughter, Shelom. Sanders and Pilar were married for 14 years, but their marriage ended acrimoniously in 2013 amid allegations of abuse and infidelity.
The show centers around Sanders' life as he struggles to raise his five children from his two previous marriages.
The couple's split sparked a bitter custody battle that at some point saw Pilar held in contempt and briefly spending time in jail. In 2016, Sanders also won a $2.2 million defamation lawsuit against Pilar after she accused him of abuse.
In 2017, Pilar was granted primary custody of Shilo, and the then-17-year-old took a jab at his father through an Instagram post, where he claimed he was finally glad to be in a loving, healthy environment. While reacting to Shilo's post, Pilar told Daily Mail:
"Children have their own mind and I can understand his expression of his feelings of being overjoyed. He's at a place where I haven't seen him before..."
Apart from his painful split from his ex-wife, Sanders also suffered some personal challenges earlier in his career, which pushed him to attempt taking his own life.
Thankfully, he failed in his attempt, and in recent years he has become a man reborn through his faith in God. Things also seem to be taking shape in his romantic life, as he has been in a relationship with Tracy Edmonds since 2012.
Sanders also debuted his show "Deion Family Playbook" in 2014. The show centers around Sanders' life as he struggles to raise his five children from his two previous marriages with the help of his longtime girlfriend, Edmonds.
Fatherhood certainly comes with as many challenges as responsibilities, and therefore requires many sacrifices. Sanders may have learned the hard way, but his relationship with his boys has never been better.
Please fill in your e-mail so we can share with you our top stories!