'Little Fires Everywhere's Kerry Washington Shows Cleavage & Afro Hair Dancing in a Nude Suit
Hollywood star Kerry Washington's fashion statement on social media had her flaunting her classy look to the delight of followers while showing off some smooth dance moves. 
Kerry Washington kept it elegant as usual in her new Instagram show off as she dressed up in a chic outfit that had her channeling a sizzling look that had fans hooked. 
The clip showed Washington basking in the sun-kissed view with the sunshine dancing on her flawless skin. She donned a plunging suit that teased parts of her cleavage.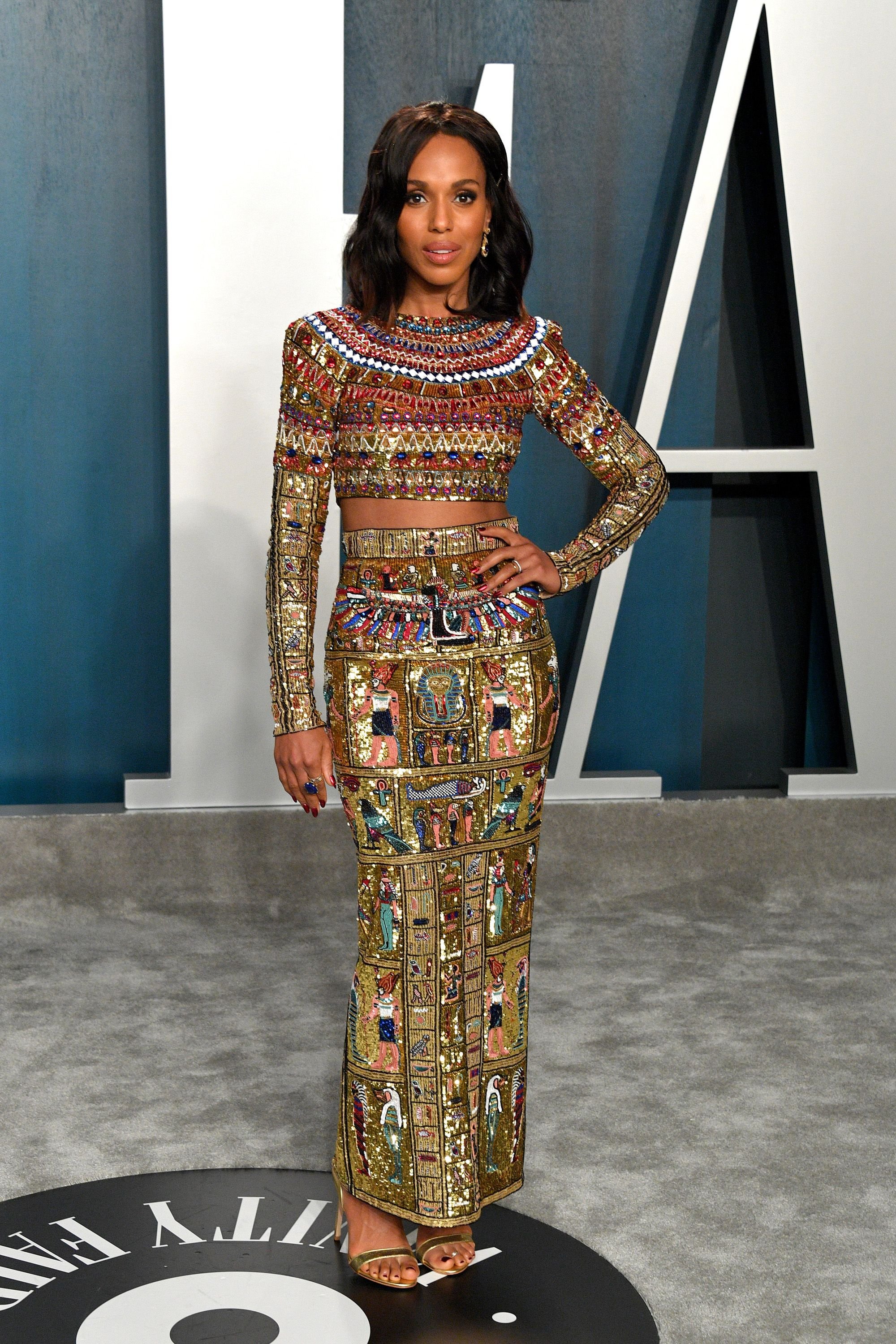 The actress' nude-colored suit perfectly melded with her skin while she accentuated the sophisticated glam with some jewelry. Washington sported a two-tiered necklace and a gold bracelet.
The star wore her tight curls in a mass that lightly grazed her shoulders while parts of it formed bangs framing her face and temple. While Busta Rhymes' "I Know What You Want" blasted in the background, Washington flaunted her dance moves. 
The movie star's post was in line with her campaign for jewelry franchise Aurate's Valentine's Day shopping deal. The actress is in collaboration with the fashion brand that uses recycled gold and ethically-sourced diamonds in making adornments.
Her work on the show earned her an Emmy nomination for Outstanding Lead Actress in a Limited Series. 
The actress' custom-made designs are capsules carved around a lioness symbol that carries a thoughtful message of power. Twenty percent of the proceeds from Aurate goes into funding women activism. 
While Washington belts out top-notch glams from time to time, her talents mostly resonate on TV. The star prides herself on being a character actor who is able to completely embody her acting role and not remind fans that she was Kerry Washington. 
Last year, the award-winning actress had a lot on her hands in front and behind the scenes. To this effect, she bagged the Entertainer of the Year award.
Despite the pandemic, Washington had a productive year. The star started the year 2020 playing Mia in the Hulu adaptation of "Little Fires Everywhere." Her work on the show earned her an Emmy nomination for Outstanding Lead Actress in a Limited Series. 
Towards the end of 2020, Washington, 43, bagged her Mrs. Greene role on Netflix's musical, "The Prom." The star's feat was not limited to TV as she also produced "Little Fires Everywhere" and "The Fight' through her production company, Simpson Street.
The 43-year-old's works as a producer on "Life in Front of a Studio Audience: Good Times and All in the Family," earned her her first Emmy Award as a producer.