Super Bowl LV Streaker Yuri Andrade Confirms $375K Pay-Out after Betting on Himself on the Stunt
The Super Bowl Streaker revealed he won over $300,000 through prop bets because of his stunt during Sunday's game.
The Super Bowl streaker, Yuri Andrade, revealed to Wild 941 that he won over $300,000 through prop bets for his stunt during Sunday's game.
Andrade said that he had agreed to streak to help YouTuber Vitaly Zdorovetskiy perform the prank he had been trying to do for a while. The pink swimsuit Andrade wore had the YouTuber's logo on it.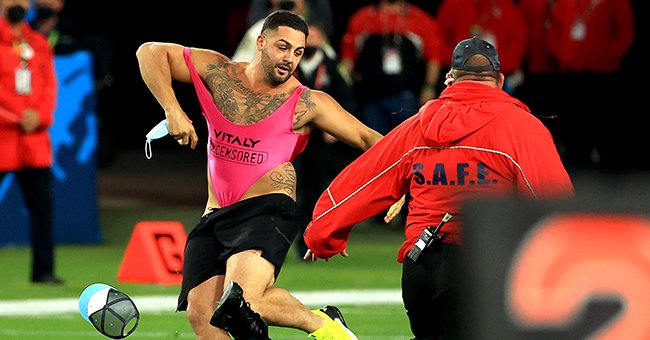 Andrade said that he and a friend had seen that the gambling website Bovada had a + $750 bet, so he called everyone he knew to create accounts to place bets for him.
He revealed how he pulled off the stunt. He had a friend run on the field before him to distract the guards for him to run long across and clear the field. He revealed during the interview with Wild 941:
"I came up with an idea this time with two people, one to run as a distraction, so the security rushes him, so I could clear the field." 
Streaker best part of this Super Bowl https://t.co/J5MlGoDzBO

— Barstool Birds (@BarstoolILLSt) February 8, 2021
The host of the radio show asked him if Mike Evans had approved of his stunt as she had seen Andrade talking to Evans the Monday night after the Super Bowl at a club.
Andrade shared that Evans had approved of his stunt. He had called it epic and said that the team had all been laughing about it on the sidelines during the game.
It was reported that he made $375000 altogether from prop bets.
Trips to the end zone during Super Bowl LV:

Buccaneers: 4
Streaker: 1
Chiefs: 0pic.twitter.com/QvabChQ7j5

— NFL Memes (@NFL_Memes) February 8, 2021
Andrade had stormed across the field during the fourth quarter of the Tampa Bay Buccaneer vs. The Kansas City Chiefs at the Raymond James Stadium in Tampa.
He had worn a pair of black boxers and a pink swimsuit. He said on the radio that the thong of the pink swimsuit had given him a major wedgie while he was in police custody. He shared the story:
"They put me in the holding cell in the stadium. I had the thong like very very deep in me, and I asked 'can I please adjust this?' and he goes 'if you want to be an [expletive], I'm gonna be an [expletive] too.'"
He only half-assed it! Literally! pic.twitter.com/tbroIa6f01

— Andy McCall (@mccall_andy) February 8, 2021
The streaker was faced with trespassing misdemeanors and got a $500 bail, which he could pay with his winnings. He said that he had been able to cover his friend's bail money as well.
It was reported that he made $375,000 altogether from prop bets and shared that he had even asked a famous acquaintance in Las Vegas to place a bet for him.
We have a STREAKER!!!

The spin move was electric! pic.twitter.com/60Qvrc8NgP

— Ryan Lacey (@rlacey23) February 8, 2021
Many fans took to Twitter to share their approval of the streaker, sharing videos of him. The videos show an impressive spin move he used to avoid a guard before being tackled to the ground.
One fan wrote that it was not the Super Bowl unless somebody streaked across the field. Andrade may have been arrested and charged, but the money probably makes up for it.