Steve Harvey Looks Cool Rocking a Trendy Animal-Print Jacket Paired with Black Pants (Photo)
Media mogul Steve Harvey can now add the title of a fashion lover to his list. Check out how he surprised fans with a stylish appearance in a trendy jacket with animal-print and black pants.
Steve Harvey is notable for bringing great content to his viewers on his talk show. He also anchors other TV shows like "Family Feud" and has an acting career and a comedic personality.
These days, the actor is delivering flawless fashion in trendy outfits thereby revealing his stylish side and showing off a classy and luxurious taste, and the media mogul certainly has an audience that appreciates this.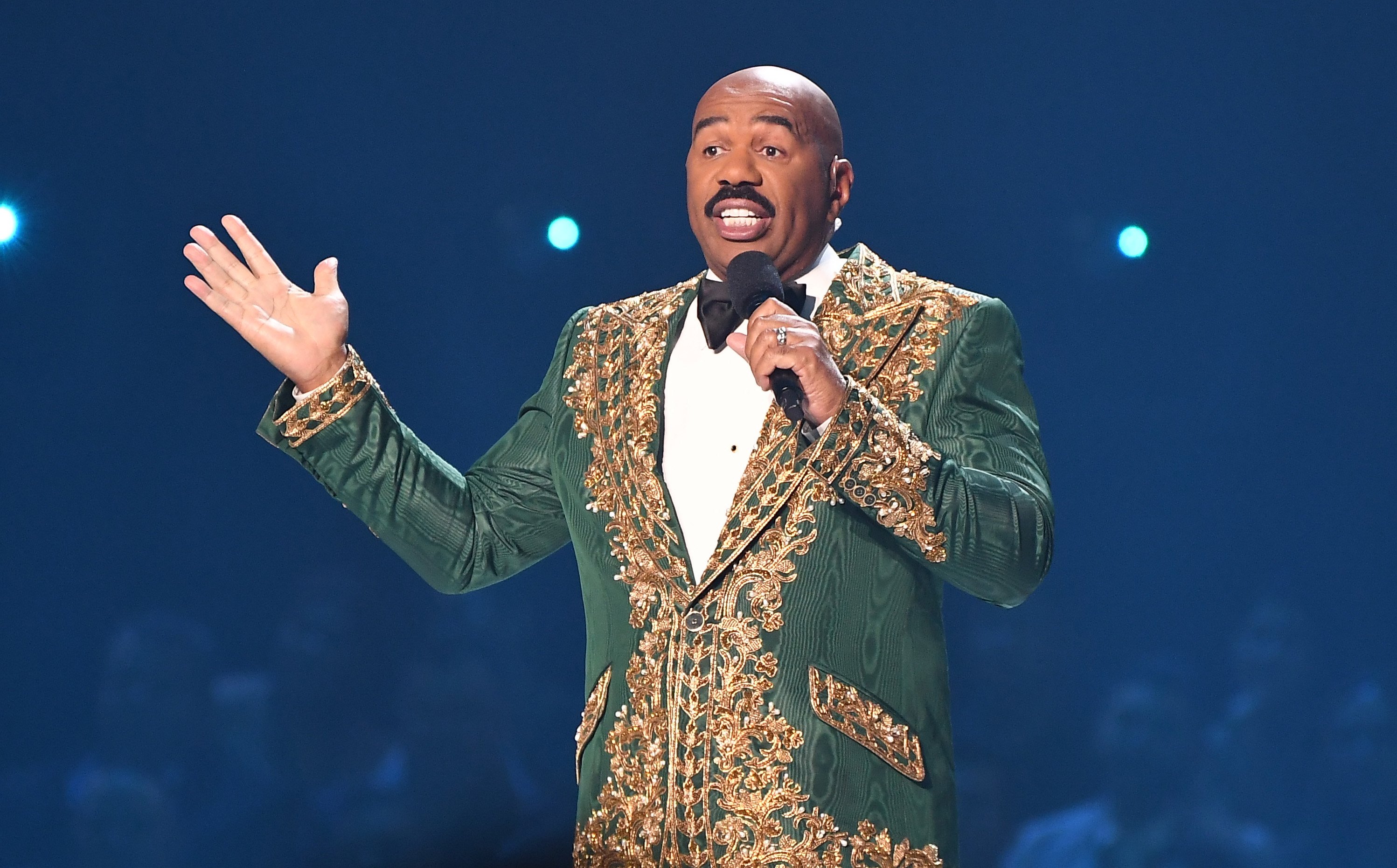 Recently, Harvey shared a cool look wearing an animal-print jacket on a black shirt with a big bow tie fixed in front. He rocked neatly ironed black pants that rested on top of a pair of shining leather shoes.
The anchor's wedding band was the only visible piece of jewelry. While he did not accessorize with anything more, his pose added more finesse to the appearance. His caption read:
"#nflhonors."
The post showed that the 64-year-old was ready to do his thing as he stood on stage with a mic in hand to host the NFL Honors ahead of the Super Bowl 2021.
During the first few minutes of his monologue on stage, Harvey, who is a Cleveland Browns fan, jokingly taunted the New England Patriots for not making it to the playoffs. 
He amused his audience by throwing light jokes on the team's performance and later talked about quarterback legend Tom Brady who recently moved to the Tampa Bay Buccaneers, where he will later emerge MVP after his team's victory.
Fans of the "Family Feud" host know that apart from making people laugh, Harvey is great at being a family man. He has been married to his wife Marjorie Harvey for more than ten years.
This is not the pair's first marriage, and they have kids from former relationships. Still, the couple decided to make the relationship work, choosing to spend the best of times in each other's company.
A glance through the actor's Instagram shows that he and Marjorie are no strangers to luxurious getaways, where they jointly spend precious moments as a couple.
Last month, they were spotted on a yacht. While Harvey, who wore swim trunks and a blue cap, was focused on body fitness using rubber ropes for some arm workouts, his wife who rocked chic swimwear engaged in sunbathing and later, a jet-ski joy ride.