Getty Images
Drew Carey Has Been Engaged Twice — Meet 'the Price Is Right' Host's Ex-fiancées

Actor Drew Carey has been engaged to be married twice. Drew does not have children of his own, but he has a stepson, his former fiancee's child. Find out about the two women he almost married below.
Back in 2016, Drew Carey gushed over Nicole Jaracz's son on Instagram. It was during Mother's Day, and the actor gave a shoutout to his now ex-girlfriend.
The Instagram post shows Carey holding his stepson Connor as he rested on his arms while asleep. Along with the heartwarming photo, he wrote: "And lifelong thanks and love and gratitude to Nicole for bringing this guy into my life."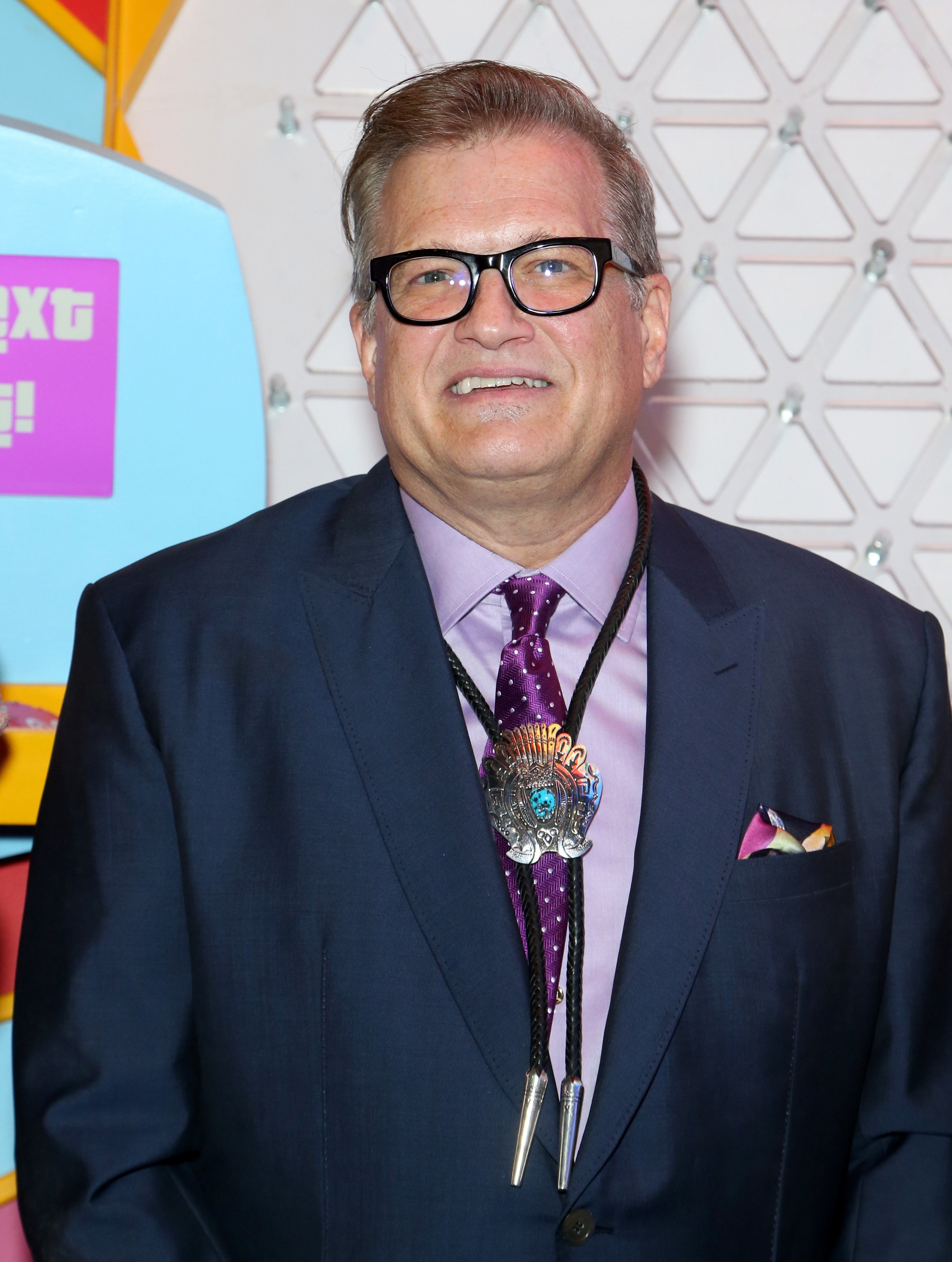 Drew Carey poses in front of a Plinko game at the Sands Expo and Convention Center on October 10, 2018 in Las Vegas, Nevada | Photo: Getty Images
For the sweet message to Jaracz, he wrote, "Happy Mother's Day to you especially," and added a heart emoji. The up-close snapshot shows Carey cradling little Connor as he was deep in his sleep.
The picture also shows half of the comedian's face as he wore a white cap with shades above it. Carey wore a striped, red, blue, and white shirt.
Connor wore a multi-shaded top, sporting a sleeked blonde hairdo. Beaming at the camera, Carey took the photo in an outdoor setting as leaves are visible in the background.
After sharing the cute picture, his fans pointed out how adorable the snap is. "So adorable!! I bet you are a pretty cool dad, said one user. Another complimented him on his new look.
"The Price is Right" host has never been married regardless of being engaged twice. Carey proposed to Connor's mother in 2007, but they later went their separate ways after being together for five years.
According to Us Weekly, at the time, his rep informed the outlet that they "still have a great deal of love and affection for one another. He will still be very involved with their son's life." The former couple never had kids of their own.
Carey was introduced to the now-teenager when he started dating Jaracz in the mid-200s. The 62-year-old always referred to Connor as his "beloved son."
When he experienced his weight issues in 2009, he gave Connor credit for pushing him back to shape. The "Whose Line Is It Anyway?" star weighed over 250 pounds.
To put off the weight, he exercised with Connor and reportedly revealed in September 2010 that he could not keep up with him. However, he prevailed as he lost 100 pounds thanks to Connor.
Although he is not with his mother anymore, they remain close to this day. After his failed relationship with Jaracz, he met Amie Harwick, who sadly died last year.
Carey was also engaged to the former marriage and family therapist whom he asked to marry in January 2018. The pair broke off their engagement less than a year later, and according to his rep, their separation was amicable.
Harwick died in February 2020 at the age of 38. The writer reportedly fell off a three-story balcony at her home in Los Angeles following an alleged dispute with her ex-boyfriend, Gareth Pursehouse. She succumbed to her injuries at the hospital.
After being prounced dead, Carey took to Twitter to mourn her death and wrote a sad note along with a photo with her. The game show host shared how loving Harwick was.
Please fill in your e-mail so we can share with you our top stories!