Khloé Kardashian's Fans Love Her Bikini Look as She Poses on a Beautiful Beach
Khloé Kardashian's fans love her stunning bikini look as she poses on the beach in a picture shared to the "Keeping Up with the Kardashians" star's Instagram page on Thursday. 
Khloé Kardashian shared another snapshot from her holiday on the beach in a recent post on Instagram, showing off her figure in a bikini and a sarong. The fashion icon is radiant under the summer sun.
Khloé stunned her fans with a fantastic picture revealing her sculpted body in a dark two-piece swimsuit. The waves are a delicious aquamarine and form a beautiful scene as Khloé walks into the ocean.
The white horses touch the sandy shore with frothy white foam. The sky and the horizon are beautifully blue. The combination of Khloé's swimming aesthetic and the scenery is utterly picturesque.
To make the image even more perfect, fluffy white clouds dot the azure horizon. Unsurprisingly, the post received over a million likes on Instagram. Khloé captioned the picture saying:
"I keep forgetting to post. I'm ALMOST done with beach photos."

Khloé went on vacation with her sisters Kim Kardashian, Kourtney Kardashian, and Kylie Jenner in Turks and Caicos recently. The Kardashians and Jenners have had no problem traveling during the pandemic.
Khloé has been showcasing her hot body in quite a few swimwear shots from the trip. One seriously smoldering swimsuit was the shimmering silver number she posted lying next to a pool while on holiday. 
Khloé and her baby daddy, Boston Celtics player Tristan Thompson, are ready to have a second child together.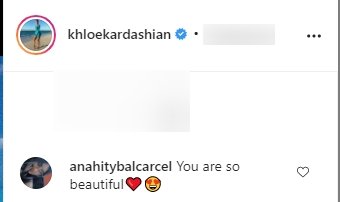 This year, Khloé revealed that she and her sister Kim would be going vegan for one month during January and working out twice daily. She shared a few pictures of herself exercising in two-piece black activewear in their home gym.
Khloé's personal gym is impressive, which fans could catch a glimpse of in her selfies' background. The private exercise unit boasts a pilates machine and various other equipment. In another beach picture with her sister Kourtney, Khloé wrote:
"Stay hydrated. We heard there's a drought. Sincerely Jane and Suzanne 💋."
Khloé and her baby daddy, Boston Celtics player Tristan Thompson, are ready to have a second child together. Khloé is adamant that their child True, who is two and a half years old, urgently needs a sibling.
Apparently, True loves spending time with her cousins, and during the pandemic, it was incredibly lonely for the little girl with just the company of her mother. Khloé, who has her eggs frozen, just needs Thompson's permission to have them fertilized.
Khloé and Thompson only rekindled things after splitting up in 2019 over a cheating scandal. The couple keeps in regular contact since Thompson has been in Boston and Khloé has remained in LA.
Khloé has apparently always wanted a big family, and it seems like Thompson always envisioned having four children in total. He already has another child, Prince (4), with his ex Jordan Craig and would like two more kids.