Robert Irwin Reminisces Riding Motorbike with Late Dad Steve with a Rare Throwback Photo
Pregnant Bindi Irwin's brother Robert, 17, is going the extra mile to keep his late father Steve Irwin's memory. Here is a glimpse of how the teenager fixed his dad's motorbike.
The Irwins family is one of the famous families in Australia. However, their popularity cuts across continents. They are well-known in America owing to their involvement with the wildlife. 
They live in their Australian zoo, which is also home to their animals. Steve Irwin, "The Crocodile Hunter," was an animal rescuer and an advocator until his accidental death at age 44.
The animal lover got killed by a stingray in 2006 when his daughter Bindi was 8, and his son Robert was 2. Ever since, the family has maintained a close-knit relationship, with love and care as their watchword.
Despite Steve's death, his kids, Bindi and Robert, and their mother, Terri Irwin, have managed the zoo's affairs while upholding his legacy and honoring him.
His younger child Robert, 17, recently shared snaps of an old motorbike owned by the deceased. The first slide showed a throwback photo of Steve in khakis with one of his kids, enjoying a ride around the zoo.
The other two featured the teenager in khakis cruising on the bike after he had managed to fix its engines. After sharing so many memories via the photos, Robert added the caption:
"I have so many memories of Dad's old motorbike...And now after being in the shed for a few years, it's all fixed up and running again. It's so special to be riding it after all this time!"
The Irwins have proven to be inseparable and compassionate towards one another. While fans can amuse themselves with the family's penchant for wildlife, they are not oblivious to the sweet love often displayed by Bindi, 22, to her brother.
Terri flaunted an image of her with her husband lip-locking as a giant lizard sat gently on their heads.
The pair has grown stronger since their dad's death, and despite the five-year gap between them, they are as close as twins. Robert's sister is a famous face on-screen as she has appeared in TV shows like "Dancing With the Stars." 
She is currently married to Chandler Powell, and the pair are expecting their first child. With a baby on the way and marriage, one would have thought that the expectant mom's love for her little brother may have watered down.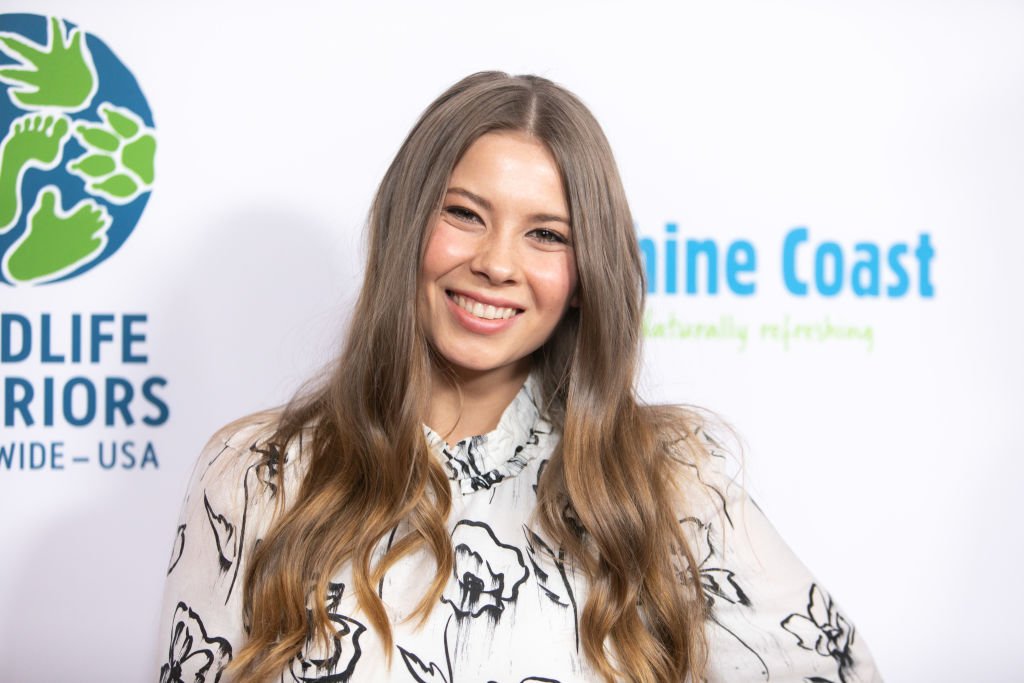 Thankfully, the siblings are still as close as ever. An Instagram post made on Bindi's page last month revealed that Robert has an exceptional place in her heart.
The image showed an up-close frame of the teenager who photo-bombed his sister and Powell's lovey-dovey couple shot. The couple could be seen smiling in the background.
While the siblings may goof around and spread all the love in the world, they also want their fans to know that they hold the memories of their "Crocodile Hunter" father dear to their hearts.
During the 14th anniversary of his death, the Irwins showcased their undeterred love for the patriarch by sharing heart-warming tributes. Terri flaunted an image of her with her husband lip-locking as a giant lizard sat gently on their heads.
Bindi's honorary post was captioned, "You're always in my heart." Robert, who did not have so many memories of his dad, as he was a toddler when Steve died, shared  images of himself and a crocodile while celebrating his dad's mission and passion for reptiles