Kim Zolciak's 8-Year-Old Son Kash Gets Casts for His Broken Arm
TV personality Kim Zolciak's recently joked about the struggles of being a "boy mom" while sharing pictures of her son Kash getting casts for his broken arm.
Keeping an eye on children, especially energetic little boys, can be a daunting task. And to make things worse, little boys have a spectacular way of creating possibly dangerous situations out of thin air.
Despite having six children, reality television star Kim Zolciak recently admitted having her hands full with her eight-year-old son after breaking his arm.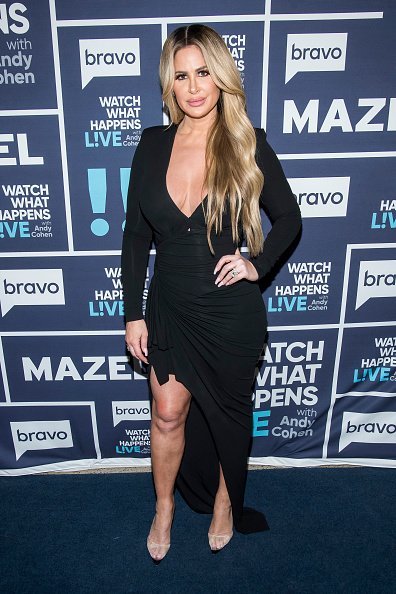 Zolciak took to her Instagram page to reveal how her son had broken his arm while sharing photos of him getting casts to help with the healing. 
The "Don't Be Tardy" star shared a cute picture of her son smiling as he showed off his newly-fitted casts while his mom lovingly hugs him from behind. Zolciak captions the photo writing:
"Today's been really fun!! my sweet baby @kashbiermann decided to break his arm!! Being a 'boy' mom is no joke!! My nerves can barely handle it!"
Zolciak further revealed how they had to rush back to the doctor's office when her son suffered an allergic reaction shortly after the initial cast was put on his arm. 
Zolciak's second photo shows Kash, who is wearing a facemask, sitting in the doctor's office with the new cast while his mom holds out the old cast. 
The former "Real Housewives of Atlanta" star's appearance has changed due to several procedures.
Zolciak ended her lengthy post by confirming that her son is doing fine. The post has already garnered nearly a thousand comments, with most of her followers wishing Kash a speedy recovery. 
Apart from Kash, Zolciak shares three other children, Kroy Jr., Kane, and daughter Kaia, with her husband, Kroy Biermann. The former NFL star also adopted Zolciak's daughters Brielle Biermann and Ariana Biermann, from previous relationships.  
The couple tied the knot in November 2011, and even though Biermann is seven years younger than Zolciak, the two have managed to build a closely-knit blended family of eight.
Away from her relatively large brood, the mother of six has also gained notoriety because of her love for plastic surgery, which she is very open about in interviews.
Over the years, the former "Real Housewives of Atlanta" star's appearance has changed due to several procedures, including a tummy tuck, boob job, fillers, botox, cellulite injections, and more.
Zolciak's openness about her personal life and struggles has made her a fan favorite over the years, but what has endeared her to fans the most is her unquestionable commitment to her family.