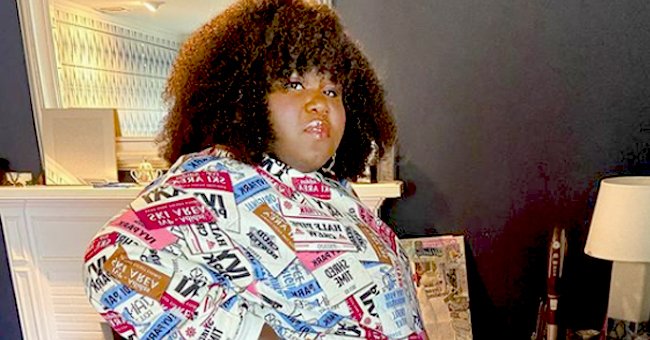 Instagram.com/gabby3shabby
Gabby Sidibe Flaunts Slimmer Figure in a Green Dress & Sunglasses during a Date with Her Fiancé

Actress Gabby Sidibe recently showed off her slimmer figure in a green African print dress and sunglasses as she enjoyed a special date with her fiancé, Brandon Frankel.
"Empire" star Gabby Sidibe is living her best days as a successful actress and a sweet lover whose love is being reciprocated. She has a fairytale love story which she likes to share with her numerous followers online.
Her fiancé Brandon Frankel is also on board with sharing details of their love affair via images or clips. In honor of Valentine's Day, the couple had a date and later shared snaps of their celebration with fans online.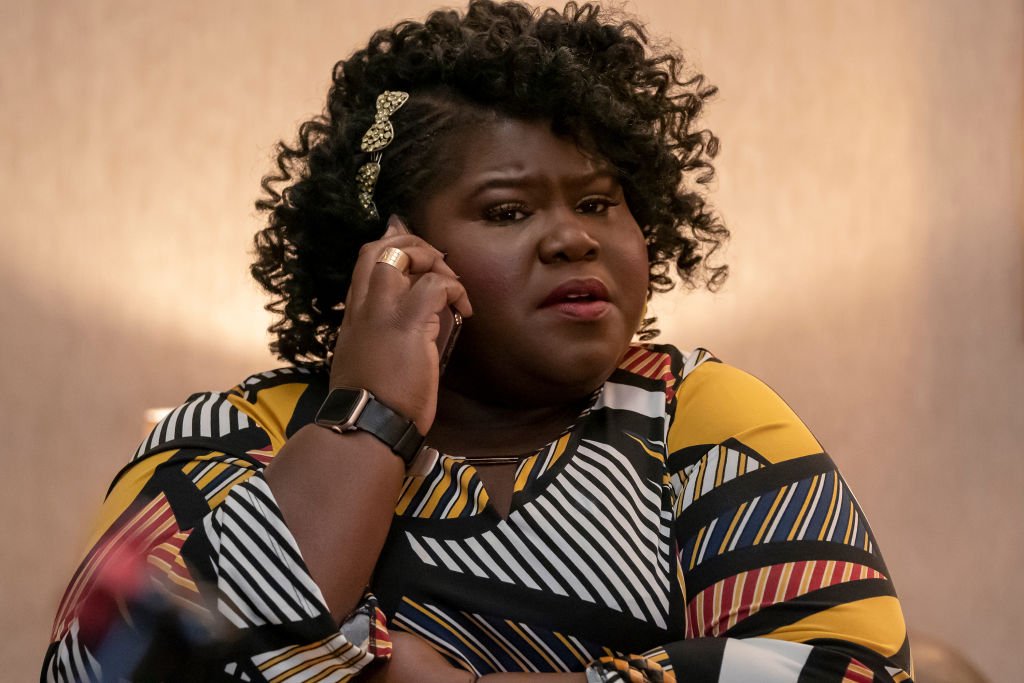 Gabourey Sidibe in the "Talk Less" episode of "Empire" which aired on March 10, 2019 | Photo: Getty Images
Frankel shared an image of a bouquet of red petalled flowers surrounded by tiny white flowers. Another image showed Sidibe looking trimmed as she dazzled in a green African-print outfit.
The actress opted for purple sunglasses paired with her matching colored lipstick and hoop earrings. She looked beautiful as her full curly hair hovered around her ears. In the photo, Frankel sprinkled the words "MY FOREVER VALENTINE."
As if that was not enough to bring smiles to their fans, he added another heartwarming picture that reflects their perfect love. This time, it featured both lovers seemingly pleased to be in each other's company.
After her surgery, she became open to finding the right one.
The photo showed Sidibe as she planted a soft kiss on the side of her fiancé's mouth, leaving Frenkel with a warm close-lipped smile across his face.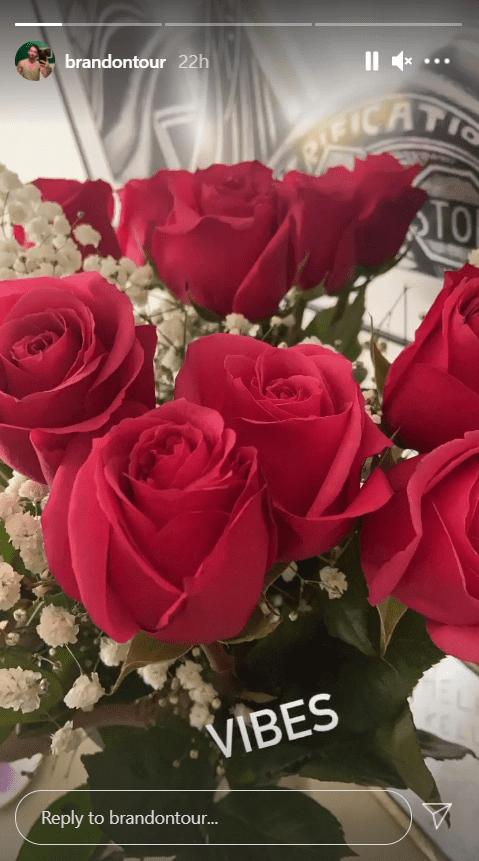 Image of a bouquet of red petalled flowers shared by Gabby Sidibe's fiancé, Brandon Frankel, on his Instagram Stories | Photo: Instagram/brandontour
Fans could tell via a glance that the actress's fiancé dressed to complement her stylish appearance as he could be seen in a black collared short-sleeved shirt, with a pendant necklace and dark sunshades. His caption this time read:
"LOCKDOWN LUV."
While the "Empire" star may give the media some power couple vibes to run via posts, she has also been open to sharing some of her past struggles and bad days.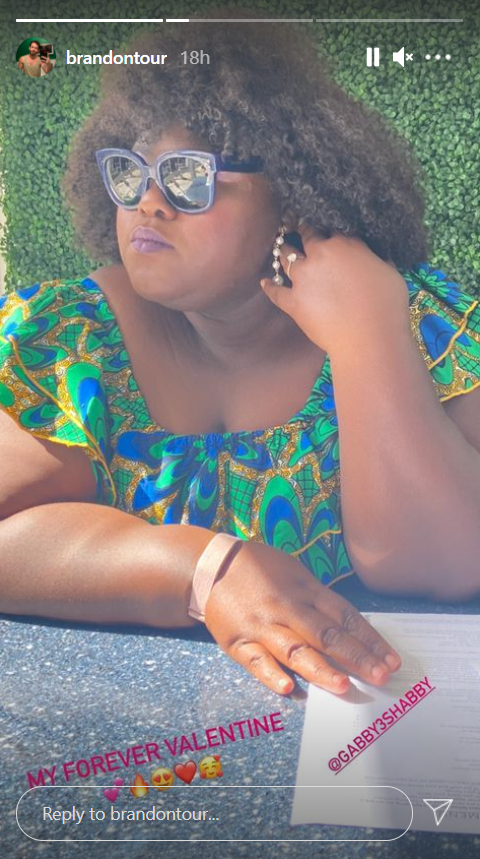 Picture of Gabby Sidibe while on a date with her fiancé, Brandon Frankel | Photo: Instagram/brandontour
She admitted to being an aggressive eater who could not control her appetite. Coupled with this, Sidibe battled with depression due to her weight and later went under the knife to remedy the situation.
In her memoir "This Is Just My Face: Try Not To Stare," Sidibe explained that after her type 2 diabetes diagnosis, she had to undergo laparoscopic bariatric surgery to control her weight, which involved her stomach being divided into two.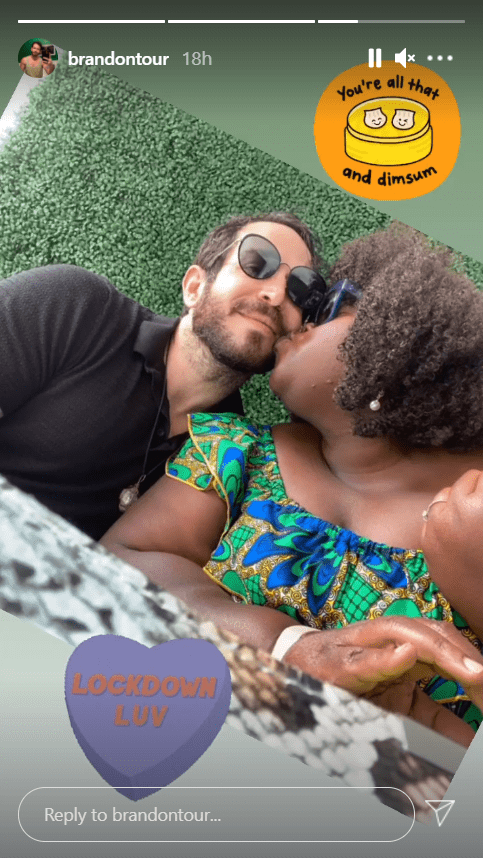 Actress Gabby Sidibe shares a kiss with her fiancé Brandon Frankel during their romantic date | Photo: Instagram/brandontour
After her surgery, she became open to finding the right one. Shortly afterward, Mr. Right showed up and has not stopped sweeping her off her feet.
It has been more than a year since they began dating, and last year, Frankel popped the million-dollar question most romantically! The TV personality
shared the news
and hinted that she intends to hold her fiancé forever.
Please fill in your e-mail so we can share with you our top stories!