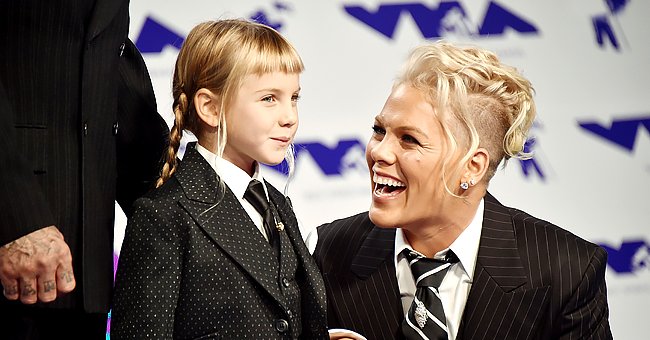 Getty Images
Pink Features in a Heartwarming Video with Her 9-Year-Old Daughter Willow — See Fan Reactions
Pink is clearly not the only star in her family, with her 9-year-old daughter Willow stealing the singer's fans' hearts in a recently uploaded video.
Pink has called in the help of her 9-year-old daughter Willow with her new track, "Cover Me in Sunshine." The mother-daughter duo put the track together, with Willow showing off her singing talent.
The proud mom took to Instagram to share a video of her watering Willow that grows in between flowers every time her mom pours some water down. The animated video had fans double-tapping the post with over 690,000 likes.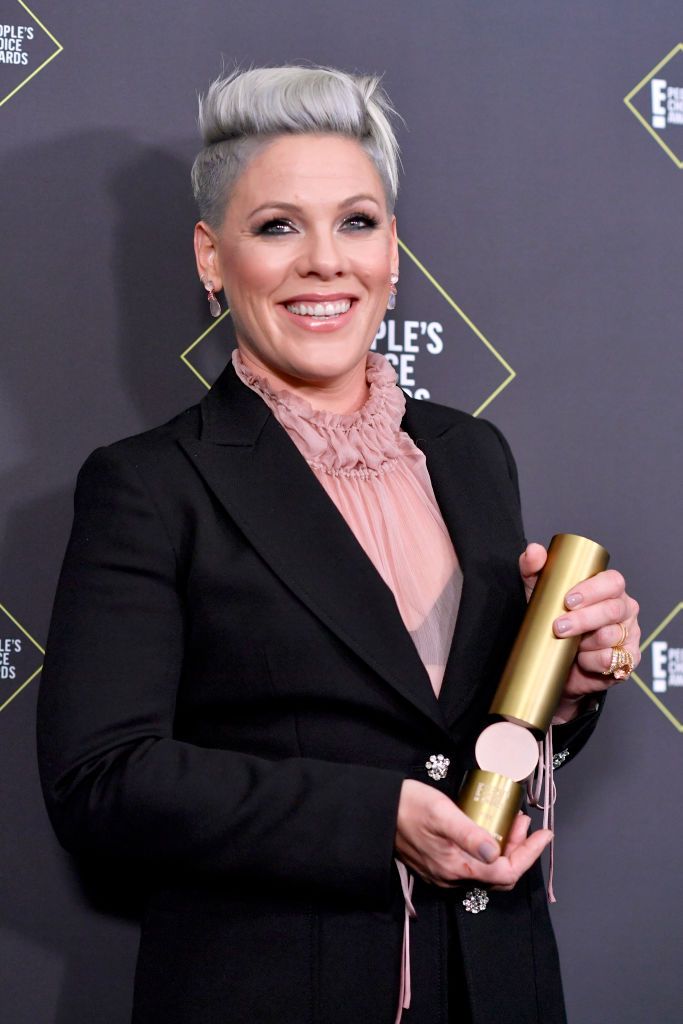 P!nk, at the 2019 E! People's Choice Awards at Barker Hangar on November 10, 2019 | Getty Images
COVER ME IN SUNSHINE
Wearing a long red dress with wide sleeves, Pink looked bright as she was outside enjoying the sunshine with her daughter in the video she shared with her 8.1 million Instagram followers.
Pink and Willow broke out in a dance towards the end of the video, making the most of the warm day and blue skies in the green field with a gorgeous view behind them. One fan commented on the post saying:
"Such a feel good song and what our world needs right now!???"
TAKING IT TO TIKTOK
The 41-year-old singer has recently started posting on TikTok to cover their new song featuring as her first video. The sweet video shows Willow singing "Cover Me in Sunshine" at the top of her lungs.
The 41-year-old and her son contracted COVID-19 just as the pandemic was starting.
Pink's son Jameson also had a turn singing his mom and sister's new song, with the mom also recording her 4-year-old son belting out her groovy song to the best of his ability.
SINGING FAMILY
The "Just Give Me a Reason" singer not only encourages her children's singing talents by sharing them on her platforms and including them in her own work, but she also gushes about them on her social media pages.
Pink shares Willow, born in 2011, and Jameson, born in 2016, with her husband Carey Hart, who she married in 2006. The pop star shared a sweet birthday tribute for Jameson's fourth birthday, saying:
"There isn't a room that this little boy has ever walked into that he didn't leave lighter and more joyful. I am in awe of you, Jameson Moon."
TOUGH TIMES
It hasn't only been moonshine and roses for Pink and her family this last year as they have had to overcome some serious struggles. The 41-year-old and her son contracted COVID-19 just as the pandemic was starting.
Pink shared how scary it was dealing with being sick and finding out that Jameson had contracted the virus. Amidst testing for COVID-19, the mom also discovered that Jameson had serious food allergies.
Pink's two great loves, her children and music, have come together in "Cover Me in Sunshine," creating a song that she truly loves. Music was a great escape for the singing during quarantine, and the fans love the product.
Having featured on the Billboard Hot 100 with 15 songs in the top 10 already, Pink maybe adding another song to that last with her fans' very positive response to the song thus far.
Please fill in your e-mail so we can share with you our top stories!