Diddy's Ex Cassie Posts an Adorable Snap as She Enjoys Mommy Time with Her Daughter Frankie
R&B singer Cassie couldn't take her eyes off her little girl, Frankie. She recently gave fans a glimpse of her one-year-old daughter's charming beauty.
While waiting for her second child with husband Alex Fine to arrive, R&B singer Cassie Ventura, also known as just Cassie, shared a glimpse of herself enjoying motherhood.
Cassie, rapper Sean "Diddy" Combs' ex, took to Instagram Story to share a picture of her beautiful daughter, Frankie, who will soon be an amazing sister.
A SELFIE WITH FRANKIE
The 34-year-old "The Perfect Match" star shared a selfie with Frankie, who donned a gray shirt. The little girl, who shares a remarkable resemblance with her father, looked away from the camera. 
One of the few reasons Cassie is smitten with Frankie was because her dark eyes and plumped cheeks looked endearing.  The "Step Up 2: The Streets" star captioned her picture:
"My Girl."
Cassie and Fine welcomed Frankie in December 2019 in Los Angeles. The pair expressed that they were excited and happy to have their little girl in their lives.
Fine, a celebrity fitness trainer and a competitive bull rider, penned a sweet message for Frankie. The proud father promised that he would be at her daughter's future milestones.
The 34-year-old songstress and Fine's baby announcement came after they tied the knot in August 2019 in an intimate ceremony in Malibu, California.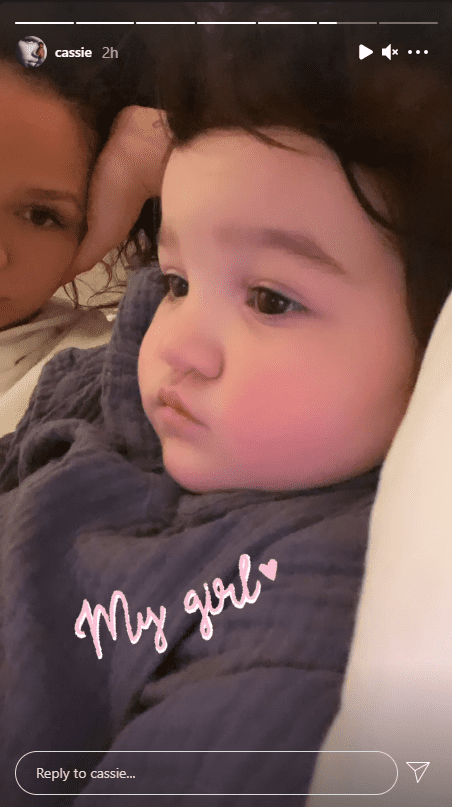 HER SECOND PREGNANCY
A year after Frankie's birth, Cassie, in December, surprised her fans on an Instagram video announcing that she's expecting her second child with Fine. In the short clip, Frankie gently rubbed her mother's growing baby bump.
It was through Diddy that Cassie met Fine as the latter hired him as her trainer.
HAPPINESS FOR CASSIE
With Cassie and Fine's growing family, rapper Diddy looked unaffected with his ex-girlfriend's new chapter in life. In 2019, a source said that the 51-year-old rap icon wanted happiness for the "Me & U" singer.
The source added that Diddy's perspective on life had changed after his wife, Kim Porter, passed away at 47. Porter, who developed a lung infection, died in her sleep.
Diddy also didn't expect that Cassie's pregnancy would happen fast. The source shared that while Diddy and Cassie were dating, the "Me & U" singer always wanted babies of her own.
It was through Diddy that Cassie met Fine as the latter hired him as her trainer. She and the "I'll Be Missing You" hitmaker dated for almost eleven years and separated in 2018.