Fans' Hearts Melt as Tia Mowry's Baby Cairo Hugs Gabrielle Union's Daughter Kaavia in a Video
Fans of Gabrielle Union and Tia Mowry were overwhelmed with cuteness when their daughters, Kaavia James, and Cairo Tiahna, were filmed hanging out and sharing an adorable hug.
Tia Mowry shared a sweet video clip on her Instagram feed a few days ago of her daughter Cairo and Gabrielle Union's daughter Kaavia at her house with Saweetie and Doja Cat's famous track called "Best Friend" playing in the background.
Union was decked in a protective face mask but the look of joy on her face when she saw her daughter hug Cairo was unmistakable even under the covering of the material.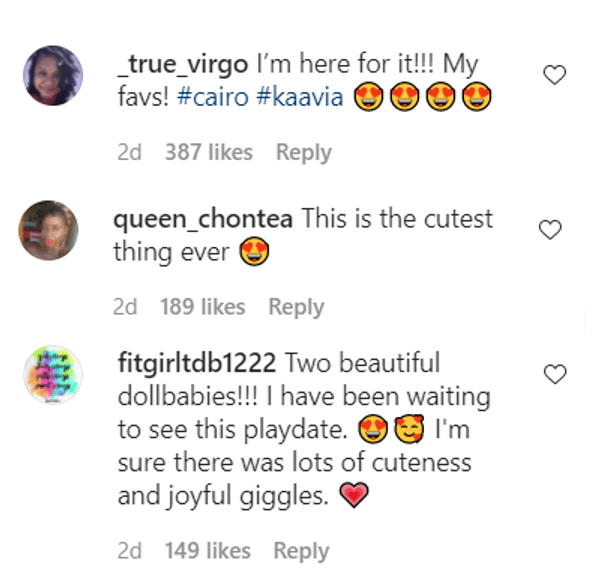 Fans quickly reacted to the video clip and loved to see the two girls having a playdate. It is common knowledge that Union and Mowry are good friends, so it was only a matter of time before they roped in their kids.
Cairo had a blue and white patterned dress and a denim jacket with her name emblazoned in colored lettering on the back. Mowry thanked Union for allowing their children to spend time together, saying:
"Let the #fun begin! @kaaviajames and #cairo had an epic #playdate for the books!"
Cairo and Kaavia are the same age (two-years-old). Union also shared the video clip to Kaavia's Instagram account on Sunday. The second cutest part of the video has to be when Kaavia runs off with Cairo trailing behind her.
Union posted another clip of the two little girls in a toy car. Kaavia, the shady baby, was the designated driver, while Cairo looked slightly terrified when her new friend abruptly put them in reverse.
Both Cairo and Kaavia are well-loved by fans and frequently feature on their parents' social media accounts.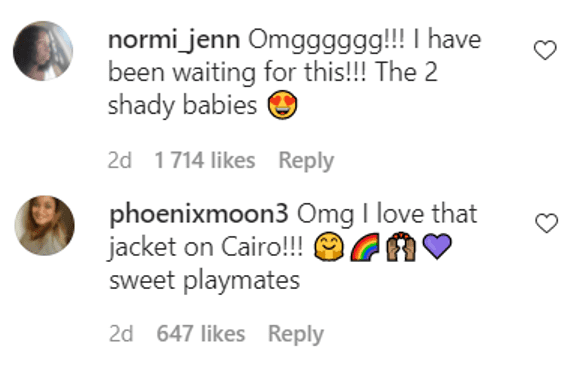 Mowry's husband Cory Hardrict and Union's husband Dwyane Wade have also become close friends, thanks to their wives. Union has known Mowry and her twin sister Tamera for over 25 years.
Union shared a post wishing for the twins on their birthday last year and commended them for their remarkable lives. She wrote a heartfelt message in the post saying:
"It has been amazing to watch all they have accomplished throughout their careers."
Both Cairo and Kaavia are well-loved by fans and frequently feature on their parents' social media accounts. Last year Mowry shared an adorable video of Cairo cooking up a storm in the kitchen.
The little girl was decked out in chef's gear, complete with an apron and hat. As Cairo tried to use the rolling pin (which was roughly the same size as her arm), fans couldn't help but melt.
On the other hand, Kaavia James has become notorious on social media for her love of food. Last year her mother shared a hilarious video of her refusing to share her pasta with Union.
Kaavia lived up to her nickname as the shady baby when she gobbled every last bite of the noodles in her bowl while Union helplessly watched. Union also loves to twin with her daughter.