Getty Images
Queen Wears a Brooch from Her Honeymoon in a Romantic Nod to Prince Philip on Commonwealth Day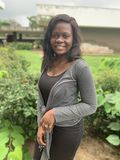 Queen Elizabeth paid special tribute to her husband, Prince Philip, by wearing a special brooch from their honeymoon during the Commonwealth Day celebration.
In celebration of Commonwealth Day this year, not only did the Queen make her annual speech, but the 94-year-old monarch also made a statement with her outfit.
Dressed in a delphinium blue dress with a matching jacket, the Queen accessorized with a beautiful pearl necklace, pearl earrings, a bracelet, and most notable, a Chrysanthemum brooch pinned to the collar of her outfit.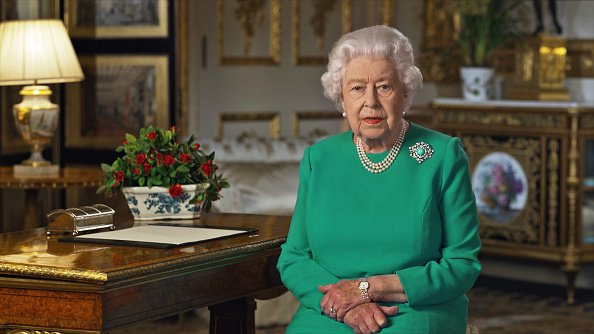 Queen Elizabeth II at Windsor Castle on April 5, 2020. | Photo: Getty Images
The brooch, which the Queen has owned since 1946, was made from precious stones like diamonds and sapphires and is said to be one of the most precious items from her collection.
While many things make the brooch special, the most important is the romantic meaning it carries for the monarch. After tying the knot with Prince Phillip in 1947, the Queen was first seen wearing the brooch during their honeymoon at Broadlands in Hampshire.
In celebration of Prince Phillip and the Queen's 73rd wedding anniversary last November, a throwback photo from the couple's honeymoon that saw her wearing the brooch was shared.
Also, in a special photo shot to mark their anniversary, the monarch dazzled in a pale blue crepe dress and once again accessorized with the Chrysanthemum brooch.
The Queen has proved that this piece of jewelry is an all-time favorite, and even more, it goes well with most of her outfits.
In 2007, Her Majesty rocked the jewelry piece for the gorgeous pictures taken to celebrate her and Prince Phillip's 60th wedding anniversary.
Apart from using the brooch as a romantic nod to her husband, the Queen has also been seen wearing the brooch on important family occasions and while on official duties.
In 1950 when her only daughter Princess Anne was born, the Queen wore the Chrysanthemum brooch while posing for a portrait with her newborn.
While on tour to Malaysia in 1989, the Queen was seen wearing the same brooch. Time and time again, the Queen has proved that this piece of jewelry is an all-time favorite, and even more, it goes well with most of her outfits.
The Queen's recent use of the brooch is believed to be a tribute to Prince Phillip, who is currently recovering in the hospital following successful heart surgery.
This is, however, not the first time the Queen or other members of the royal family would be passing a message through their impeccable choice of jewelry, and it sure won't be the last.
Please fill in your e-mail so we can share with you our top stories!