Getty Images
Brits Outraged after Millions Spent on Meghan & Harry's Wedding after Their Private Ceremony
Brits are outraged after millions were spent on Meghan & Harry's wedding after they had a private ceremony 3 days before the official wedding.
Some British citizens took to Twitter to share their outrage that millions of pounds were spent on Prince Harry and Meghan Markle's public wedding after they found they had a private ceremony.
During the CBS interview with Oprah Winfrey, Markle revealed that she and Harry had said their vows to each other with the Archbishop 3 days before their very public and expensive wedding.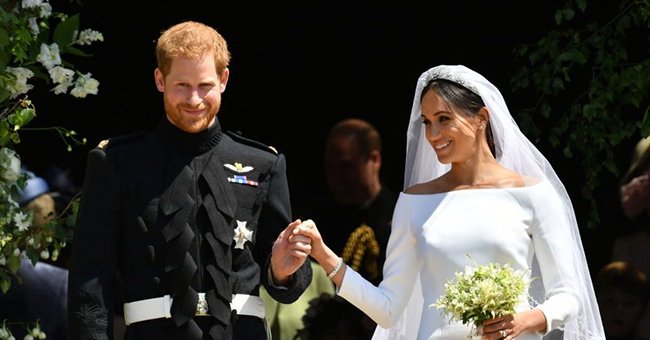 Prince Harry and Meghan Markle pictured at their 2018 wedding, London, England. | Photo: Getty Images
After learning about the couple's private ceremony, many Twitter users expressed their outrage that taxpayer money had gone to their wedding when they had already exchanged vows.
One user wrote that after learning the Sussexes had married the previous day, they felt that it was a big waste of resources and taxpayer money. Part of her tweet read:
"After learning that they married the previous day in their backyard I thought that was a monumental waste of resources. "
Another wanted to know "what was the point" in having spent millions of pounds on a "fake wedding" as the couple had gotten married three days before the televised version.
Another outraged Twitter user wrote that one-day British citizens would realize what a "colossal" waste of resources the royal family is and will demand them to be disbanded.
Markle, reportedly, did not skip out on paying part of the bill either.
Many outlets have reported on the total cost of the wedding and shared a breakdown of the cost. Harry and Markle's wedding cost 45 million pounds, more than Prince William and Kate Middleton's wedding.
However, the bulk of the amount went to security. 40 million pounds was spent to make sure the couple, their celebrity attendees, and the public were safe. Markle said this about the lavish wedding ceremony:
"This thing, this spectacle is for the world. But we want our union between us."
The couple had an intimate ceremony, which included only them and the Archbishop of Canterbury Justin Welby in their backyard.
Initially, it was reported that the royal family would be paying for the core parts of the wedding, such as the church service, decorations, flowers, the associated music, and the reception afterward.
However, taxpayers likely paid for the security, which was the largest item of the bill. Harry's role in the military put him in a vulnerable position which influenced the need for security.
Markle, reportedly, did not skip out on paying part of the bill either. She would have likely paid for her gorgeous wedding dress, a custom design by Givenchy Haute Couture.
Please fill in your e-mail so we can share with you our top stories!