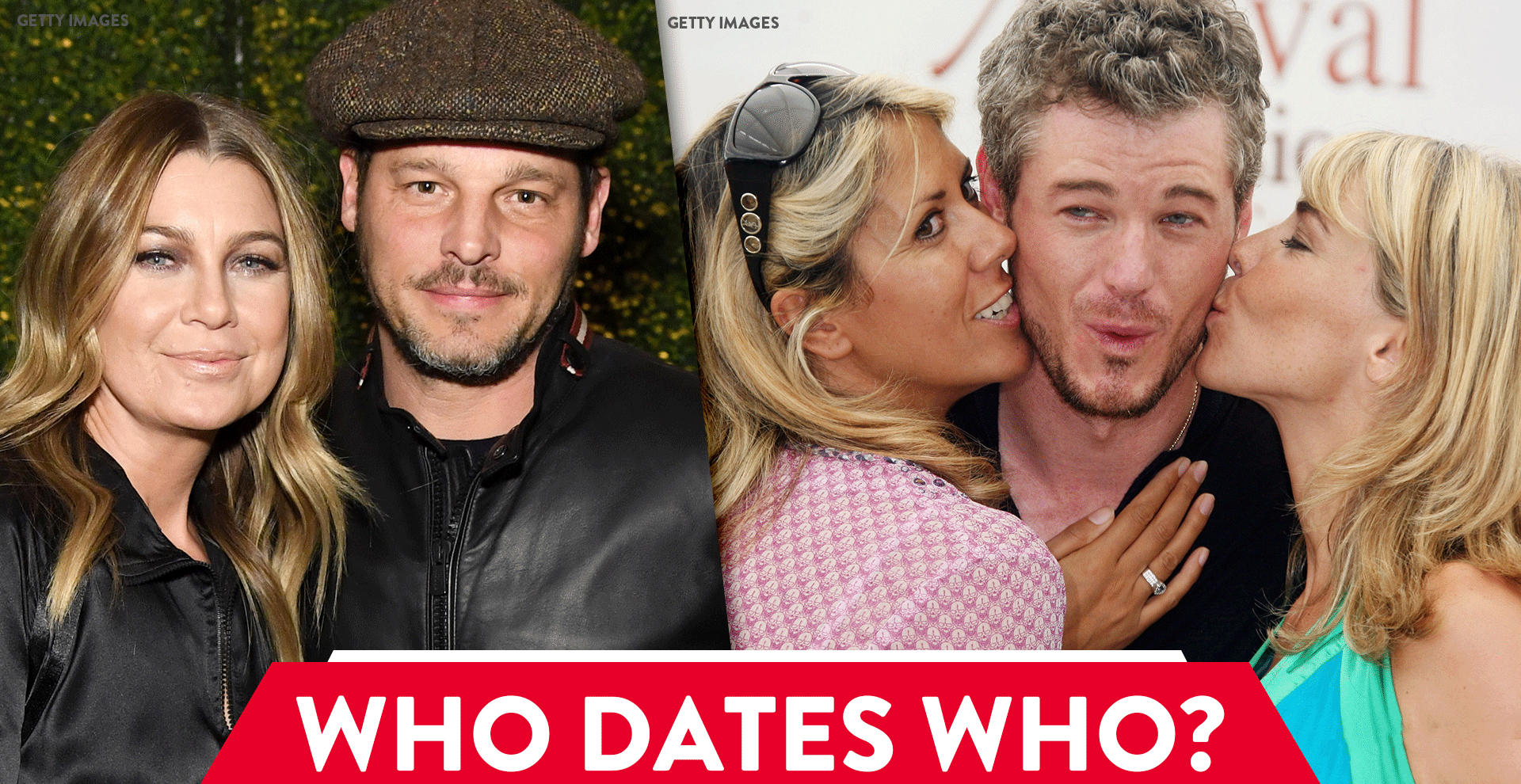 Real-life Partners of Grey's Anatomy Cast

"Grey's Anatomy" is still going strong after its premiere in 2005. Many character relationships developed over the years, but what about their real-life romances?
With season 17 of the popular medical drama in full swing, it has aired more than 340 episodes during its run so far, and the drama is far from over. But how do the cast's personal lives compare?
The actors from Grey's Anatomy became very popular. And while we see the lives of their characters on small screens, we'd love to also know what they are doing in real life.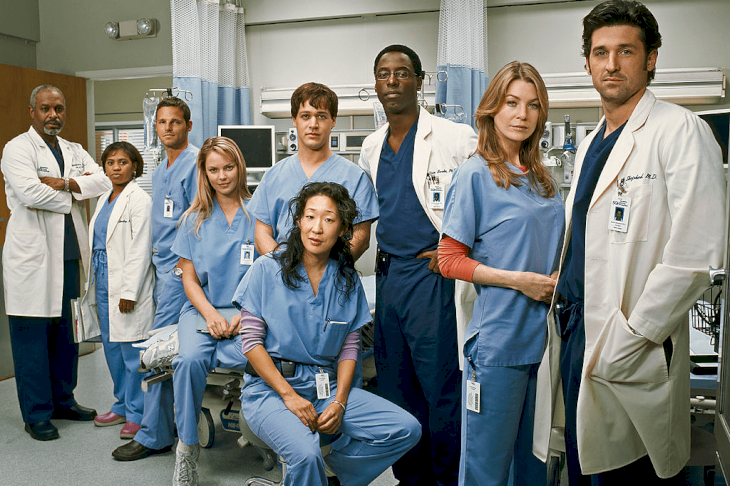 The "Grey's Anatomy" cast pictured in 2005. | Source: Getty Images.
SARA RAMIREZ (CALLIE TORRES)
In the medical drama, Sara Ramirez stars as Callie, the bisexual orthopedic surgeon who had relationships with Mark Sloane and Arizona Robbins.
It turns out Ramirez has things in common with her on-screen character. While the actress tied the knot with her longtime boyfriend, Ryan DeBolt, in 2012, she came out as bisexual in 2016.
View this post on Instagram
KEVIN MCKIDD (OWEN HUNT)
Owen Hunt's romances formed a big part of the storyline on the long-running medical drama, both with Cristina Yang and Teddy.
Two relationships feature in McKidd's private life as well. In 2016, McKidd and his wife of 18 years, Jane Parker, announced their separation. The pair share two children, Nava and Aiden.
In 2018, McKidd tied the knot the second time with the chef Arielle Goldrath. The couple since welcomed two children to the world as well, Iona and Joe.
View this post on Instagram
JAMES PICKENS JR. (RICHARD WEBBER)
James Pickens Jr. is one of the few actors who`s been on the show since the very beginning. He is definitely soaring to new heights in his professional career, and his personal life isn't much different either.
James has been living a happy life with his wife, Gina, for over 35 years. The couple has 2 children, who are grown-ups now and are pursuing their careers in showbiz.
View this post on Instagram
CHANDRA WILSON (MIRANDA BAILEY)
The actress lives a blissful life with her partner, who is the father of her three children. She has been with her love for more than 30 years, all the while keeping his name a secret from everyone!
Chandra Wilson and her mystery partner share three children, Serena, Joy, and Michael. The whole family actually appeared together on a Folgers Gourmet Selections ad back in 2007.
View this post on Instagram
JUSTIN CHAMBERS (ALEX KAREV)
Alex Karev and Izzy Stevens' romance on "Grey's Anatomy" made for memorable moments on the show and ultimately explained his exit from the show.
Contrary to Karev's luck in romance, Justin Chambers is happily married to his wife Keisha, with whom he shares five children after more than two decades together.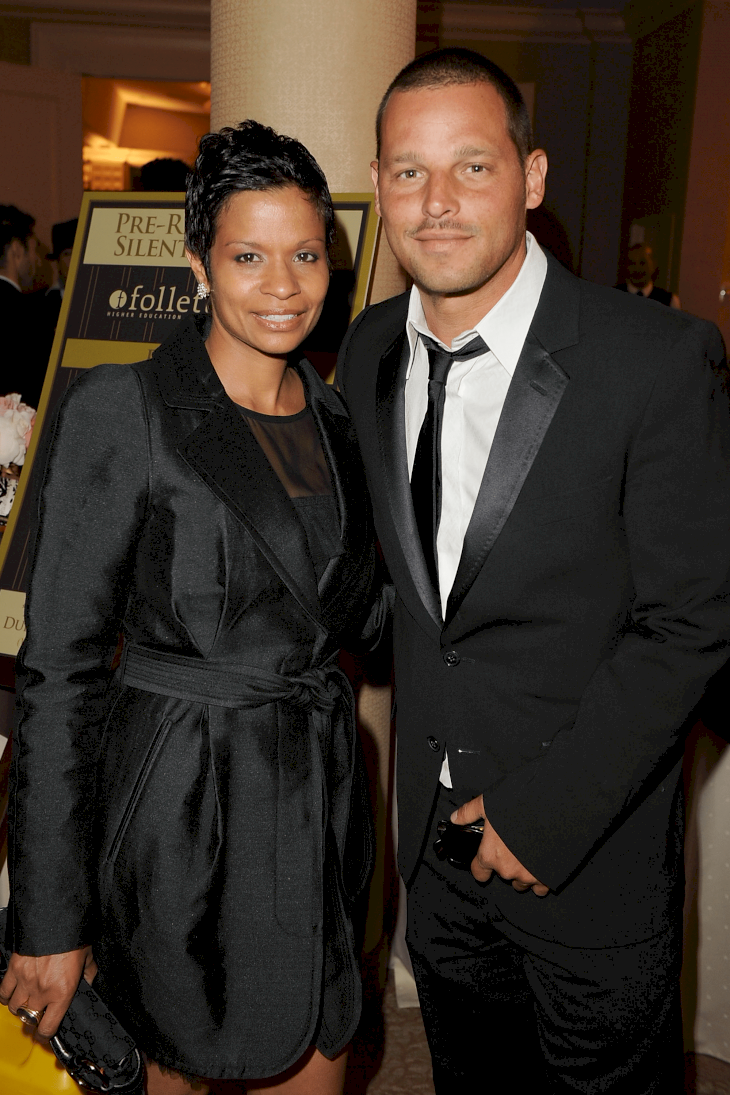 Justin Chambers and his wife Keisha Chambers attend the 2nd Annual Thirst Project Gala on June 28, 2011, in Beverly Hills, California. | Source: Getty Images.
CATERINA SCORSONE (AMELIA SHEPHERD)
Caterina Scorsone is one of the actors who joined Shondaland a little later than others. We have watched Amelia struggle with starting a family on Private Practice and Grey's Anatomy.
In May 2020, Scorsone announced splitting from her husband, Rob Giles, after more than ten years of marriage. They share three children Eliza, Paloma, and Lucinda.
View this post on Instagram
GIACOMO GIANIOTTI (ANDREW DELUCA)
Andrew Deluca was Meredith Grey's love interest for a short while after he joined the medical drama. While his character remained largely single, Giacomo Giannotti had much more luck in his private life.
In April 2019, Giannotti and Nichole G. wed in romantic Rome, Italy, at Villa Pocci, after being engaged since Thanksgiving 2017. Every moment together has since been magical to the pair.
View this post on Instagram
SARAH DREW (APRIL KEPNER)
On "Grey's Anatomy," April Kepner married Jackson Avery, but their love didn't last. Even so, Sarah Drew is equally religious as her onscreen character.
Drew remained a virgin until she married her husband, Peter Lanfer, seventeen years ago. The couple also shares two children, a son Micah, and a daughter Hannah.
View this post on Instagram
SANDRA OH (CRISTINA YANG)
Cristina Yang had two big relationship fails on the ABC medical drama series when her romances with Owen Hunt and Preston Burke ended.
Even though Sandra Oh keeps her personal life out of the spotlight, she's reportedly been in a relationship with the Russian artist Lev Rukhin since 2016. A decade after her first marriage ended.
In 2006, Oh divorced from the screenwriter and film director Alexander Payne, following three years of marriage and five years together as a couple.
View this post on Instagram
JESSE WILLIAMS (JACKSON AVERY)
In October 2020, Jesse Williams's divorce from Aryn Drake-Lee was finalized after the actor initially filed the documents to legalize their split in April 2017.
The pair married in September 2012 and now share joint physical and legal custody of their two children, Maceo, 5, and Sadie, 6. The posting of pictures of their children requires consent from both parties.
View this post on Instagram
ERIC DANE (MARK SLOAN)
Despite ups and downs in their relationship, Eric Dane is happily married to his wife, Rebecca Gayheart. The couple has been together for over a decade and shares two daughters, Georgia and Billie.
"I honestly think I'm exactly where I'm supposed to be at this moment in time. And I'm really happy," Dane told PEOPLE in December 2020.
View this post on Instagram
PATRICK DEMPSEY (DEREK SHEPHERD)
Patrick Dempsey's first marriage to Rochelle Parker crumbled in 1994, and the actor met his second wife, Jillian Fink, shortly after at a hair salon where she worked.
The couple tied the knot in July 1999 in Maine, and they welcomed three children, Darby, Tallula, and Sullivan, to the world. In 2015 the couple hit a rough patch in their marriage, but they worked things out eventually.
ELLEN POMPEO (MEREDITH GREY)
Meredith and Derek's onscreen romance made up a big part of the "Grey's Anatomy" storyline for several seasons. In real life, Ellen Pompeo's love is just as true.
View this post on Instagram
Married to the music producer Chris Ivery for over a decade, the couple initially met at a grocery store in 2003. Now, the happy couple share three children, Stella, Sienna, and Eli.
Please fill in your e-mail so we can share with you our top stories!