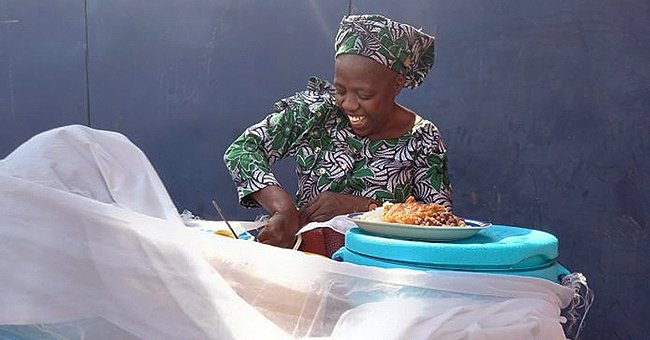 Twitter/legitngnews
Woman Who Lost Work & Money Amid COVID-19 Pandemic Becomes a Business Owner — Here's Her Story
Women are disproportionately affected by the current rising unemployment rates. Single mother Bunmi formed part of these statistics but managed to pull herself out of the rabbit hole after a year of being laid off.
Many individuals are losing their jobs due to COVID-19, and the Nigerian single mother of two Bunmi Oyebamiji-Ojo was no different. However, after facing a year of struggle and hunger, this resilient mother became a business owner.
Oyebamiji-Ojo worked as a cook at Sandralia Hotel in Abuja. While making her way to work one day, her supervisor called her, informing her that she was being relieved of her duties for a short time - unfortunately, it ended up being permanent.
The hotel cook had already faced many hardships, only managing to obtain a primary school certificate and working in lower-class jobs for nearly her whole life. Speaking about her challenges during her retrenchment, she said:
"I was at my lowest point in life. Hunger was biting hard. There was nobody to turn to."
As a result of the money loss, this strong woman couldn't support her son, who was in university, and her elderly father. On top of that, many family members were begging her for help from left and right, unaware of her dire situation.
Following her retrenchment, she had to leave her house due to rent issues and reside in a scrappy building. After working as a construction laborer and running laundries on the weekend, she finally launched her own food vending business.
According to studies, job loss has mainly affected the lives of women of color.
The site engineer originally pushed this single mother to start the vending business. As a result, her income stands at approximately N18,000 monthly, which she is slowly saving up to find better housing.
Of course, Oyebamiji-Ojo is not the only woman struggling with unemployment issues. Halfway across the world in the Leeds, UK, 29-year-old Annabelle Smith has lost three consecutive jobs during the pandemic, commenting:
"I've been independent for years, I left home at 18, and it would be a huge impact to have to go back home to my family and uproot my life."
She first lost her job in marketing, with a subsequent job loss in the property industry. Finally, she lost another employment opportunity as an assistant manager at a gym.
Luckily it's not all doom and gloom for every single woman during the pandemic - there are stories of hope. One is a 103-year-old lady who managed to survive COVID-19 despite being particularly deathly for the elderly.
During her stay at Mercy Hospital Logan County in Guthrie, Della Hathorne battled against the virus for half a month, eventually coming out victorious. Her son Lorenzo confessed that he was in disbelief that his mother lives to tell the tale.
Unfortunately, many women do not beat the odds and are beholden to the statistics that currently dominate the lives of many across the world. According to studies, job loss has mainly affected the lives of women of color.
A United Nations (U.N) report claims that no crisis has even been neutral regarding genders. Findings have shown that businesses run by women are particularly at risk.
Please fill in your e-mail so we can share with you our top stories!