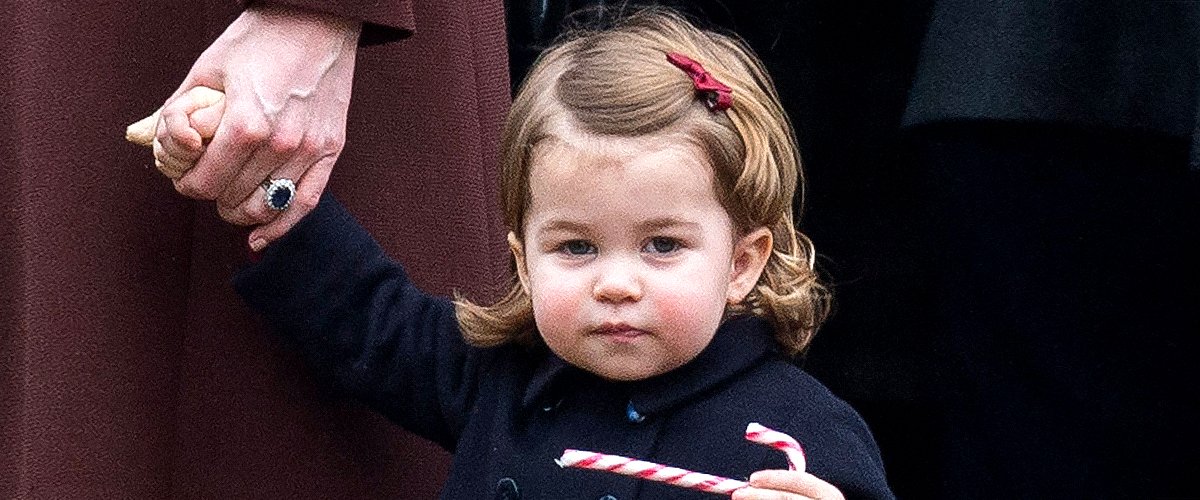 Getty Images
Little Royals: How Prince William's Kids Have Changed and Grown since Birth (Photo Spree)

The Duke and Duchess of Cambridge, Prince William, and Kate Middleton have welcomed three amazing kids since their marriage in 2011.
In the last decade, the Cambridge royals have expanded from the lovely couple who wed at the Westminster Abbey in 2011 to a wonderful family of five. Their growing family can be attributed to the three little royals born into the royal fortress.
MEET PRINCE WILLIAM'S KIDS
Prince William and Kate Middleton are proud parents of three kids, including two sons and a daughter. The couple's son, Prince George, 7, is the oldest of the brood. They are also parents to Princess Charlotte, 5, and Prince Louis, 2.
All three children go by the surname Cambridge, a nod at their father's title, "His Royal Highness, The Duke of Cambridge."
Remarkably, these three little royals, despite being so young, already have their respective personalities, likes, and dislikes, proof of how much they have grown since their births.
PRINCE GEORGE OF CAMBRIDGE
Middleton and William released the first official pictures of their son in August 2013, showing off the newborn in photos taken in the Middleton family backyard. The heartwarming shots were captured by none other than the duchess' dad, Michael Middleton.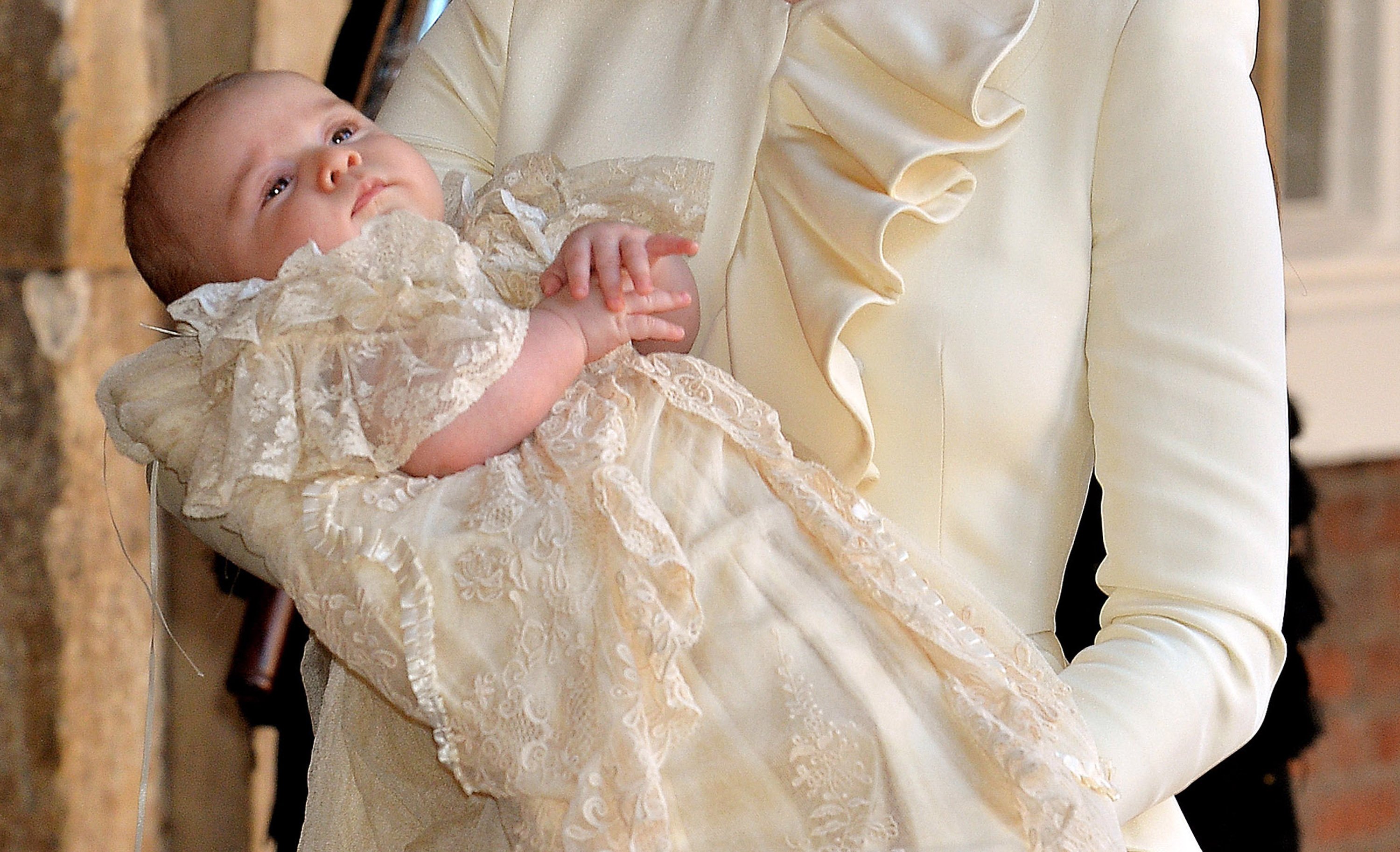 Catherine, Duchess of Cambridge carries her son Prince George Of Cambridge after his christening on October 23, 2013 in London, England. | Photo: Getty Images
GEORGE'S FIRST BIRTHDAY
On July 22, 2014, the Cambridges marked their son's first birthday in style and captured the memories in pictures. This shot shows Prince George at one, posing with his mom, Kate Middleton, and dad, Prince Williams.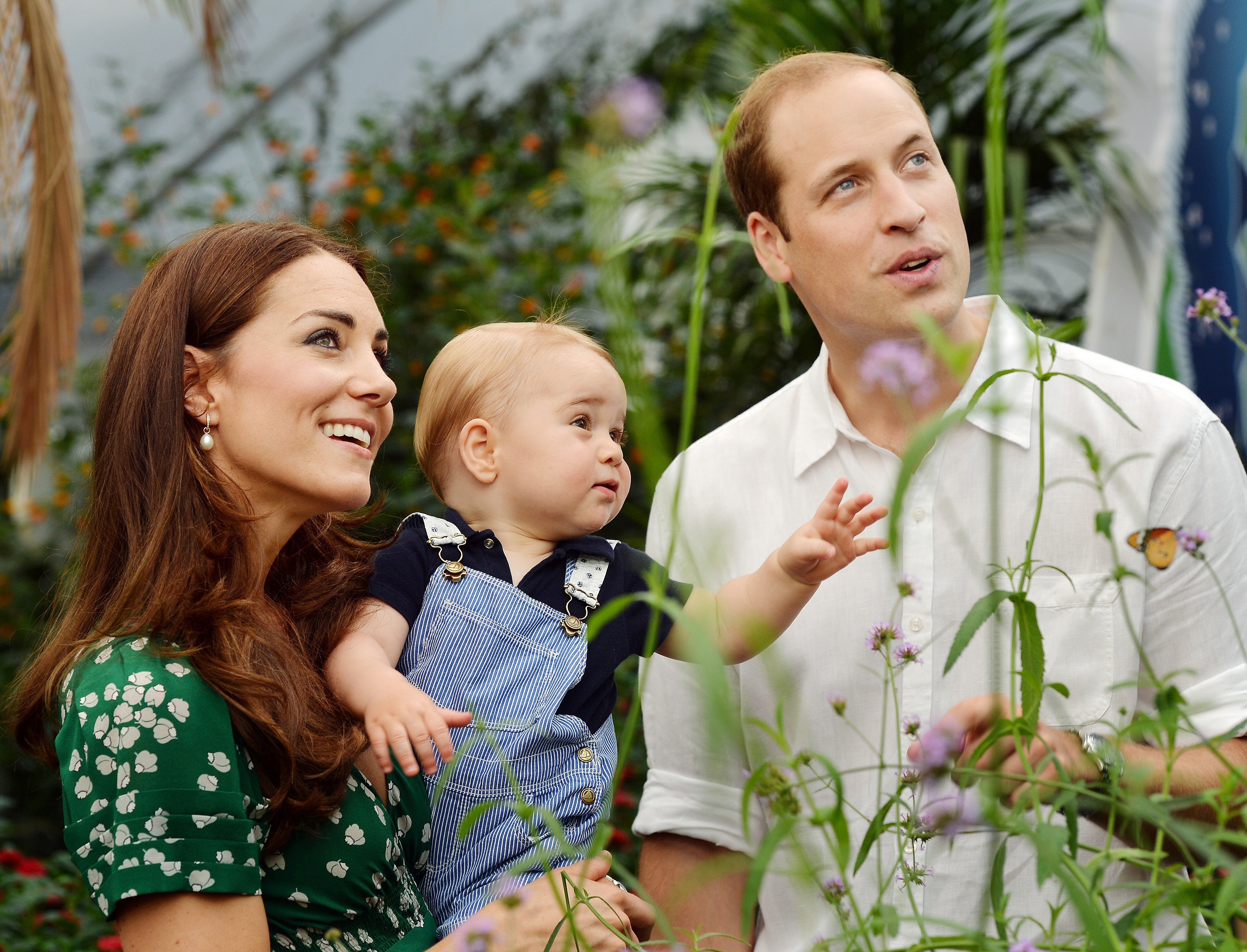 Duchess Kate, Prince George, and Prince William posing for George's first birthday photos | Photo: Getty Images
4-YEAR-OLD GEORGE
Four-year-old George looked stunning as he posed for his birthday shot in a blue and white striped shirt to mark his fourth-year milestone.
GEORGE'S CHRISTMAS PUDDINGS
Six-year-old George is all definition of cuteness while preparing puddings in honor of the Royal British Legion's Together at Christmas initiative in 2019.
The picture, taken on December 21, 2019, represents four generations of royals, including Queen Elizabeth II, Prince Charles, Prince William, and Prince George.
PRINCE GEORGE ENJOYS FAMILY TIME
Ahead of Prince William's birthday on June 21, 2020, Kensington Palace released this beautiful picture of Prince George riding on a swing alongside his dad and two younger siblings.
PRINCE GEORGE AT SEVEN
Kate Middleton took this snapshot of her first son on July 21, 2020, ahead of his seventh birthday. The little prince looked all festive in his army green polo as he showed off his gap tooth.
GEORGE GETS A SPECIAL PRESENT
Released by the royals in September 2020, Prince George looked excited in the photo after receiving a special present, the tooth of a rare giant shark, from Sir David Attenborough.
GEORGE AT A PANTOMIME PERFORMANCE
This beautiful family photo was captured in December 2020. It shows Prince George looking excited as he joined Prince William, Princess Charlotte, Kate Middleton, and Prince Louise to attend a special pantomime performance of the National Lottery's Pantoland at The Palladium.
The Cambridges' first son, Prince George of Cambridge, was born on July 22, 2013. At birth, the young lad was conferred the title, His Royal Highness, the Prince of Cambridge.
George is notably the third in the line of succession to the British throne, following his dad, Prince William, and Grandfather, Prince Charles of Wales.
At only seven, the youngster already shows a distinguished interest in the outdoors. William once admitted that the young prince was obsessed with tractors.
In addition, he enjoys dancing, with the main focus on ballet. The tot honed his ballet skills during his one-year curriculum at the Thomas Battersea school when he was five.
He practiced the art for 35 minutes each week. He also has a keen interest in Disney films and football, famously rooting for his dad's favorite team, Aston Villa.
PRINCESS CHARLOTTE OF CAMBRIDGE
Born on May 2, 2015, Princess Charlotte Elizabeth Diana is the first and only daughter of Kate Middleton and Prince William. She goes by the title, Her Royal Highness, the princess of Cambridge, conferred on her by the Queen at birth.
PRINCESS CHARLOTTE'S CHRISTENING
Charlotte's christening took place on July 5, 2015, two months after her birth. This picture shows the princess in her silver cross pram, departing the Church of St Mary Magdalene on the memorable day.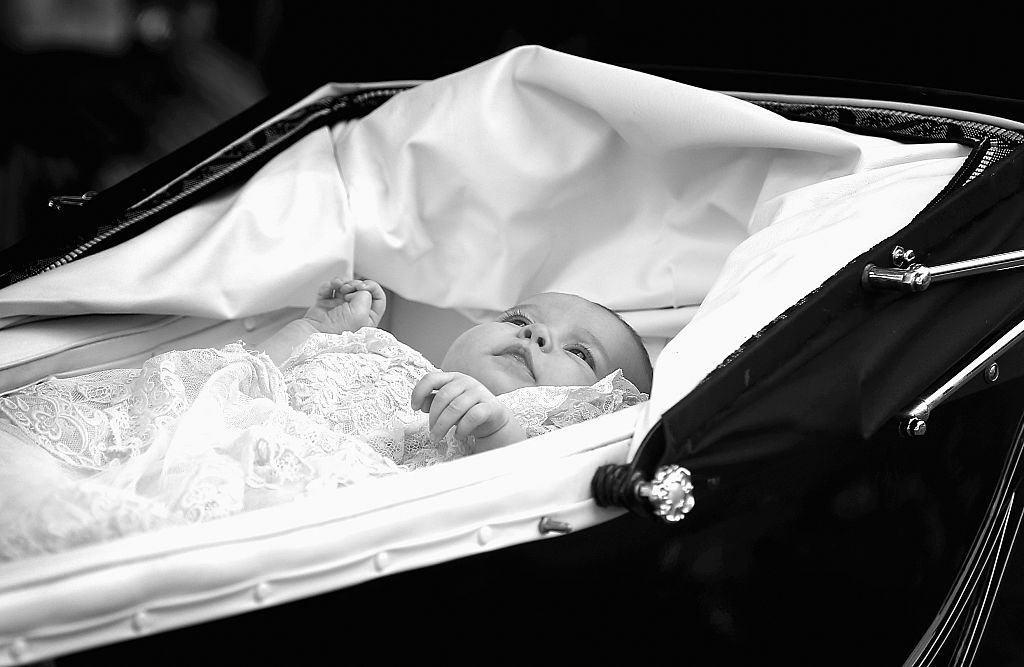 Princess Charlotte of Cambridge leaves the Church of St Mary Magdalene on July 5, 2015 | Photo: Getty Images
THE PRINCESS GO SKIING
Princess Charlotte proved herself a lover of adventures and the outdoors from the onset. This picture captured from the Cambridges' March 2016 skiing break in the French Alps, France, shows the princess at 10-months-old, roughing it in the snow with her dad, Prince William.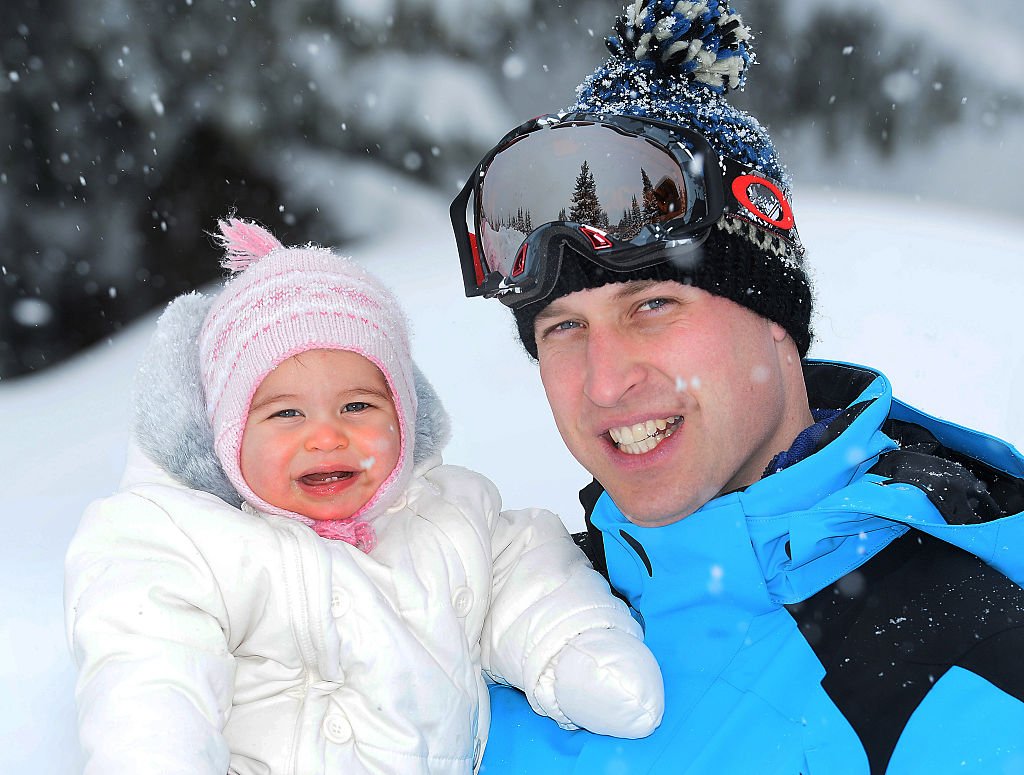 Prince William, Duke of Cambridge and Princess Charlotte, on March 3, 2016 in the French Alps, France. | Photo: Getty Images
CHARLOTTE AT PRINCESS EUGENIE'S WEDDING
3-year-old Charlotte looked adorable as she waved to the crowd in her bridal-themed apparel during Princess Eugenie's wedding to Jack Brooksbank at Windsor's St George's Chapel. The wedding took place on October 12, 2018.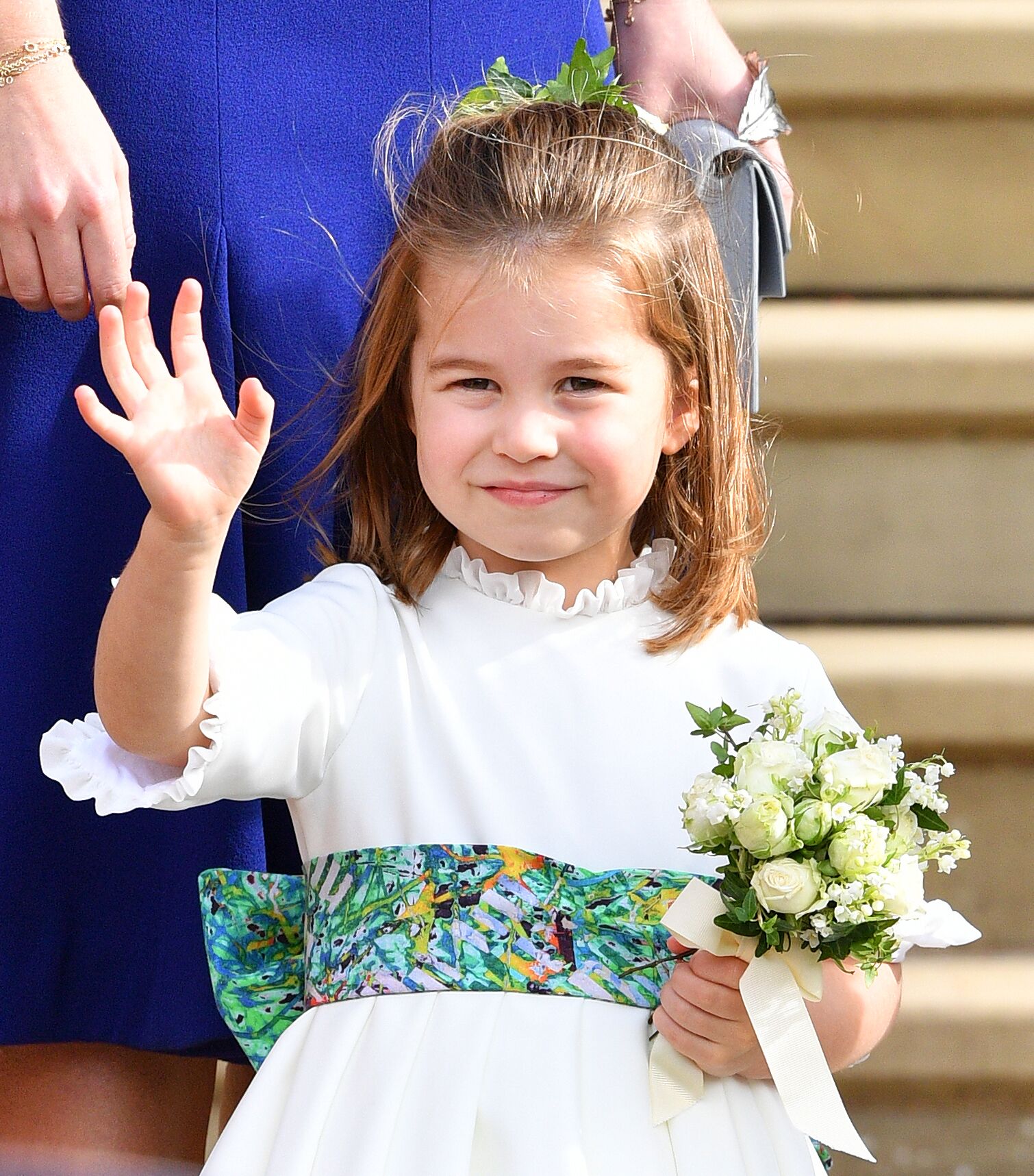 Her Royal Highness Princess Charlotte of Cambridge Princess Charlotte at the wedding of Princess Eugenie and Jack Brooksbank at St George's Chapel in Windsor, England | Photo: Getty Images
CHARLOTTE AT FOUR!
The Duke and Duchess of Cambridge showed off their beautiful daughter, sitting on a bamboo picket fence a day to her fourth birthday.
CHRISTMAS IS IN THE AIR
This black and white photo from Christmas Day 2019 shows Princess Charlotte of Cambridge taking on the elder sister role as she dotes on her little brother, Prince Louis. Prince George and Prince William also appeared in the family picture.
PRINCESS CHARLOTTE EMBRACES NATURE
Words can't describe this pic of the little princess in perfect sync with nature as she stoops to smell a bluebell. Middleton shared it in February 2020, in line with her "Happy Mum, Happy Baby" podcast with Mrs. Giovanna Fletcher.
THE PRINCESS TURNS FIVE
Ahead of her fifth birthday, the Cambridges shared pictures of Charlotte looking excited as she joined her family's charitable quest to deliver food to isolated pensioners. The princess looked especially cute in this black and white checkered dress with a massive collar.
Ranking behind her older brother, the princess is the fourth in line of succession, making history at birth by becoming the first British princess to rank above a brother (Louis) in line with the Perth Agreement.
As early as two years old, she took to dancing like her brother and adopted admirable qualities like politeness. Charlotte also learned a bit of Spanish from her nanny, even before enrolling in nursery school in January 2018.
When Charlotte was four, her dad confirmed her love for unicorns, evident in several public sightings of her carrying a stuffed unicorn or accessorizing her outfits with objects bearing a resemblance to the mystical creature.
The tot also enjoys picking out her own outfits and being the center of attention. Growing up, Charlotte quickly understood she was special, embracing her princess status from a young age.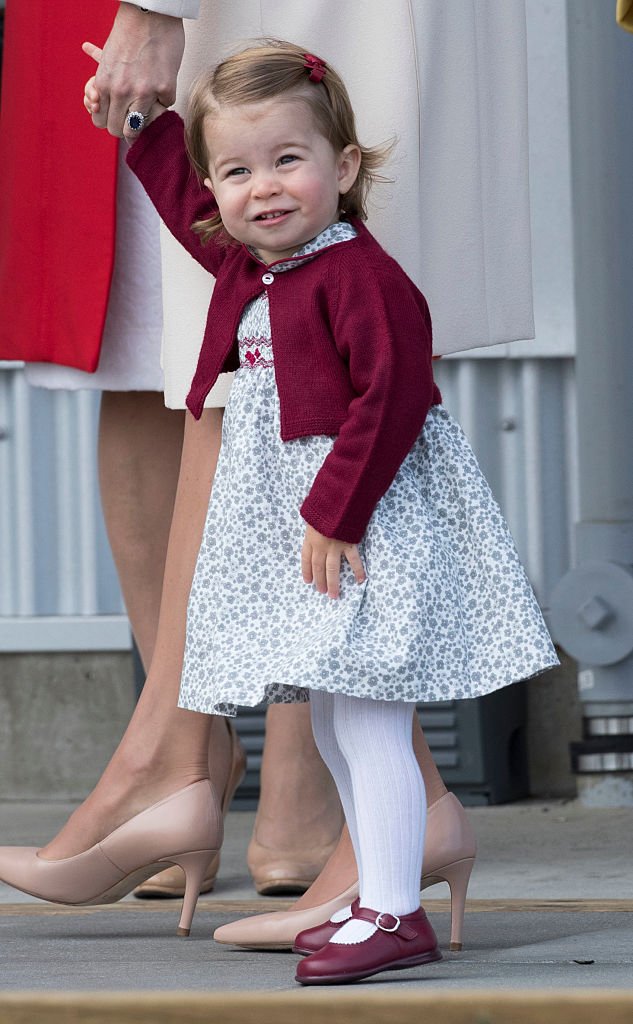 Princess Charlotte leaves from Victoria Harbour to board a sea-plane on October 1, 2016 in Victoria, Canada. | Photo: Getty Images
Among her vast arrays of toys, the 5-year-old, who received a tennis racket and a bicycle from her parents for her fifth birthday, deems her toy tiara her favorite.
Additionally, the youngster is full of energy, has a fun-loving personality, and is firm when it comes to expressing her thoughts and feelings.
Charlotte does not get intimidated in front of a crowd, another true attribute of a true princess. A source once described the little girl as the most confident of her siblings and the "leader of the pack," and rightly so.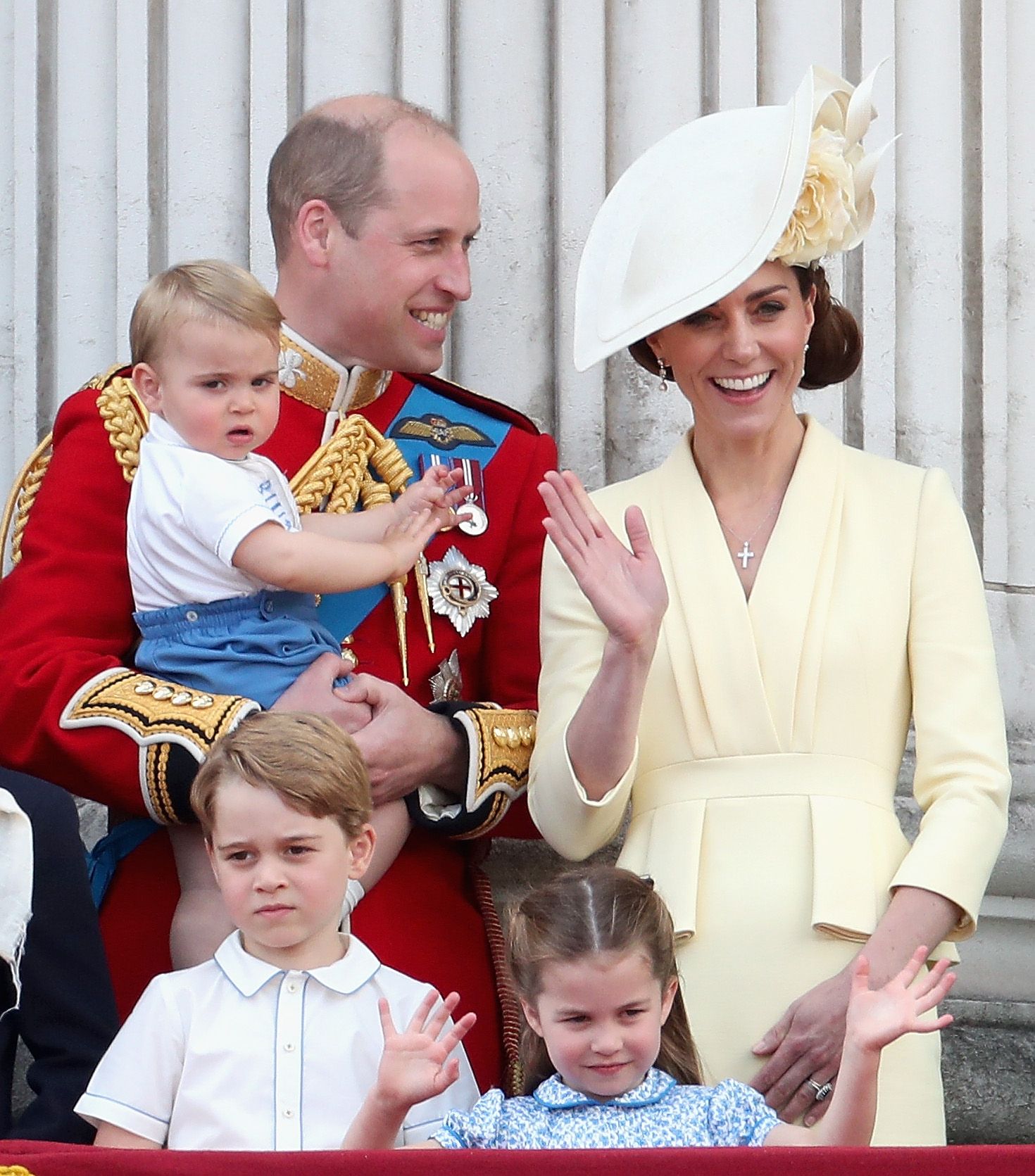 Prince William, Kate Middleton, Prince Louis, Prince George, and Princess Charlotte during Trooping The Colour on June 8, 2019. | Photo: Getty Images
PRINCE LOUIS OF CAMBRIDGE
The Duke and Duchess released the first official pictures of Prince Louis in the first week of May 2018, days after Charlotte's third birthday. One of the shots showed the young prince at three days old, while another showed the then-newborn receiving an affectionate kiss from his elder sister.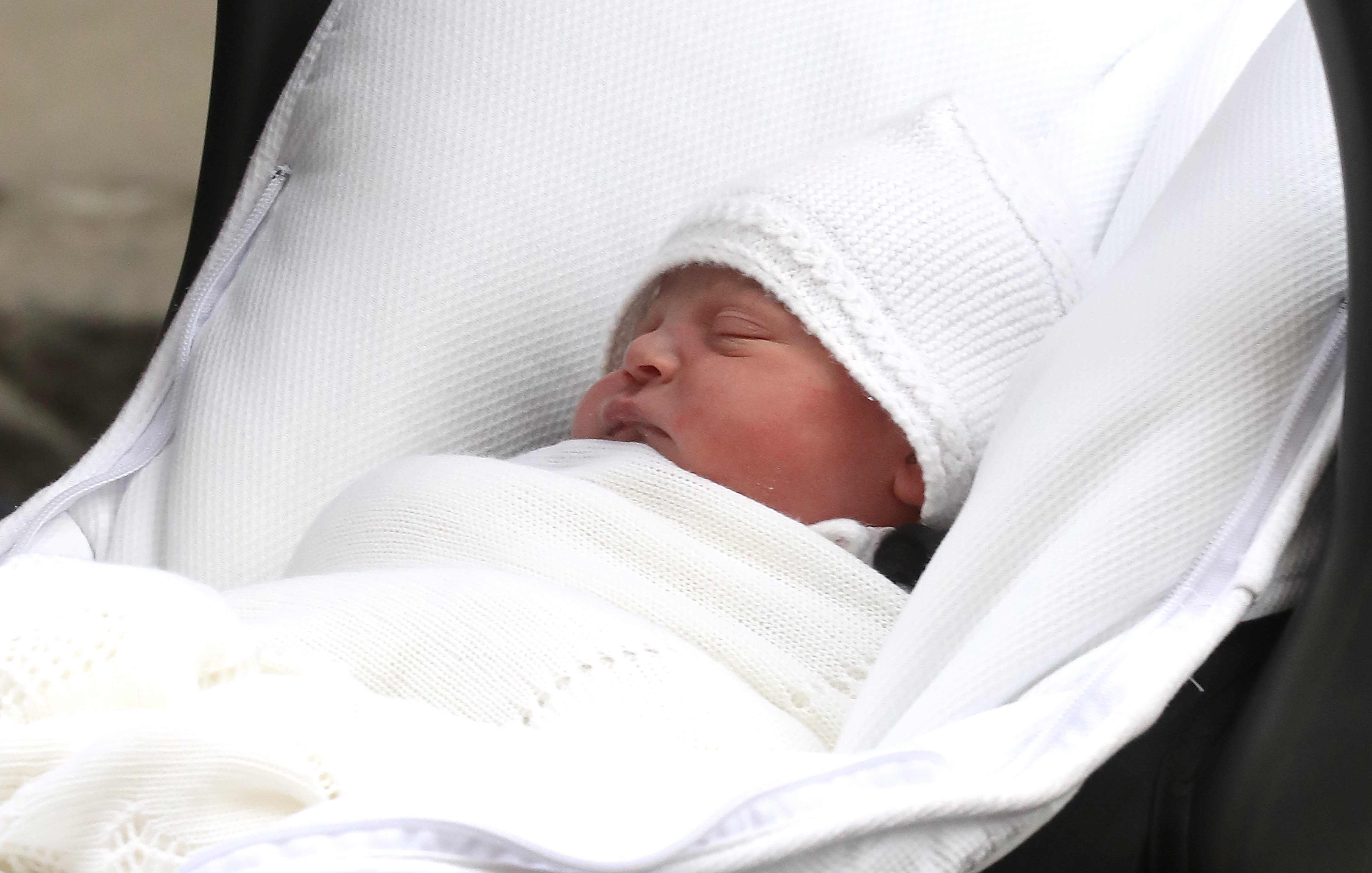 The newborn baby son of Prince William, Duke of Cambridge and Catherine, Duchess of Cambridge on April 23, 2018 in London. | Photo: Getty Images
THE CHELSEA FLOWER SHOW, MAY 2019
Louis took up one of his earliest chores in 2019 when he helped his mom gather moss, leaves, and twigs to decorate the Back to Nature Garden. This pic from May 2019 shows the duchess and the young prince during a visit to the RHS Back to Nature garden at the Chelsea Flower Show.
FATHER'S DAY VIBES
Prince Louis got some bonding time with his dad on 2019's father's day. A photo from their father-son moment showed the then-one-year-old prince sitting on a rope ball swing while his dad held him in place.
PRINCE LOUIS' SECOND BIRTHDAY
In honor of Prince Louis' second birthday, the Cambridges shared photos of the young lad, playing around with several colors of paints, and predictably, ended up getting some streaks on his face. The photos were captured by the duchess of Cambridge.
GRANDPA JOINS THE CELEBRATION
Guess who dropped by for Prince Louis' second birthday! His grandfather, the Prince of Wales. The two shared a warm embrace to mark the milestone, which was captured in this photo.
#CLAPFOROURCARERS WITH LOUIS
On his second birthday, Louis joined his family to participate in the weekly Clap For Our Carers initiative in appreciation of key workers contributing to the running of the country.
The Cambridge royals welcomed their second son, Prince Louis Arthur Charles, on April 23, 2018. As the third and youngest of Prince William's kids, the young lad, now three, is the fifth in line to the throne, falling behind his sister.
The toddler, now going on three, is as energetic as his older siblings and loves the outdoors just as much. He also enjoys watching the diggers at construction sites, an unusual hobby he shares with his older sister, Charlotte.
ONE HAPPY FAMILY
This picture from 2019 shows Prince Louis, Prince George, and Princess Charlotte with their parents, Prince William and Kate Middleton, during the Trooping the Color event.
The event took place on June 8, 2019, and the young princess certainly stole the show with her cheerfulness, giving the royal wave a new definition.
Despite their varied outlook on life, the trio has certain things in common, with birdwatching, a bogus appetite, and their unconditional love for their parents making the list.
Please fill in your e-mail so we can share with you our top stories!