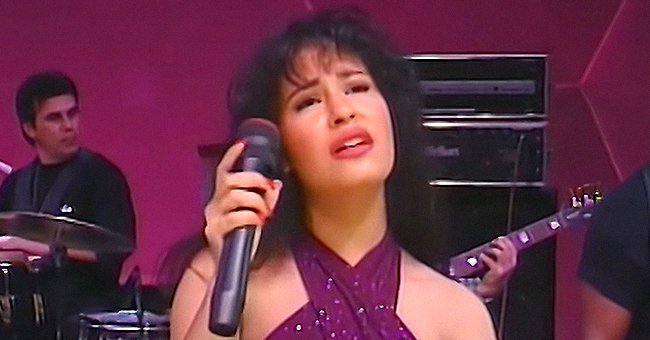 YouTube/Selena OFFICIAL
Selena Quintanilla's Family Honor Her With a Touching Tribute 26 Years After Her Tragic Death

It has been 26 years since the Latin singer Selena Quintanilla was killed, and her family members marked the occasion with tributes on social media.
March 31, 2021, marked the 26th anniversary of Selena Quintanilla's murder. Her siblings, A.B. Quintanilla and Suzette Quintanilla, and Quintanilla's widower, Chris Perez, all posted tributes to her to mark the occasion.
A.B., her brother, shared an edited photo of Quintanilla. The photo looked like a water-color painting of the singer wearing a strapless dress and bold red lips. In the caption, A.B. wrote that he missed his sister.
Quintanilla's sister, Suzette, shared a photo of a closeup of a white rose. In the caption, she wrote in Spanish that she loved and missed her sister with a purple heart emoji.
Suzette also shared a beautiful throwback photo of the sisters from when Quintanilla was alive on her Instagram story. In the photo, the sisters are hugging each other and smiling toward the camera. Suzette wrote on the photo:
"My favorite photo of us! I miss this so so much!!!!"
Quintanilla's widower, Perez, who was 25-years-old at the time of her death, shared a post on her death anniversary too. He posted a photo from an accommodation site at Joshua Tree National Park.
He revealed that the location was where he and Quintanilla had filmed her "Amor Prohibido" music video. He added that others had urged him to get away, so he did, with his music and a few beers.
During the docuseries, Perez opened up about finishing her album "Dreaming of You."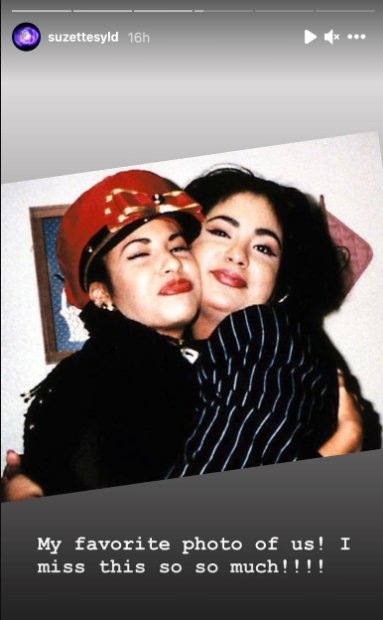 Selena Quintanilla's sister, Suzette shared a throwback of the two sisters on her Instagram Story. | Photo: Instagram/suzettesyld
Recently in an episode of E!'s "True Hollywood Story," Perez opened up about the ordeal he went through when she was shot and killed by her fan club president, Yolanda Saldívar, in 1995.
Perez revealed that at the time, it was one of the hardest things he had ever been through and that it was very traumatic. He also admitted that he still misses her as he said:
"It was the hardest thing up until that point that I had ever had to go through. I miss her face, her laughter. She was just an amazing soul, an amazing spirit."
Perez explained that while traveling on the road, he was never worried about her safety as they had security with them, so the fact that the shooter was a friend of hers was shocking and unbelievable.
During the docuseries, Perez opened up about finishing her album "Dreaming of You." He shared that it was hard to go into the studio to record the guitar for the songs as he had to listen to her voice.
Despite the challenges, "Dreaming of You" was the first album by a Latin artist to reach number one on the Billboard 200. It was released less than four months after her death.
Quintanilla has been memorialized in a Netflix series about her life called "Selena: The Series." Many of Quintanilla's family members are executive producers, and actress Christian Serratos stars as the Latin singer.
Please fill in your e-mail so we can share with you our top stories!