Gwen Stefani Flaunts Hot Pink Ball Gown While Filming Her New Music Video
Gwen Stefani shared behind-the-scene glimpses into her new music video, including a photo of herself in a gorgeous pink gown. 
Gwen Stefani and Saweetie filmed the music video for their new track, "Slow Clap." Stefani shared amazing behind-the-scenes videos, photos, and sneak peeks of the music video on Instagram. 
In the music video, Stefani's edgy pop style is on display. In one photo from the shoot, Stefani is wearing a gorgeous layered pink ball gown. Saweetie wore a stunning light blue gown alongside Stefani's pink dress.
In the caption of the Stefani in the ball gown, she referenced her hit song, "Hollaback Girls." Stefani also shared a video of a compilation of clips from the music video shoot. 
It featured clips from different video scenes, including one where Stefani is wearing a green and yellow sports outfit, while she dances in a locker room, along with her backup dancers. She captioned the video:
"All I want is to create fun music that makes people feel good, so thank u @saweetie for hopping on this track and doing that with me."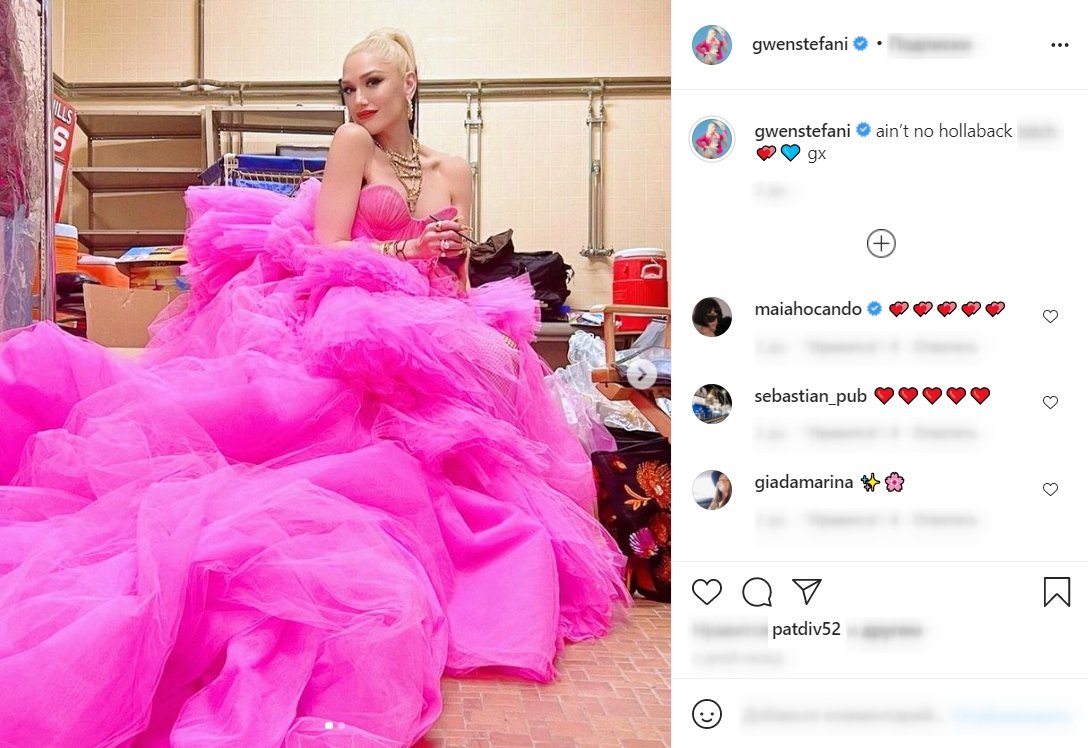 The single was released a month ago. Stefani shared a video of herself in a sparkly pink barely-there cowgirl look, which featured a hot pink jacket, fishnet stockings, and a jeweled matching denim crop top and shorts.  
The "If I was a Rich Girl" singer shared updates on its release on Instagram. She recorded the song during the lockdown. She did not plan to make it, but someone suggested writing on Zoom, and she went for it. 
The 51-year-old singer has been performing since the 80s and started her music career with a band.
Luckily she did, as fans have shared their enthusiasm for the song in the comment section on her promotional Instagram posts for the song. Stefani took a moment to thank her fans for listening alongside a photo of herself sitting on a dock. 
She might be making and releasing music during the pandemic, but one important event has been put on hold; her wedding to Blake Shelton. Fortunately, they enjoy being engaged. Stefani credited Shelton for her good looks as she said:
"I look back over the past few years and look at pictures of when I first started kissing Blake, and I look the best I've ever looked in my life in those photos." 
"The Voice" coach popped the question to Stefani in October 2020. Stefani shared a photo of herself showing off her new ring while kissing her country singer fiance to announce their engagement on Instagram.
Stefani's Instagram is filled with all sorts of updates of her life but mainly focuses on her latest music projects. However, recently she shared a stunning throwback photo of herself from the 1990s.
The 51-year-old singer has been performing since the 80s and started her music career with a band called "No Doubt." The throwback photo is most likely from her days rocking on stage with her band.  
In November 2020, Stefani and her fans celebrated the 15th anniversary of the release of her solo album "Love. Angel. Music. Baby." She released alongside a clothing line of the same name.