Simone Biles Dons a Sparkling Costume as She Gets Ready For the 2021 Olympic Games in Tokyo
Simone Biles is all ready for the upcoming 2021 Tokyo Olympics Games in a new photo that saw her donning a sparkly blue leotard. Fans could not stop gushing over how beautiful she looked.
The Tokyo 2021 Olympic Games is only a few months away. Unsurprisingly, sports lovers, including prolific gymnast Simone Biles, cannot wait for the highly anticipated event.
In a recent Instagram post, Biles shared a photo of herself posing with some other gymnasts, including Sydney Barros, Jordan Chiles, Karis German, Olivia Greaves, and Zoe Miller.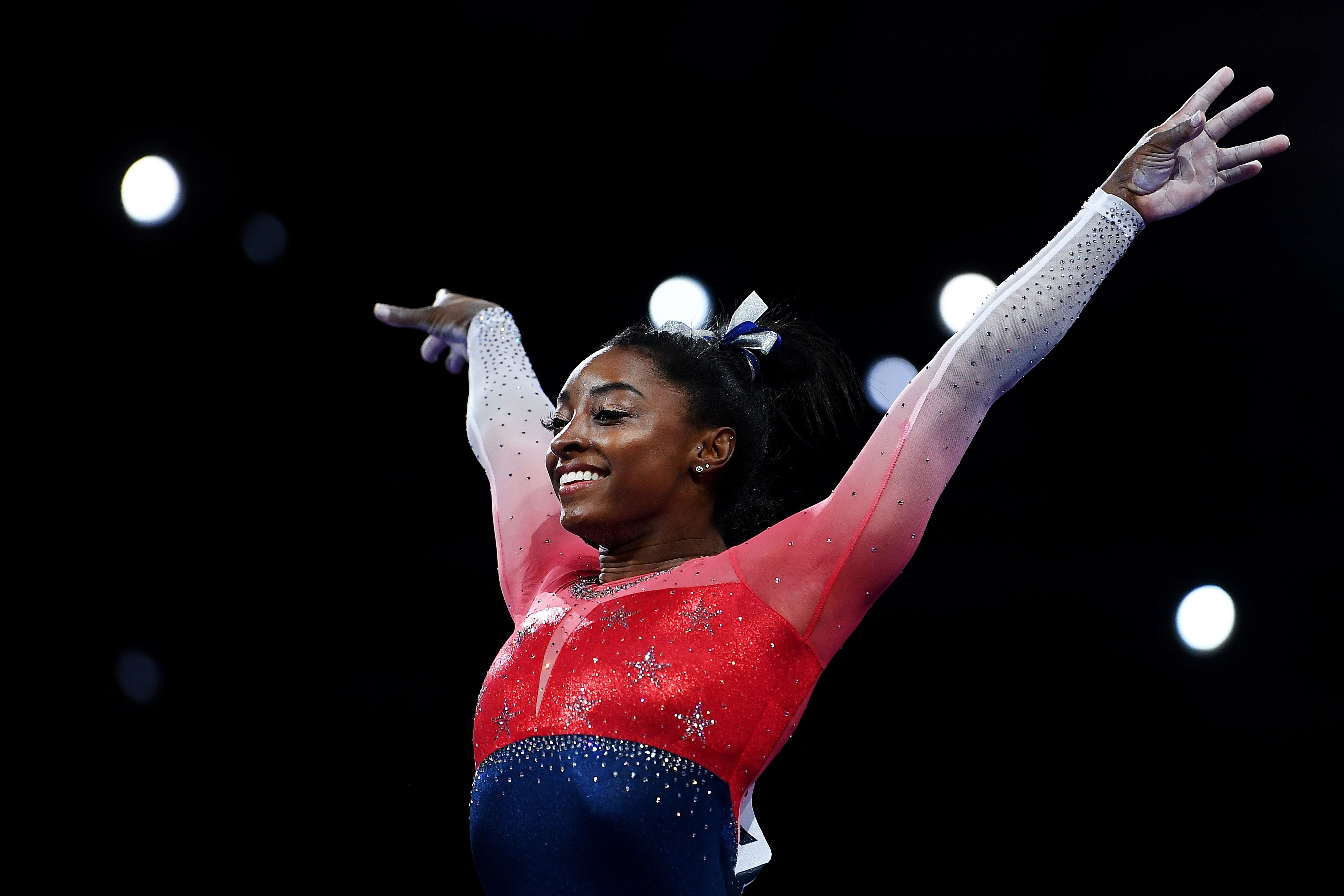 Biles matched with the other gymnasts in a stunning striped blue leotard with sheer sleeves and sparkly stones embroidered all over it. Putting on their best smiles, the athletes posed for the picture.
The group all pulled up their hair in neat buns, showing they had perhaps finished or were just getting started with their gymnastics practice ahead of the 2021 Olympic Games. Biles wrote:
"100 DAYS TO GO ???#2020one #TokyoOlympics #WCCProud."
The lovely photo stirred up reactions from several of Biles' fans and followers who took to the comments section, sharing their excitement over the upcoming Olympics while also leaving compliments for the group.
One user called Biles and the others beautiful, while another expressed loved for the leotards. Many others simply left fire and heart emojis in admiration of the lovely picture.
Biles believes she should return to the Olympics with one goal — to be a voice for upcoming gymnasts.
While Biles is undoubtedly excited to show off her impressive gymnastics skill at the Olympics and perhaps win some more medals, for the athlete, what the 2021 Tokyo Games is about is much more than winning.
During a recent appearance on Today, Biles revealed she wants to use her fame and popularity to advocate for change in the sports following former USA Gymnastics team doctor Larry Nassar's conviction.
Biles is one of many hundreds of gymnasts who suffered abuse from Nassar, who has been convicted and is currently serving time on charges of sexual misconduct and child pornography.
While many of the women Nassar abused have retired from the sport, Biles believes she should return to the Olympics with one goal — to be a voice for upcoming gymnasts and other abuse survivors.
With a career spanning nine years, Biles has made a name for herself in the world of sports. Today, she is one of the most decorated gymnasts in the world, with over 30 medals.
At only 24, Biles has proved herself to be a pioneer in her career. Whether she records more wins at the upcoming Olympics, this gymnast already has a lasting legacy that will remain even years after she is gone.