Jennifer Meyer Is Tobey Maguire's Soon-to-Be Ex-wife and a Jewelry Designer — Get to Know Her
Actor Tobey Maguire was married to popular jewelry designer Jennifer Meyer for almost a decade until their split in 2016. Find out who Meyer is and what happened to their marriage.
From 2007 to 2016, actor Tobey Maguire and jewelry designer Jennifer Meyer were married with two children, a son, and a daughter, until they parted ways. 
Interestingly, the pair have remained friends as they work on parenting their children together. Learn more about Meyer as a jewelry designer who has become a favorite among celebrities and the fate of their marriage of nine years.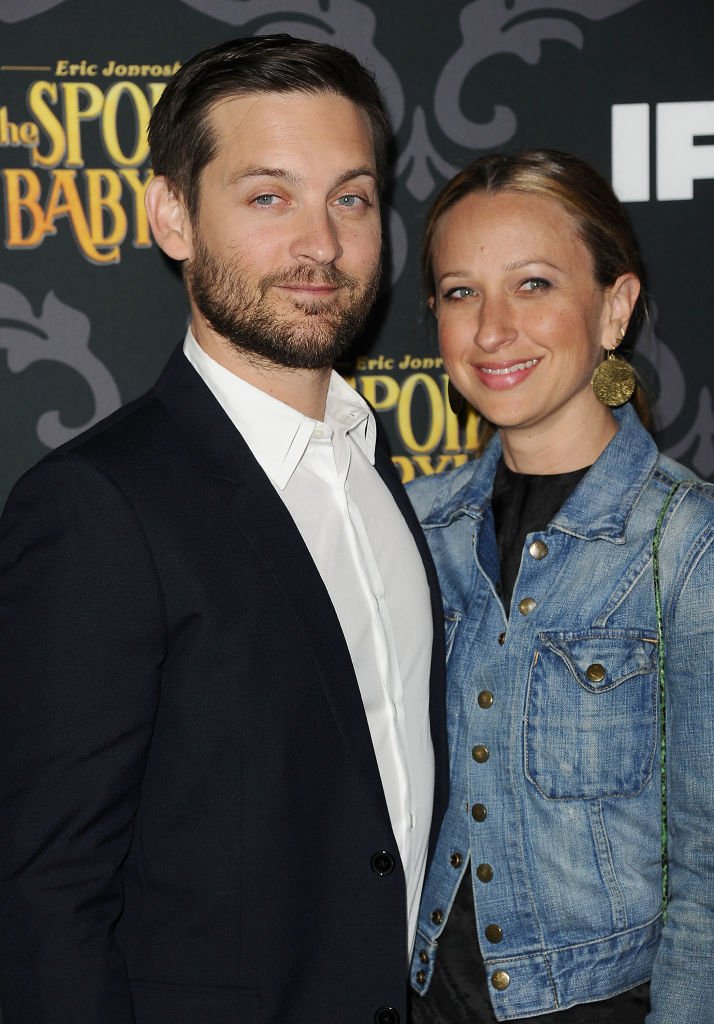 WHO IS JENNIFER MEYER?
Born on April 23, 1977, jewelry designer Jennifer Meyer who was also known as actor Tobey Maguire's wife until their split, is the daughter of the former vice-chairman of NBC Universal. 
The jeweler first picked up interest in the craft as a young girl and only returned to it years later to start her eponymous jewelry line, Jennifer Meyer Jewelry, in the early 2000s. 
She broke into the A-list jewelry scene in 2006 when actress Jennifer Aniston wore her trademark leaf pendants in the 2006 comedy film "The Break-Up." 
True to their promise, the mother and father have remained friends. In 2018, Maguire was spotted supporting Meyer.
The years after that led to a lot of exposure, and in no time, Meyer had worked her way into the hearts of several jewelry-loving celebrities. In 2007, she was named Jeweler of The Year by Us Magazine's "Hot Hollywood Style" issue. Many more awards have since come for her.
BUSINESS AND PASSION
In a 2020 interview with Forbes, Meyer opened up about her humble beginnings as a girl learning to make jewelry from her grandmother, Edith. She said:
"My grandma, Edith, was one of the greatest inspirations in my life, both personally and professionally. She was an incredibly talented artist..."
When asked about the obstacles she faced as a young jeweler just starting out, Meyer admitted that starting a jewelry company with no experience in the field or business at all gave her a very tough time.
But thanks to her resilience, determination, and a team of strong people, the jewelry line was born and stood strong through thick and thin.
In another interview, the jewelry designer described the goal of her company as simply making pieces that anyone would be able to wear all the time. Of course, the statement pieces would remain important, but everyday pieces were the goal.
MEYER AND MAGUIRE'S LOVE STORY
The Tobey Maguire-Jennifer Meyer story began when they first met in 2003. At the time, Maguire was shooting "Seabiscuit" at Universal Studios, and they soon started dating. Three years later, they got engaged in April 2006 when Meyer was already pregnant with their first child.
Later that year, their daughter, Ruby, was born. In September 2007, Meyer and Maguire tied the knot in a beautiful, intimate wedding in Kona, Hawaii, with family and friends, including actor Leonardo DiCaprio.
The couple famously purchased and flipped former "Friends" star Courteney Cox's Brentwood, California estate in January 2014.
Months after renovating and turning the property into a more modern style, they revealed that they were selling the stunning 6-bedroom, 6320-sq. ft property for $10.25 million, roughly $1.8 million more than they bought it.
PARENTHOOD TOGETHER
After welcoming their first child, Ruby, in 2006, Maguire and Meyer held on for a little longer to savor first-time parenthood before expanding the family again.
In 2007, when Ruby was almost a year old, the proud mom gushed about motherhood and praised her now-ex-husband for being such a great father. 
When asked if they were looking to have any more kids, Meyer said they were good with Ruby and had not yet decided. Come May 2009, the husband and wife welcomed their second child, Otis. 
UNEXPECTED SPLIT AND DIVORCE
In 2016, fans were sad to hear that Maguire and Meyer's marriage had hit the same rock many Hollywood marriages collide with. The pair announced that they were parting ways but were committed to raising their kids while remaining friends.
Several inside sources claimed that the reason behind the divorce was the difference in the couple's personality. An insider said to People:
"They've been living separate lives for a while. They have completely different interests and haven't seemed to be connecting."
Nearly four years after initially announcing their split, the Tobey Maguire and Jennifer Meyer divorce finally moved ahead when she filed in court on October 15, 2020. She also asked for joint legal and physical custody of their two children, Ruby and Otis.
True to their promise, the mother and father have remained friends. In 2018, Maguire was spotted supporting Meyer by attending her jewelry boutique launch in Los Angeles. Even though they are no longer together, it is heartwarming to see the respectful relationship the pair has.