Trevor Lawrence Named No. 1 Pick In the 2021 NFL Draft — Fast Facts about 21-Year-Old Star
Trevor Lawrence's family and friends were with him as he was announced as the No. 1 pick in the 2021 NFL Draft. Find out some quick facts about him. 
On Thursday night, the Jacksonville Jaguars selected Trevor Lawrence with the first pick in the 2021 NFL Draft. It was not a surprise move as Lawrence's incredible talent was there for all to see. 
Hence, his No. 1 pick was just a confirmation of the obvious and the fulfillment of his destiny. His family members and friends were there with him at home to celebrate his pick.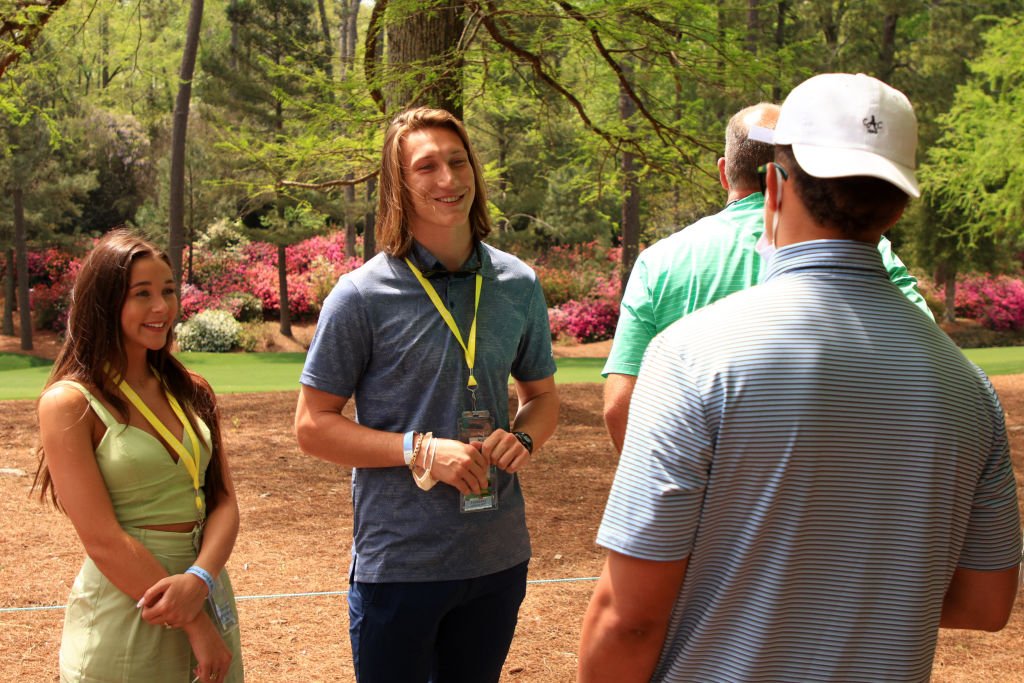 He shared a video on his Instagram page showing the moment they were watching the NFL Draft in the living room. In the video, he answered a phone call confirming his No. 1 pick in the NFL draft. 
Lawrence was dressed for the occasion, wearing an olive green jacket over a white T-shirt and matching pants. He completed his look with white sneakers. In the caption to the post, the blonde-haired quarterback wrote:
"A call I'll never forget. Officially headed to the sunshine state."
It has long been known that the Jacksonville Jaguars would select Lawrence as the No. 1 pick. Last month, the franchise's coach, Urban Meyer, who was hired in January, spoke about drafting Lawrence. 
He said drafting Lawrence was the direction the Jaguars were going, adding that he would leave the final decision to the team's owner. That decision is now official. Here are some fast facts about the Jaguars' new man. 
LAWRENCE IS MARRIED
Lawrence tied the knot with his longtime girlfriend, Marissa Mowry, on April 11. The newly wedded couple has been engaged since July 2020. 
They met during their days at Cartersville High School and began seeing each other in 2016. Like her husband, Mowry is also an athlete and recently played soccer for Anderson University in South Carolina. 
LAWRENCE'S COLLEGE CAREER
It is no mean feat to be the NFL's No. 1 Draft pick, and Lawrence earned the right to that accolade with his impressive career at Clemson University. 
He led his college football team to an undefeated season in 2018 that culminated with them winning the national championship. He won 34 games in his college career, finishing with a 34-2 record. 
LAWRENCE LOVES TO GIVE BACK
Lawrence is a charitable being and showed this when he announced he would donate $20,000 to Jacksonville Charities. This gesture came after fans donated to celebrate his wedding. 
He thanked the fans for their wedding gifts and donations for charities of his and Mowry's choosing and pledged to donate the huge sum to Jacksonville charities. 
HE IS SIGNED WITH ADIDAS
In the days leading to his top draft pick, Lawrence signed an endorsement deal with sportswear giants Adidas. In a press release, he expressed his excitement at joining the brand as he embarks on the next chapter of his career. 
He further said that his partnership with Adidas is one for the future, and he could not wait to see what lies ahead with their collaboration. 
LAWRENCE LOVES CRYPTOCURRENCY
Lawrence recently partnered with Blockfolio, a cryptocurrency investment app, and pledged to put his entire signing bonus in an account with the company. To put that in perspective, the new Jaguars man's estimated signing bonus is $24 million.