Samantha Busch Shares Her Experience of Transferring Embryos to Get Pregnant On Her Instagram
Samantha Busch shared a video on her Instagram page on Saturday detailing her latest attempt to get pregnant through embryo transfer. It wasn't all rosy!
Samantha Busch has opened up about her challenging experience in the last few weeks after discovering she is not pregnant despite her attempts to do so. 
She shared a candid video on her Instagram page on Saturday and narrated her latest journey to conceive via an embryo transfer, which ultimately proved unsuccessful.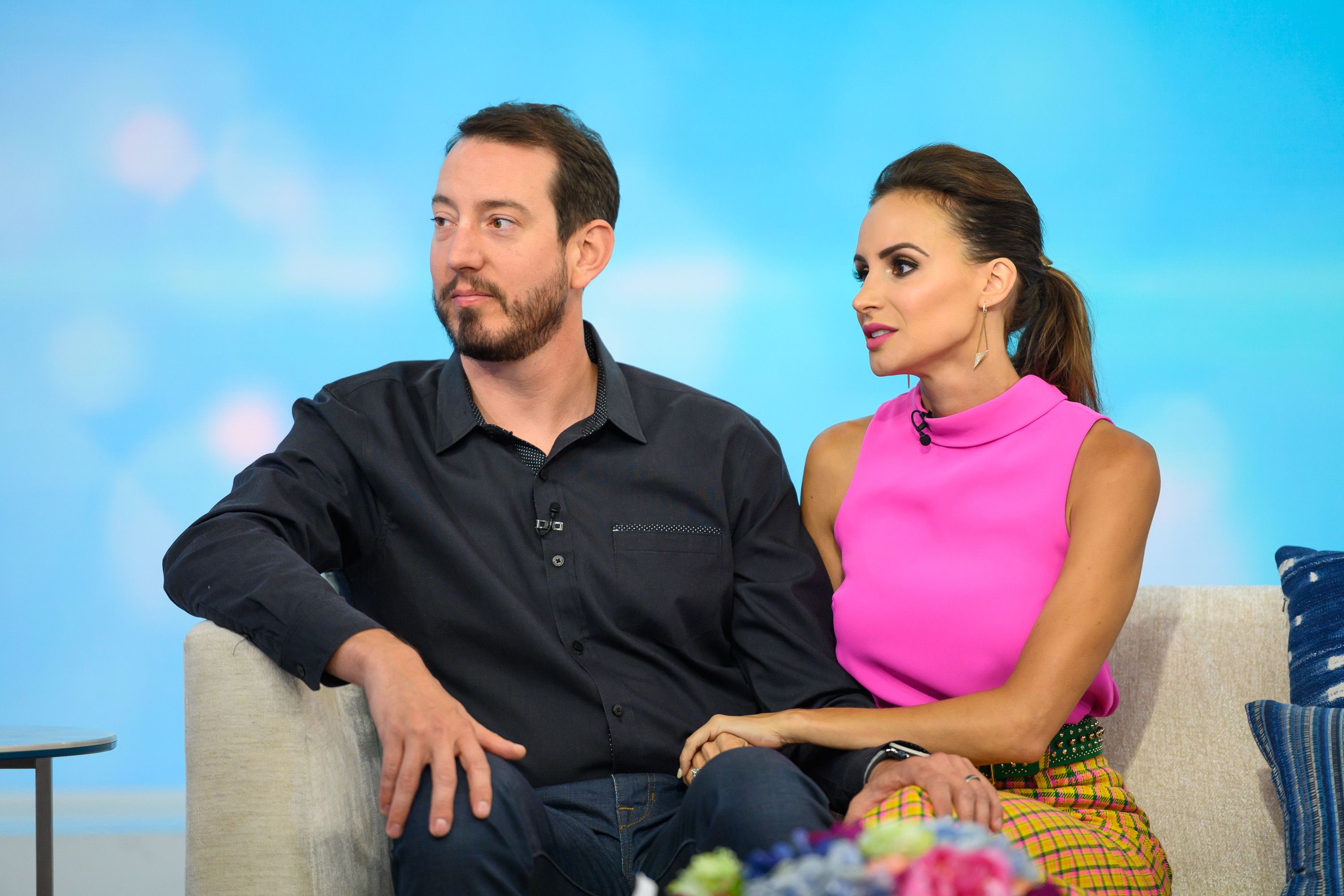 The video, which Samantha began recording on April 21, began with Samantha explaining that she and her husband, NASCAR driver Kyle Busch went for an ultrasound appointment. 
There, the doctor found a gestational sac, but it was much smaller than it should be, and there was nothing in it. She explained: 
"They assumed it was going to be something called a blighted ovum, basically that you're growing a sack, HCG levels still go up, but it's an empty sack."
The 34-year-old said the news was hard to process. However, the doctor asked her to come back within a week and remain hopeful as the sac might have been due to delayed implantation. 
Samantha revealed she experienced cramps all day and started bleeding that weekend. She assumed the cramps and bleeding meant she would be miscarrying. 
She described it as the longest wait ever, adding that she had been very hopeful those last eight days
She and Kyle went to Richmond to get her mind off things. There, she locked herself in a bus to avoid seeing anyone. The following Wednesday, Samantha and her husband got the unexpected news while she was doing her vaginal ultrasound. 
The doctor told them he found two little sacs, and one of them came out of nowhere. Samantha was on cloud nine after hearing the doctor's words. She and Kyle could not believe their eyes when they saw the sacs. 
The doctor could hear a flutter of a heartbeat then. Hence, he asked them to come back the following week to find out more. Samantha was elated and could not get the thought of having twins off her head. 
The video transitioned to April 29, when Samatha was back for her ultrasound appointment to discover more about the two sacs. She described it as the longest wait ever, adding that she had been very hopeful those last eight days. 
She further expressed her nervousness, adding that she had been praying for things to work out well. Samantha also noted that it had been emotionally and mentally challenging for her. 
Kyle joined his wife in the last part of the video, which was filmed on April 30. She explained that the past few weeks had been very difficult as the little heartbeat and the second sac gave them so much hope. 
Despite the toll, these experiences have taken on her and her marriage, she had remained hopeful
Samantha, who shares a six-year-old son, Brexton, with Kyle, said they spent the last few days thinking about the possibility of having twins and what they would name them. 
At that point in the video, Kyle jumped in and revealed they went in for the ultrasound and got the terrible news that there was nothing in the sacs. Fighting through her tears, Samantha added: 
"In either of them. That means I will either naturally miscarry over the next few days or medically. I feel like we did everything right. This has just been the hardest round." 
The mother-of-one further said she felt things would be okay, adding that she thinks infertility is just cruel and unfair. Samantha and Kyle have struggled with infertility for over eight years.
They have experienced a miscarriage and two failed IVF attempts while trying to have another child. Despite the toll, these experiences have taken on her and her marriage, she had remained hopeful.
This was observed in March when she revealed a recent embryo transfer went amazing. In December, she opened up to People about the heartbreaking moment when their surrogate's pregnancy test result came back negative.
Samantha had shared a video on her Instagram page in November showing her reaction to the test result, revealing it was their last "girl embryo." 
This spring, Samantha's book on infertility, "Fighting Infertility" will be available. In a chat with Forbes, she said the book would detail everything she and Kyle went through with infertility. 
The end of the book will have a small advice section on how people can protect their mental health and relationships during infertility struggles.