Mike Epps Dances with Baby Daughter Indiana While Holding Her in His Arms in a New Video
Mike Epps recently shared a video clip of himself and his youngest daughter Indiana Rose sharing a beautiful father-daughter moment as they danced to a classic Charlie Wilson love song.
"All About The Benjamins" actor Mike Epps is the doting father of five beautiful daughters, Bria, Makayla, Moriah, Madison, and his youngest, Indiana Rose Epps. 
With that many women in his life, Epps has his hands full, but he is now quite an expert at being a girl dad and has a close relationship with all his girls. In his latest Instagram post, he showed his followers how he bonds with his youngest daughter.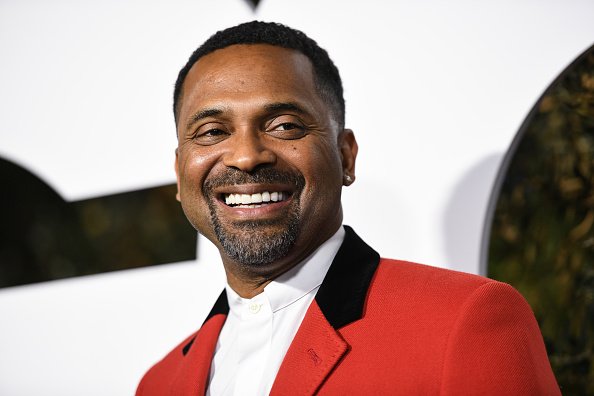 Epps shared a heartwarming video clip of himself dancing with his baby girl, Indiana, to "Yearning For Your Love," a classic song by singer Charlie Wilson and his brothers' eighties group, The Gap Band. He captioned:
"Me and my baby girl Indy stepping to Charlie."
Epps, rocking a dark tracksuit and indoor shoes, held Indiana close to his chest and tapped on her back as he stepped back and forth to the beat of the calming love song.
While the accomplished "Next Friday" star had his eyes closed, the curious toddler, wearing a pink top and a diaper only, kept her eyes wide open, looking around the room and directly at the camera. 
The adorable video is only a glimpse into Epps' relationship with his youngest daughter, who he shares with his second wife, Kyra Robinson. Born on March 12, 2020, Indiana was a welcome addition to the superstar's big family.
Even her name, Indiana Rose, was well thought out to represent Epps' and Robinson's families. The funnyman told the hosts of "The Real" that his daughter's name is a combination of his home state and his and Robinson's grandmothers' first names.
In the same virtual interview in April 2020, Epps talked about how his parenting style has evolved with each daughter through the years because of changes in his own character. He said:
"You're not the same dad as you [were] with your first daughter...even if you wanna be. You're just not the same person."
When "The Real" co-host, Amanda Seales, asked Epps if he wanted to have more children, specifically a son, he admitted that although he once yearned for a son, he was content with his five daughters and had stopped trying for a son.
Being a girl dad has influenced Epps in every aspect of his life, including the music he listens to and the type of movies he acts in. He told The Source that he even had to change his comedy from his R-rated style to a more family-friendly style.