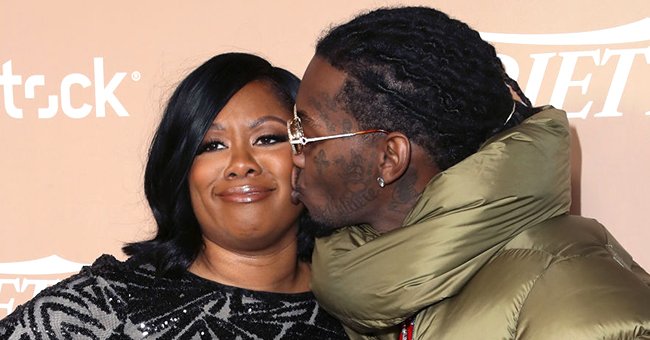 Getty Images
Cardi B's Husband Offset Looks like His Youthful Mom in a Rare Throwback Photo
American rapper Offset paid tribute to his mom on Mother's Day with a series of her youthful throwback pictures and fans think they look alike.
Like millions of people worldwide, Offset honored the women in his life on his social media, celebrating their role as mothers. He shared a post in honor of his wife, rapper Cardi B, and mother of his daughter Kulture on his Instagram.
He paid tribute to her on Mother's Day for doing a good job in raising their daughter and keeping their home sane. Likewise, the "Ric Flair Drip" singer did not fail to recognize another special woman in his life, his mom.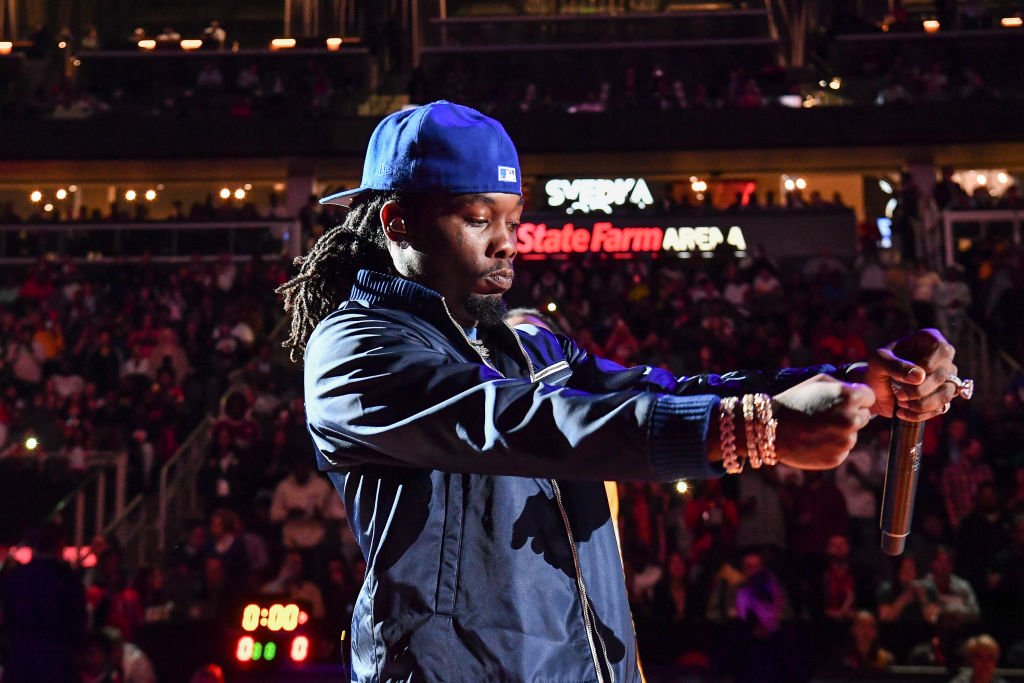 Offset of Migos performs during the 42nd Annual McDonald's All American Games at State Farm Arena on March 27, 2019. | Photo: Getty Images
Rather than say a few words, the rapper did something touching. He shared a series of throwback pictures of his mother, Latabia Woodward, honoring her as the strongest and smartest woman he has known.
The 29-year-old Migos rapper shared an old picture of his mom in her younger days alongside a couple of others showing her in the present day sharing a moment with her son. It was obvious where he got his looks from; he could pass as his mom's twin.
The father of four is usually fond of his mom, and it came as no surprise that he paid such a lovely tribute to her. While most fans enjoyed the gesture, some eagle-eyed fans could not help but spot the similarity between Offset and his mom.
She was once spotted in a $2k Rolls Royce toy car.
The post gathered more than two thousand comments, which is not strange of Offset's posts, The rapper boasts of loyal fans who take every moment to adore him. His tribute was well received by his mom, who was one of the first to acknowledge the post. She wrote:
"Thank you, son, love you forever."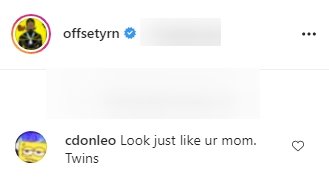 A fan's comment on Offset's tribute to his mom on Mother's Day. | Photo: Instagram/Offsetyrn
One fan who observed the striking resemblance between the rapper and his mom wrote that he stole her face while another fan added: "literally twins." A third fan commented on the post, noting that Offset looked just like his mom.
This wouldn't be the first time he has paid tribute to his mom on his Instagram. He once shared a lovely picture of them on a red carpet that showed him giving her a warm kiss of appreciation.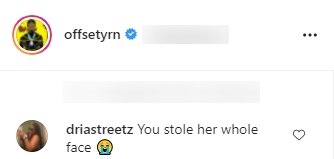 A fan's comment on Offset's tribute to his mom on Mother's Day. | Photo: Instagram/Offsetyrn
In his song, "Red Room," the Migos rapper opened up on his mom's role in his life while he was growing up, remarking that she was both mom and dad to him.
Aside from his mom, the 29-year-old is equally committed to his wife Cardi B with whom he has enjoyed an on and off relationship spanning four years.
Offset also enjoys being a doting dad to his daughter Kulture and never fails to provide her with any luxury she fancies. She was once spotted in a $2k Rolls Royce toy car which she has been happily cruising around, to the thrill of her parents.
Please fill in your e-mail so we can share with you our top stories!