Former Hawaii Star Quarterback Colt Brennan Dies 'Peacefully' at 37 – Details of His Death Revealed
Former Hawai'i Warriors Quarterback Star Colt Brennan passed away peacefully on Tuesday morning at the age of 37 at a hospital surrounded by family members. 
Former University of Hawai'i quarterback star Colt Brennan passed away on Tuesday morning, May 11, 2021, at 37. His father, Terry Brennan, confirmed his passing to ESPN.  
His father shared to the outlet that Colt had passed away at a hospital in Newport Beach, California. The previous day paramedics were called to a hotel room where Colt had been with other people.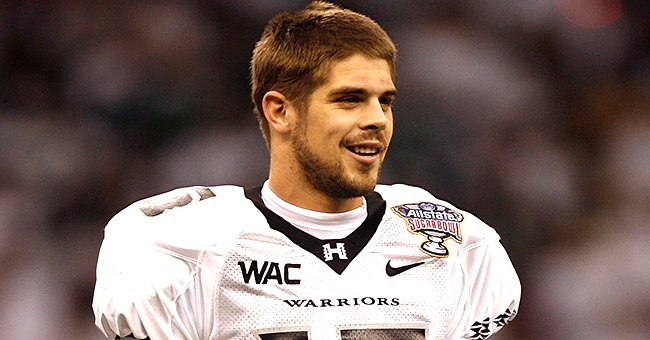 Terry explained that his son had been given a substance that was laced with fentanyl. He ingested it and never regained consciousness. He was taken to a local hospital, where he passed away the following day.
Before his tragic passing, Colt had tried to admit himself into a detox program, but he was turned away as there were no beds. Colt had used the program before as his father explained:
"He was really into it. It involved a lot of physical activity and he liked it... He was doing quite well with it for four months. "
Former Hawaii QB Colt Brennan has died at the age of 37, his family confirmed to @StephenTsai pic.twitter.com/alTdeO7FRF

— Bleacher Report (@BleacherReport) May 11, 2021
Terry shared that his son had been doing well, but something happened that made him revert to his bad habits, and he went down a dark path. Terry explained that the situation was not good. 
Following his passing, many of his former coaches and teammates shared tributes to him online. The Hawai'i Althetics' website gathered statements from people who knew him during his sporting days. 
The Brennan family said in a statement that Colt loved Hawaii, its people, and the Islands.
We are saddened to hear about the passing of former Washington QB Colt Brennan. pic.twitter.com/XIXs3LtqiD

— Washington Football Team (@WashingtonNFL) May 11, 2021
Colt had become a star in the Varsity football scene when he joined Hawaii's Rainbow Warriors. He saw the team play their only Football Bowl Series in January 2008. 
He also was a standout player and helped his team achieved a 12-0 season where the Rainbow Warriors won the Western Athletic Conference title. A statement from the University of Hawaii's Athletics read: 
"It's hard to put into words the impact that Colt Brennan had on Rainbow Warrior fans and the people of Hawai'i. He was a phenomenal player."
Aloha, Colt. pic.twitter.com/14B5thDqYW

— Hawaii Athletics (@HawaiiAthletics) May 11, 2021
According to many of his former football colleagues' statements, he was a brilliant player who had contributed so much to his team and meant a great deal to his teammates and the people of Hawaii. 
The Brennan family said in a statement that Colt loved Hawaii, its people, and the Islands had meant a lot to him. He passed away in a Hawai'ian manner, with a lei on his chest. 
From current Warrior head coach Todd Graham. pic.twitter.com/hWBJsh8U6m

— Hawaii Football (@HawaiiFootball) May 11, 2021
The quarterback had a promising career in football; however, a car crash in 2010 left him with a brain injury that made it difficult to continue his football career. His father explained he was never the same. 
In the last few years, he was involved with Hawaiʻi high school football programs. However, he also had a few run-ins with the law as he was arrested for disturbance while intoxicated at a hotel last year.