Fans Say Muhammad Ali's 10-Year-Old Grandson Sydney Looks like Him in a New Photo
Boxing icon Laila Ali shared a heart-melting mother-son photo of her and her preteen son Curtis Jr., and many fans were in a frenzy over how much he looked like his legendary grandfather, Muhammad Ali.
Instagram fans did not hold back on their excitement in a recent post Laila Ali shared as they gushed over how much her son reminded them of her famous late dad, Muhammad Ali.
Laila and Curtis Jr. were indoors enjoying some precious moments when they posed up for a pleasing selfie. The mother-son duo stood close to each other with sweet smiles on their faces.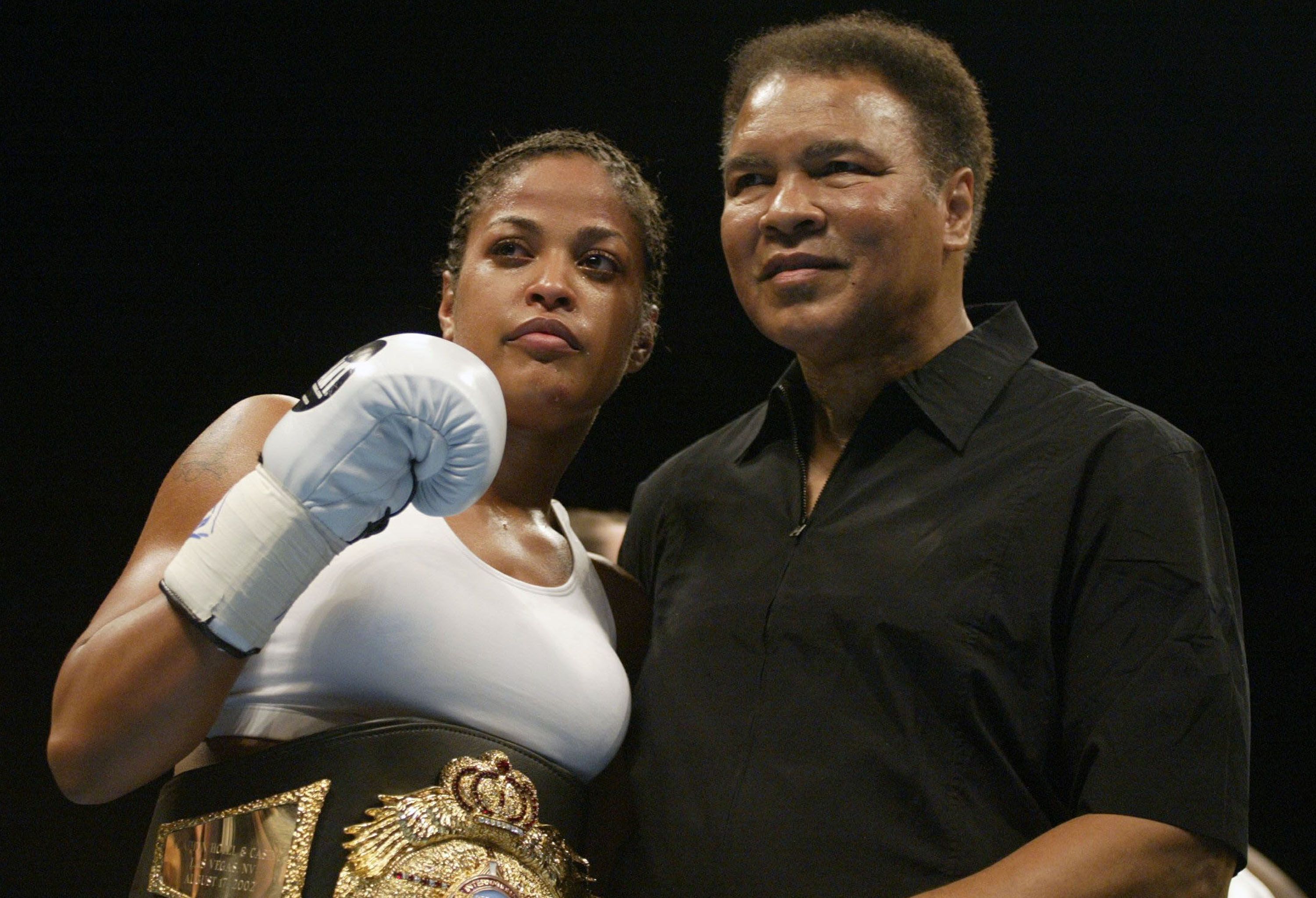 Curtis Jr. wore a white T-shirt with the whimsical image of an eagle etched on it. The youngster had his glasses in place. His mom sported a grey-colored camouflage-designed sweatshirt.
She styled her hair with tresses on both sides of her face while she rocked gold hoops and a tony necklace. She had a big smile on her face while one of her arms was on Curtis Jr.'s shoulders. She captioned:
"Me and my boy. They grow up so fast. Who does he look like?..."
Many fans filed to the comment section to answer this question echoing the one sentiment that Curtis Jr. was his grandpa's twinnie. Many people gushed over the resemblance as they heartily remembered the boxing legend.
Laila is one of nine kids born to the late boxing champion, and she pretty much grew up accustomed to splendor and luxury. At a young age, she was able to decipher that her dad was an important person.
Boyd gave birth to four kids while Ali fathered two more children outside marriage. 

Laila also knew that he was a big deal and had a lot of money. She once recalled the lifestyle of living in a gated neighborhood and jetting off in private planes with no hitches.
Despite all these, she was inclined to own her money and be independent. At a young age, she got a cleaning job to earn a few dollars, and when she turned 15, she got her first summer job and worked at a restaurant.
This pretty much shaped her idea of independence, and it went a long way in her equally impressive sports career. These days, the retired undefeated champion is a mom of two.

The star welcomed her kids with her long-time spouse, Curtis Conway, who is a retired NFL star. Once speaking on parenting, Laila mentioned the issue of transferring their sporting career to her children.
The combat sports champ shared her own ideology on raising kids, noting that her children were not under any pressure regarding their career paths.
Laila, 43, pointed out that her son is engaged in different sports but seemed to be more inclined to technology, and that was perfectly fine.
It is safe to say that this was Ali's approach as well. Laila followed in his boxing career solely because of her interest, and it paid off. The star is one of two kids Ali had from his marriage to Veronica Porshe.
Before Porsche was Sonji Roi and Belinda Boyd. Ali's fourth wife was Lonnie and he had a son with her. Boyd gave birth to four kids while Ali fathered two more children outside marriage.