Daily Joke: A Little Boy Was Starting His First Day at a New School
Children are known for their hilarious antics, and the famous little Johnny is no exception. Check out this joke about him outsmarting adults once again.
Little Johnny made his teacher do an outrageous act and earned extra cash at the same time - all on his first day of school. Here's how it happened.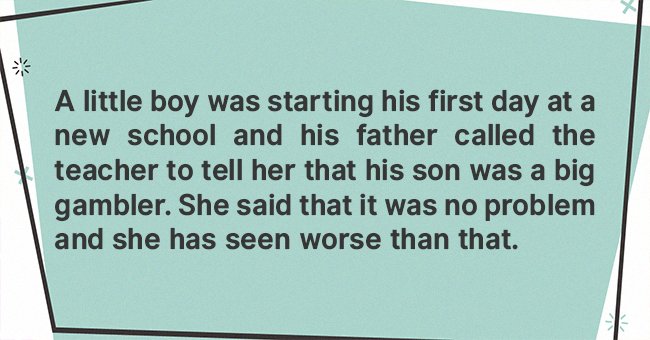 After dropping off little Johnny at school, his father phoned the teacher and warned her that his boy has a gambling habit. Chuckling, the teacher said she would take care of it.
She added that she had seen worse and that before the day ends, she should make him cut the habit. The father was unconvinced, knowing how clever little Johnny was, but he shrugged and said okay.
Later, as he was driving to school to pick up his son, the father called the teacher again. He asked how little Johnny behaved during his first day. The teacher said it went well.
She added that she might have broken the boy's gambling habit. Incredulous, the father asked what made her say so. She said that she took little Johnny on his bet, and he lost.
She explained that Johnny came to her office and said he would bet five dollars that she had a mole on her bottom. The teacher said she pulled down her pants to prove she had none.
The father groaned in disappointment on the other line. The teacher asked what was wrong. He replied: "This morning, he bet me 100 dollars he would see his teacher's bottom before the day was over."
If that made you roar in laughter, this other little Johnny joke will keep you laughing. One morning, a teacher was teaching math to Johnny's class.
After explaining some concepts, she gave Johnny a math problem to solve. She said that if he had one dollar and asked his father for another dollar and fifty cents, how much would he have in total?
"One dollar," the little boy said. Disappointed, the teacher replied that Johnny does not know his basic math. The little boy clapped back: "You don't know my father."
Little Johnny is on a roll. Here's another joke that will make you burst out laughing. One afternoon, the little boy went to church to confess a sin.
In the confession booth, he asked the priest for forgiveness for getting physical with a girl. Curious, the priest asked him who the girl was.
Johnny said he would not reveal her name because he did not want to ruin her reputation. The priest insisted, even naming five girls he might have done it with.
But Johnny refused to disclose the girl's name. The priest gave up and told him that he would suspend him from being an altar boy for four months because of his sin.
After the confession, Johnny's friend asked him what happened. Smiling sheepishly, Johnny said that he just got a 4-month vacation and five good leads.
If you want more little Johnny jokes, check out this one. In this joke, Johnny contracted an ear infection and went to an ear doctor with his mom. Read on for another dose of laughter.
Source: Unijokes , startsat60