Daily Joke: One Man Was Bewitched and Could Not Say More Than One Word in a Year
A prince was under a spell that hindered him from speaking more than one word in a whole year. However, he soon fell in love and needed to express himself. 
A prince fell under a spell that allowed him to only speak one word in a year. He would not be allowed to speak another word until the following year.
However, there was a clause. If he resisted speaking for a whole year, he was allowed to say two words the following year, and this progression would go on.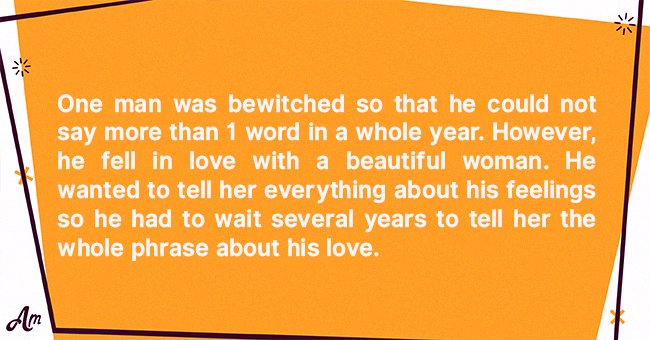 This meant that if he did not speak at all in five years, he had the liberty to speak five words all together in the subsequent year. This went on for a while until the prince fell in love.
Now he was in a dilemma as to how to express himself to his love interest. After he and his lady love met, he did not speak a word to her. They would see each other regularly, but he would still not say anything.
He wanted to call her "my darling," and because of this, he refrained from speaking to her for two years. One day he thought to himself, noting that he needed to tell her he loved her. 
This would take him three more years, so he decided to hold back for five years all together. At the end of five years, the prince knew he wanted to marry her and needed to ask for her hand.  
This meant he needed four words and four years. The prince added four more years to his years of staying silent, and in the end, he did not speak for nine years.
The ninth year of silence finally ended, and the prince took his love interest to one of the most romantic sceneries and said to her: "My darling, I love you! Will you marry me?" The young lady was startled by this as she replied:
"Pardon?"
Read another joke about a man that walked into a bookstore. 
Source: Scoutlife