Kelly Ripa's Son Joaquin, 18, Towers over His Parents as They Celebrate His Graduation
Kelly Ripa's youngest son is almost ready to leave home, go to college, and make his TV personality parents empty nesters. 
Kelly Ripa's son, 18-year-old Joaquin Consuelos, just graduated high school and his mother shared a lovely family photo from his graduation on Instagram over the weekend. 
In the photo Kelly shared on Instagram, she, her husband, Mark Consuelos, and their youngest son, dressed in his blue graduation gown, posed together for a selfie to document the day.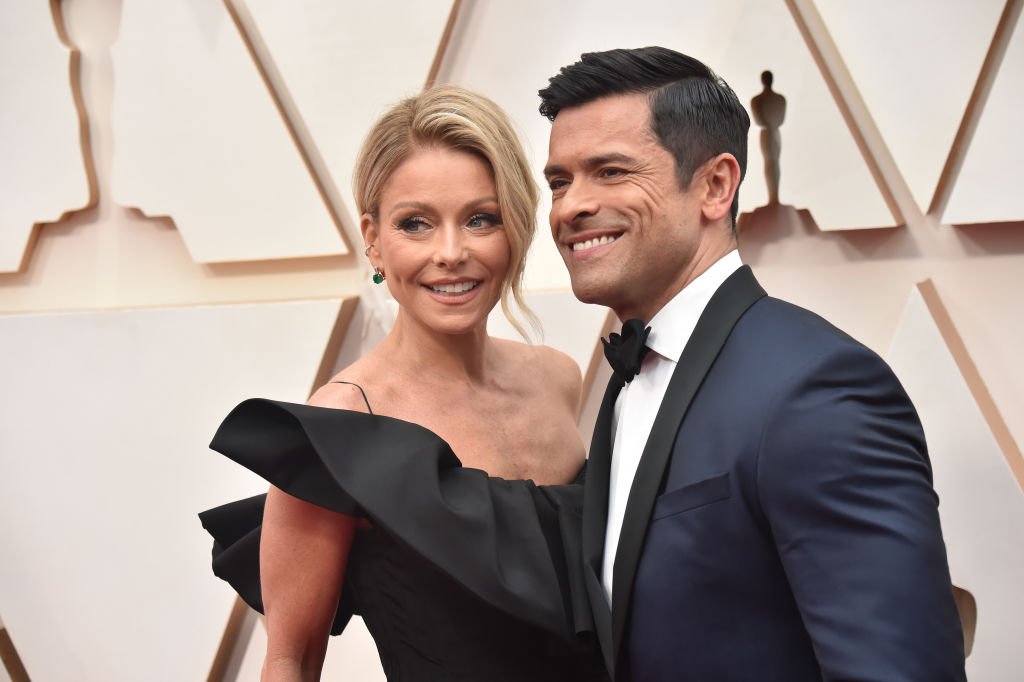 Kelly kept her fans updated on the event's happenings on her Instagram Story as she shared photos throughout the day, including an image of herself and Joaquin in their robes, hers being a bathrobe.
Mark and Kelly's friends and fans took to the comment section of the family photo to congratulate Joaquin for his graduation. Kelly kept the gorgeous photo's caption short and sweet as she wrote:
"The Graduate! #2021 👨‍🎓"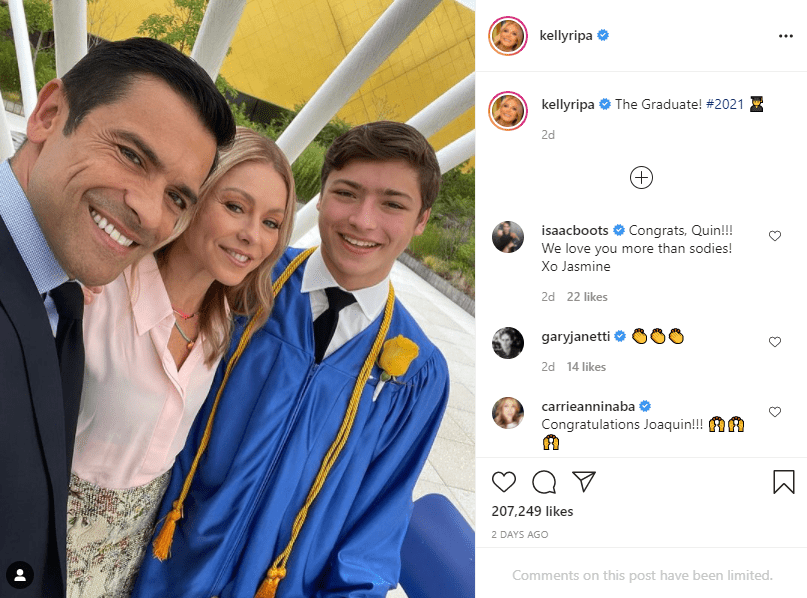 The photo highlighted just how similar Mark and his youngest son look. The two could be mistaken for twins. Joaquin definitely inherited his father's good looks, gorgeous dark hair, and charming smile. 
The high school graduate is preparing to go to the University of Michigan next fall and join their wrestling program. He decided on the program earlier this year and will be headed to the campus in September. 
Joaquin will be attending college the furthest away as his two siblings opted to study in New York.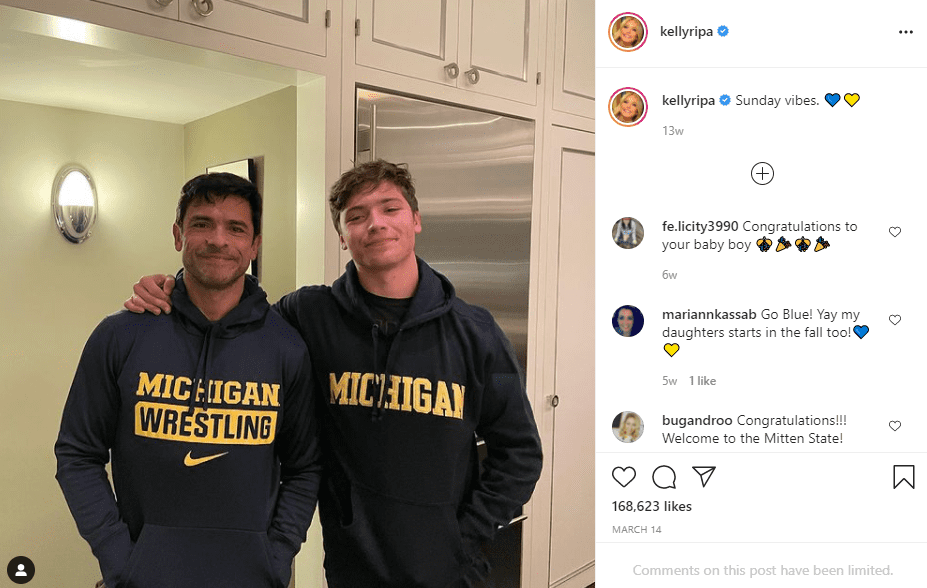 Kelly and Mark made sure to celebrate their son throughout the day and even ordered a three-tier cake with the University's logo to celebrate Joaquin's achievements. Kelly shared a photo of him posed next to the cake on her Instagram Story. 
Her Instagram Story was filled with highlights from the day as she also shared photos of Joaquin with his classmates, all in their graduation robes, as well as a photo of Joaquin casually talking to the commencement speaker, Gayle King.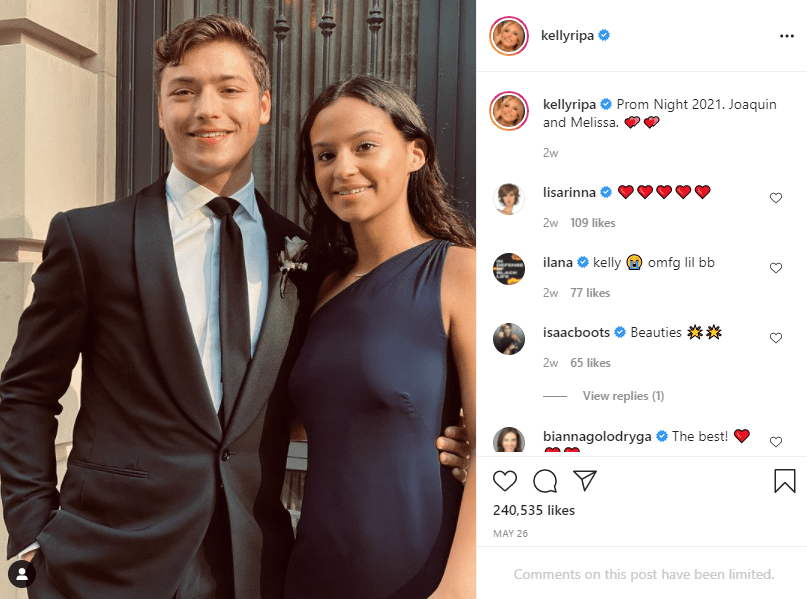 The proud mother also shared a photo of herself holding her husband's hand and wrote that they were "The empty nester," as their two other children, Lola, 19, and Michael, 24, have moved out for college. 
Both Kelly and Mark have shared updates of Joaquin's last year of school on social media. Joaquin's parents shared photos of him from prom with his beautiful date, Melissa, which the pair attended at the end of May.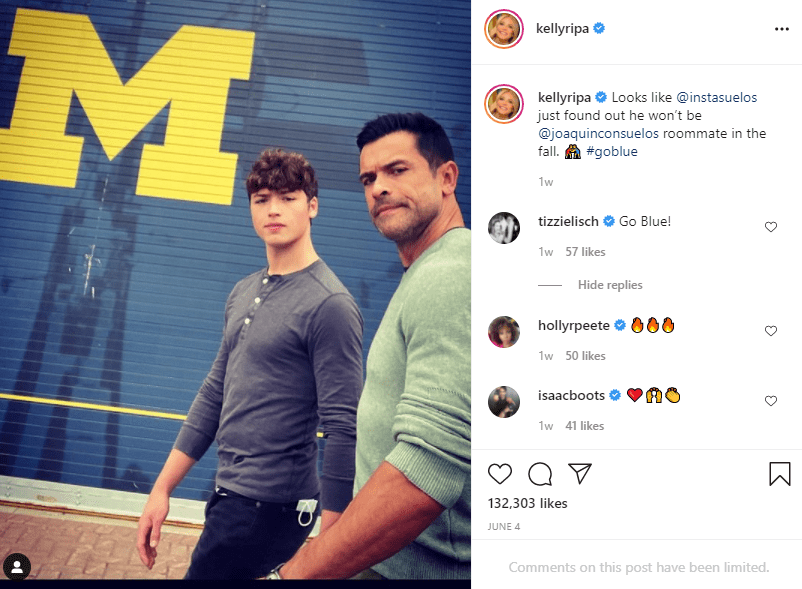 The TV personality also shared a photo of Mark and Joaquin walking in front of a University of Michigan logo earlier this month as the family explored the campus. Joaquin will be attending college the furthest away as his two siblings opted to study in New York. 
Kelly and Mark will definitely miss their youngest, but it is only a short plane ride from their home in New York to Michigan. The family will create many new and exciting memories as Joaquin enters this new chapter of his life.