Vin Diesel Talks about His Son Vincent and Possibly Paul Walker's Daughter Joining the 'Fast' Family
The "Fast & Furious" movie franchise has made Vin Diesel and his co-stars a lot of money. Now he's looking into bringing his son and his late friend's daughter into the franchise.
The ninth installment of the "Fast & Furious" film franchise is titled "F9," which hasn't yet opened in US theaters. However, the movie has already earned over $270 million overseas.
The "Fast" franchise has officially gone past $6 billion in box office sales, making it one of the most successful franchises of all time. One of its stars, Vin Diesel, recently opened up about the franchise.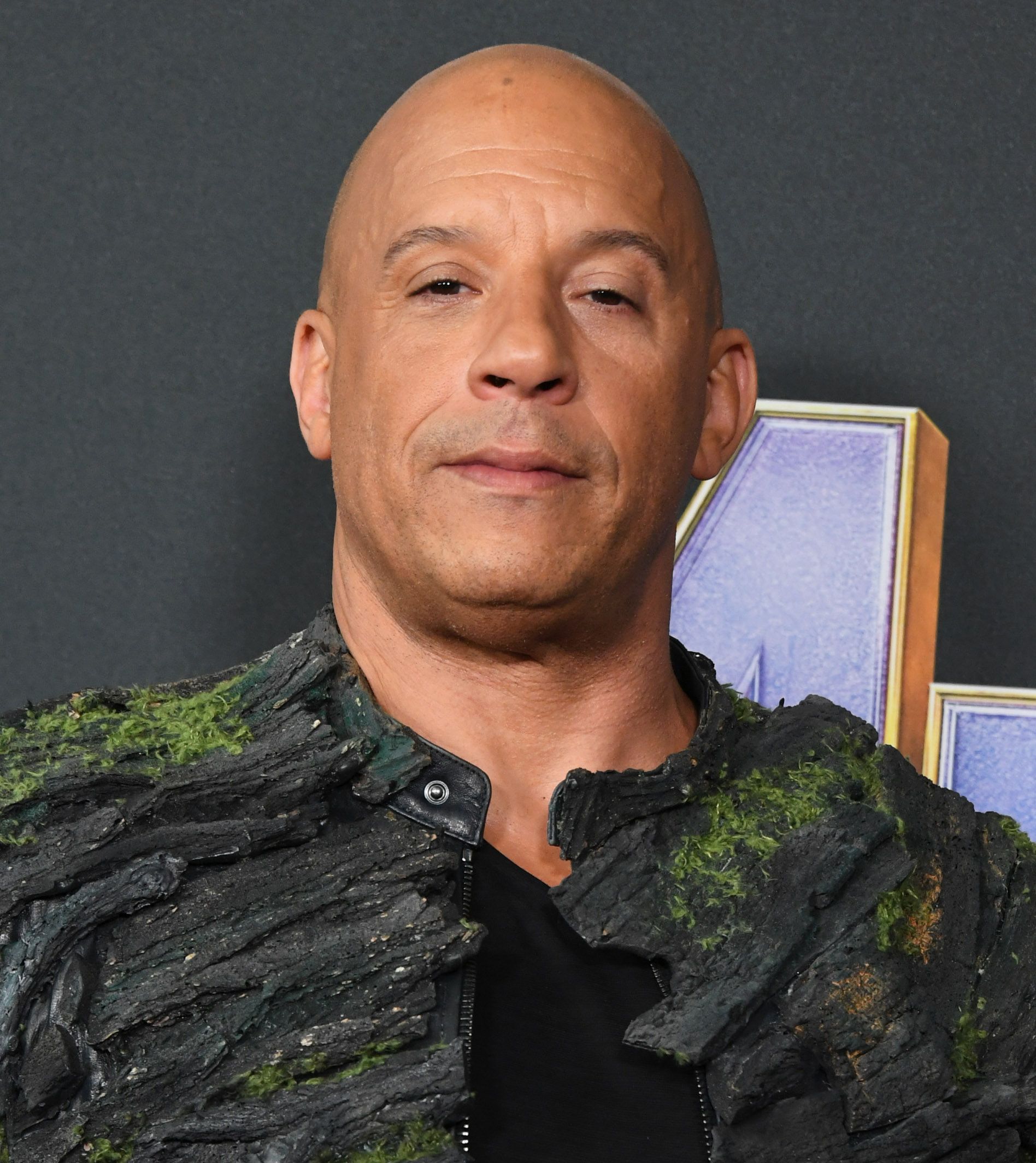 The actor told "Entertainment Tonight (ET)" that the numbers they'd amassed showed how many people were affected by the movie. He said it made him feel blessed and grateful.
Diesel also shared that the viewership inspired him to reach even higher and continue earning his viewer's support. He said he wanted to make the franchise worthy of the support it was given.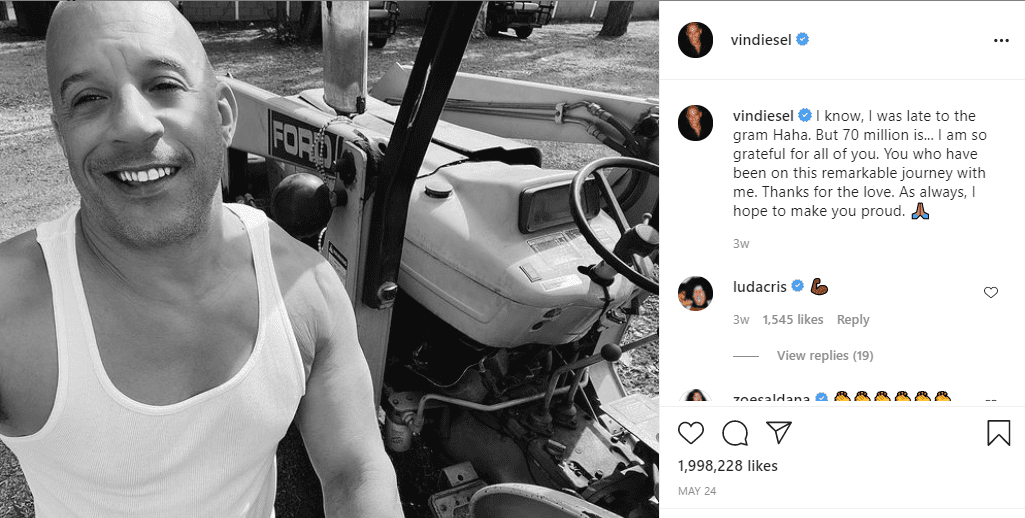 On "F9," Diesel returned along with Tyrese Gibson, Michelle Rodriguez, and Ludacris. Some actors from past films like the Tokyo Drift crew and Jordana Brewster also made appearances.
Fans who haven't seen the latest installment can also expect to see new faces like Diesel's son, Vincent, 11, who will play his father's younger version. The famous actor revealed that having the boy in the film wasn't his idea.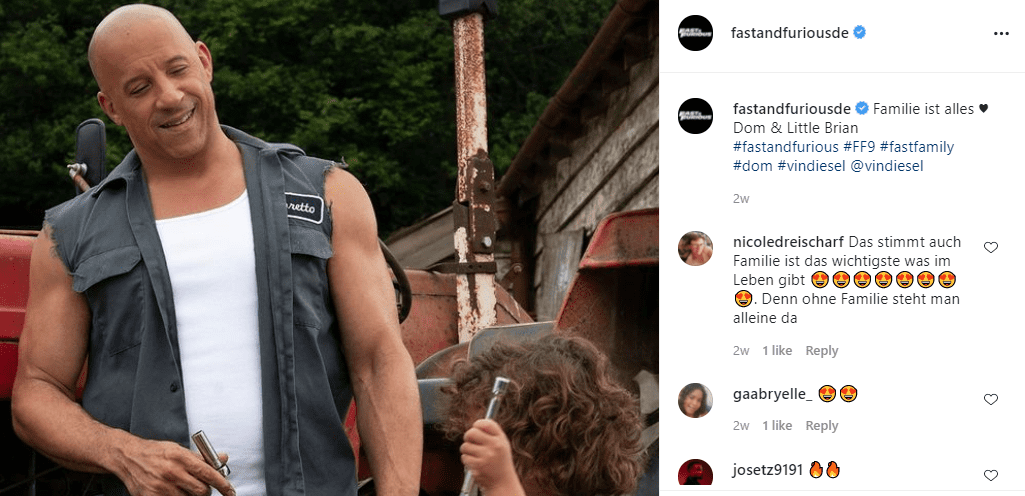 Justin Lin was the one who came up with the idea. Diesel was in awe of his son's work ethic as he watched him work for 12 hours, eat his lunch, and read his lines with other cast members.
Paul [Walker] might have died in a car accident on November 30, 2013, but [Vin] Diesel still keeps his memory alive.
The actor got to see his son bonding with his onscreen younger brother and father in the movie. Diesel also revealed that he couldn't make a film without the late Paul Walker's soul guiding his spirit.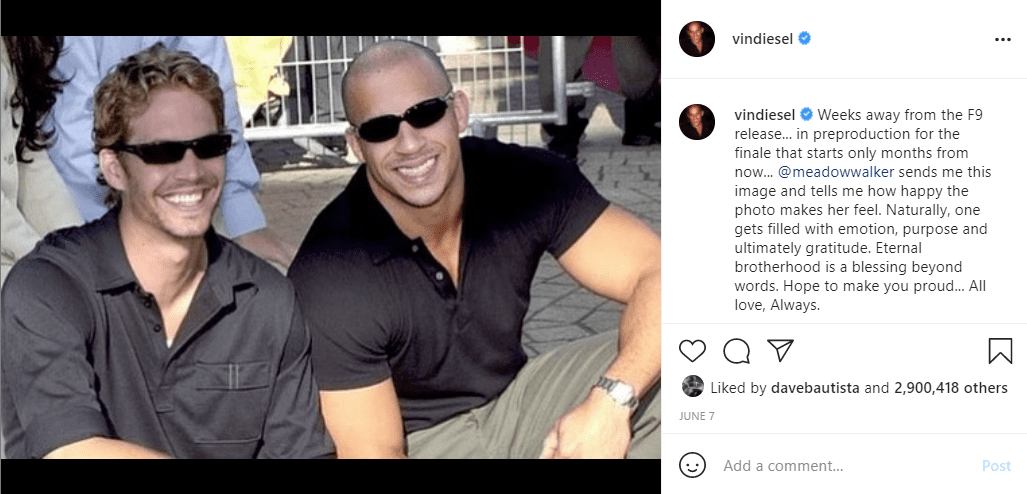 Speaking about Paul, ET asked the star how he felt when he saw the late star's daughter, Meadow Walker, sharing an Instagram photo of Diesel, his daughter Hania, and herself with the caption "family."
Diesel confessed that he'd just spoken to her before his interview with ET. He shared how the notion from his late friend's daughter meant everything to him, adding:
"That's what family does and it goes beyond the success of the franchise. That's about the success of your soul."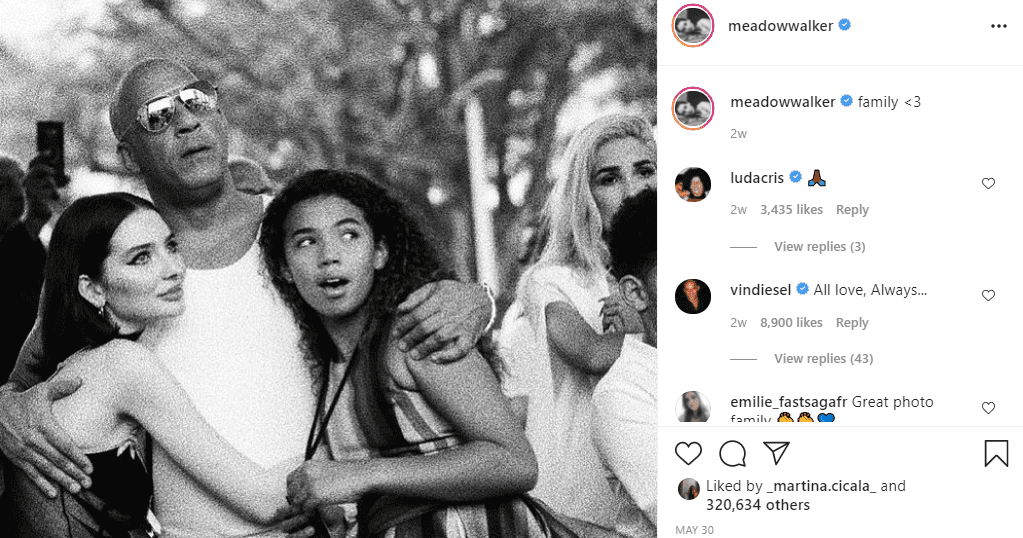 When asked if it was possible that Meadow would star in one of the last two "Fast" franchises, Diesel just smiled pointed at the camera. His character, Dominic Toretto, gets to meet his son on "F9."
Paul might have died in a car accident on November 30, 2013, but Diesel still keeps his memory alive. In the weeks leading up to the release of "F9," the actor said he hoped to make Paul "proud" in an Instagram image.