Katie Couric Celebrates Daughter Ellie's Wedding with Photos & Candid Message: 'I'm So Happy I Could Cry'
Ellie Monahan, the eldest daughter of TV personality Katie Couric, recently tied the knot, and Couric cannot stop gushing about her daughter and the wedding.
Katie Couric's daughter, Ellie Monahan, has been making headlines since February 2019 when she and her then-boyfriend, Mark Dobrosky, got engaged. 
The "Today" co-host announced the big news on her Instagram account with a couple of photos that showed just how happy and excited her daughter was.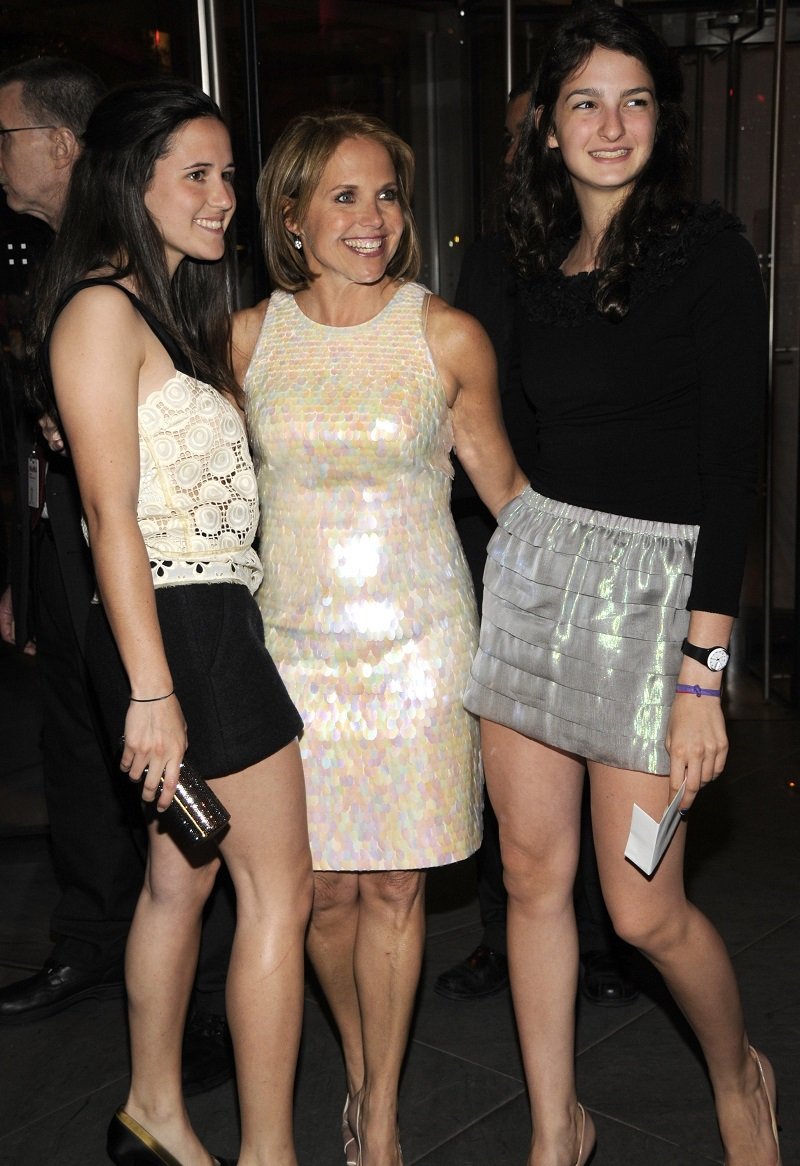 THE ENGAGEMENT
In the first photo, Ellie and Dobrosky appeared together, flashing their smiles at the camera. Ellie placed her hand on Dobrosky's chest, and her big, beautiful ring stole the spotlight.
Ellie was alone in the second image of the slideshow. She covered her mouth and nose with both hands, putting her ring front and center.
For the caption, Couric pointed out that her daughter's engagement ring was the same her late husband, Jay Monahan, gave her over two decades ago.
Jay and Couric tied the knot in 1989 and stayed together until 1998, when he died from colon cancer. He was only 42 years old. Apart from Ellie, the former couple also welcomed Caroline Monahan. 
REMEMBERING JAY MONAHAN
In January 2018, on the 20th anniversary of Jay's death, Couric shared a photo of him posing with one of their two kids. For the caption, she wrote that she and her family missed him. 
It is important to point out that Couric's sister also passed away of pancreatic cancer, so the journalist has spent several years dedicating her time to cancer research and education. 
So far, she has co-founded the National Colorectal Cancer Research Alliance, Stand Up 2 Cancer, and the Jay Monahan Center for Gastrointestinal Health.
Couric once said she hoped Jay would consider "worthwhile and important" all the work that she's been doing to save other people from experiencing what he did.
Nowadays, Couric is married to John Molner. She once said that Molner was "warm, wise, and so funny," and although he's different from Jay, her late husband "would approve." 
"It was such an incredible, moving, extraordinary weekend full of love and friendship."
ELLIE'S WEDDING
On July 5, 2021, Couric announced on social media that Ellie and Dobrosky tied the knot. The beautiful photo showed Dobrosky and Ellie wearing their wedding attires looking at a Fourth of July fireworks display. 
Couric wrote in the caption that she would keep sharing photos of the ceremony "when [she] recover," and that's exactly what she's been doing the last couple of days.
One of the pictures showed the couple beneath a beautiful floral arch before officially becoming husband and wife. Couric revealed the ceremony was held on the mountaintop of Cedar Lake Estate in Port Jervis, New York.
The "Today" co-host added that Ellie wanted a camp-like setting for her wedding after going to Camp Fernwood in Portland, Maine. Couric also thanked Jay for the perfect weather. 
Ellie and Dobrosky's families were crucial in the ceremony. Carolie was the maid of honor and even sang a song for the couple; Dobrosky's brother was his best man, and his sister's children were the ring beater and flower girl. Couric added:
"It was such an incredible, moving, extraordinary weekend full of love and friendship and some serious competition during Field Day."
Couric also shared a slideshow with photos and videos of the special day, giving her fans and followers a more detailed look at Ellie's wedding dress and ceremony.
Jay, whom Couric honored on what would have been their 32nd wedding anniversary, would definitely be very proud of his daughter and son-in-law. Congratulations to the newlyweds!