Nurse Kayaks Mississippi River at Record Pace in Hopes of Becoming Guinness World Record Holder
Traci Lynn Martin has traded in her nursing scrubs for rowing gear as she tackles the mammoth task of kayaking down the Mississippi River despite the two autoimmune diseases that hinder her physically.
Nurse Traci Lynn Martin is putting her fears and discomfort aside in order to complete a record-breaking trip down the Mississippi River in her kayak. 
Given the moniker the 'Mississippi Mermaid,' Martin isn't kayaking for the fun of it. She is working towards breaking the Guinness World Record, which means she has to row more than 2,000 miles in 61 days or less.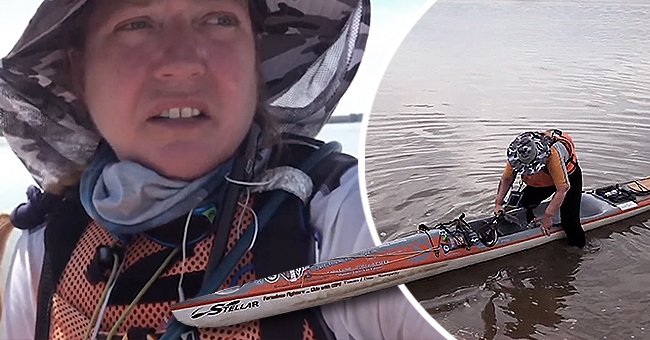 MORE CHALLENGES
Kayaking to set a new speed record is a challenge on its own. Still, Martin also has to deal with two autoimmune diseases that make her task even more difficult as she has to deal with chronic pain alongside the fatigue of constantly kayaking.
The nurse was diagnosed with Rheumatoid Arthritis more than a decade ago and was diagnosed with Scleroderma earlier in 2021. She shared about the impact that the autoimmune diseases have on her kayaking, saying: 
"The days I'm hurting are really bad, I just tell myself I've got one more day left in me and just get out and do the best job I can do today."
WHAT KEEPS HER GOING
In the face of chronic pain and thousands of miles that still lie ahead of her to be conquered on her kayak, Martin thinks about all the people that have rallied behind her throughout her journey to keep her going through the tough times. 
Many shared that Martin's kayaking journey has inspired them and they constantly interact with her on her Facebook group.
The kayaker has roped in supporters throughout the country who have followed her journey through her social media pages and have been awe-struck by her strength and determination to keep going despite all the odds stacked against her. 
https://t.co/OVl4MepTk9 All is good. Im Im off the River and done for the night and heading to bed.

— Traci Lynn Martin (@StellarTourD4ce) May 20, 2021
DON'T GIVE UP
Martin's determination to make her way down the Mississippi River in record-breaking time has the potential to carry a strong message to all those who come across her story, and what she wants her journey to convey is: 
"[D]on't give up on yourself and don't give up on the things you love to do because you only have one life."
INSPIRATIONAL MESSAGE
Martin's relationship with her supporters goes both ways, as seen by the plethora of comments and messages left on her social media pages, with her followers sharing how she has positively impacted them with her story. 
Many shared that Martin's kayaking journey has inspired them. They constantly interact with her on her Facebook group, asking for updates and sharing advice as she tackles the enormous task of kayaking the Missippi River.  
The kayaker also shares regular updates on her other social media pages, with photos and satellite images of her journey. She uses the caption to share details about where she has been and where she is headed.