Carmelo Anthony's Estranged Wife La La Slammed for Statement about Son Kiyan Hanging Out with Girls
La La Anthony has found herself in some hot water after posting a tongue-in-cheek picture featuring her son. What was meant to be a cheeky joke became a cause for concern for some of her followers. 
La La and Carmelo Anthony's son, Kiyan, is 14-years-old and getting more handsome by the day. He and his mother, La La, have forged an even stronger bond with each other over the past year in quarantine.
According to La La, the mother and son have connected on a deeper level during the pandemic. She reveals that regularly checking in on his experience has made them closer than ever.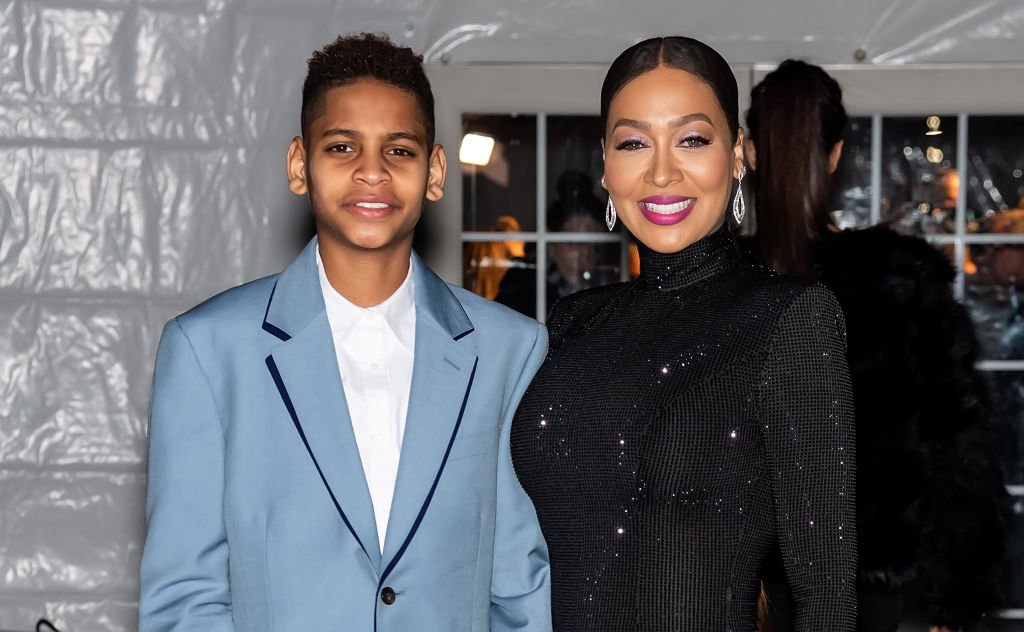 Anthony also reveals that she had daily check-ins with Kobe Bryant's widow, Vanessa Bryant. The TV personality explains that Bryant is a very good friend whose children even refer to her as "Auntie La La." 
In a recent post on Instagram, Anthony shows off her close-knit relationship with her son and the Bryant's. The selfie includes Kiyan, his mother, Bryant, and her daughters snuggled together on a couch or a bed. 
The teenager smiles in the photo while the mothers pull silly faces, showing them in a comfortable setting. Anthony playfully captions the picture, "The only girls Kiyan needs to hang out with," poking fun at her teenage son. 
Everything about the picture presents a close-knit relationship between the families, which is sweet to see. However, several fans were unimpressed with Anthony's caption choice and accused her of sheltering her son. 

Some followers even left comments suggesting that Anthony let go of her grip before her son rebels against her. Thankfully, a majority of her followers, including some famous friends, found the caption hilarious. 
Although Anthony's caption may have been a cheeky joke, the mother of one has some strict boundaries for Kiyan. For example, his social media use is monitored by his parents until they feel he is mature enough. 
Anthony revealed that her son was not allowed to have his own Instagram page until very recently. However, the teen was allowed to have supervised TikTok and Snapchat accounts to connect with his peers. 
Fortunately, it seems 14-year-old Kiyan has been able to convince his mom otherwise since this April. The teenager has been sharing videos of his basketball skills, images of himself and even has a selfie with his mom. 
The teen is also just as close with his NBA star father as he is with his mom, as seen on his parents' social media. As a result, Anthony has navigated a loving co-parenting style with the athlete, despite their divorce drama. 
Although the three were quarantined together in Los Angeles last year, La La and Carmelo's relationship reached its expiry. Anthony officially filed for divorce from her NBA player husband after 11 years of marriage. 
The couple had been estranged since rumors of infidelity surfaced in 2017. These rumors exposed Carmelo for fathering another child outside his marriage, triggering his first separation from his wife. 
Although the two seemed like they were reunited, the pair became estranged again by 2019. Reports say the couple prolonged their recent split to accommodate their son, experiencing the split as a smooth transition. 
According to Anthony, the estranged couple's son is their main priority no matter the status of her relationship. She recently interviewed about the pair's parenting approach and revealed the following:
"He is watching us, so if we're out here being reckless or not leading with love, then what kind of example are we setting for him...?"
Anthony's words affirm that her teenage son is getting the best parenting that she can give. Thankfully, she has them to show any fans concerned that her son is too sheltered that he is perfectly fine.