Fans Say Ice-T's Daughter Is Wife's Child after Seeing Coco Austin as a Teenager in TBT Photo
Ice-T's wife, Coco Austin, posted a throwback photo while sharing a fun fact about her teenage years as a dancer. This caused an uproar from fans who came to the conclusion that the model and their daughter can pass as twins.
Former dancer, model, and Instagram maven, Coco Austin who shares a child with her husband, and rapper-turn-actor, Ice-T, got her fans talking recently.
The mother-of-one is famous for teasing her fans with snaps about her realities including, her seemingly perfect marriage, parenthood, family, and career.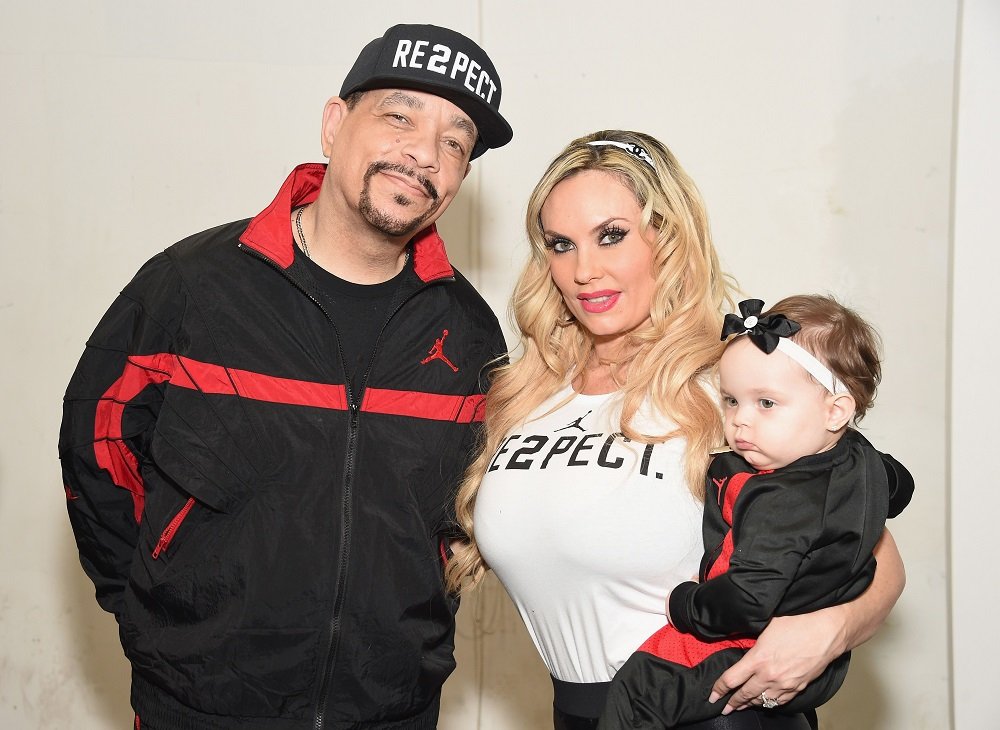 Coco's recent post was a slideshow of throwback images featuring her posing with her sister and some other dancers as she celebrated their years of dancing.
The first photo revealed what the model who sat leaning close to her sibling looked like as a teenager. Coco wore hot gold pants with a black crop top, which matched the other female dancer's outfit.
Apart from her sister, the other dancers were two young boys who smiled as they stood close to their partners on both ends. Coco looked adorable with her unique smile, very minimal makeup, and full brown hair that fanned both sides of her shoulders.
The other two images were taken decades later during a reunion with the young dancers; this time, the group was made up of only one male, Kyle, and the two siblings. 
Ice-T's wife and sister-in-law dressed in matching mature 4th of July outfits and appeared happy in the company of their old-time friend and group member.
Via the caption, the former dancer revealed never-before-heard details about how she toured and danced in many events. She concluded with the phrases:
"See how long and dark my hair is? Thats my natural until i changed it at 20."
Now twice the age, fans could still see the youthful beauty and vibrance. However, they mainly focused on how much Coco and her daughter, Chanel resemble each other.
Fans have often concluded that the youngster is her dad's twin, but the post stirred an array of comments, with most of them admitting she also shares similar features with mommy. One person wrote:
"I see your daughter in this pic. I always thought she looked like daddy."

RAISING A CHILD
Chanel is Coco's only child with the rapper; however, she is her daddy's third and youngest child. Ice-T has two other kids, Letesha, and Tracy from past relationships.
When they welcomed their daughter after more than a decade since the rapper fathered a child, one would have thought Ice-T would have found it to be an arduous task reprising his daddy roles.

However, he shocked the world by playing the role with ease and further supporting and defending his wife's motherhood choices. When their baby was born in 2015, he proudly shared the news online after the new mom announced the recent addition to the family.
Since then, the family of three have bonded over luxury getaways, birthday celebrations, and other memorable family moments which they share on Instagram. Ice also updates fans on his daughter's pretty looks.

These photos made many conclude that Chanel is her father's doppelganger, as their similarities seem glaring!  At age one, the toddler featured on daddy's Instagram copying the actor's "mean mug," and most commenters agreed that father and daughter are twins.
Coco has also thrilled fans with details about Channel. A few years ago, she confessed that she would love Chanel to have a great personality and a career different from hers.
The model claimed that her daughter becoming a doctor or scientist would be a better choice than a model, stating that she would want the youngster to do something she could not do.
ICE-T AND COCO'S RELATIONSHIP
The pair have been married since 2002, and despite their public lifestyles, their marriage has never suffered any scandal or controversies.
They support each other and never see a problem with the choices made by either party in terms of their relationship and parenting. 
In 2017, Coco revealed that her husband refers to kids as pancakes. According to Coco, Ice-T believes everyone gets to mess up their first couple of pancakes before finally getting it right.
Although this may be Ice-T's view, it is evident that the doting mom has been inspired to get it right as a first-time parent, and she is doing such a remarkable job.