Fans Drag Joseline Hernandez for Daughter's Hair Looking 'Messy' in Vacation Pics
Joseline Hernandez documented her vacation escapades with her daughter as they enjoyed the cool breeze of summertime in Sunny Isles Beach, Florida. However, fans paid more attention to her daughter's looks.
With the bright and hot sun of summertime, TV personality Joseline Hernandez joined the thousands of Americans ready to breathe in the cool breeze by enjoying summertime in skimpy outfits as they lay close to the water.
Hernandez, who has a young daughter Bonnie Bella Jordan, took the time to visit Sunny Isles Beach in Florida with her child and lover, Robin Ingouma.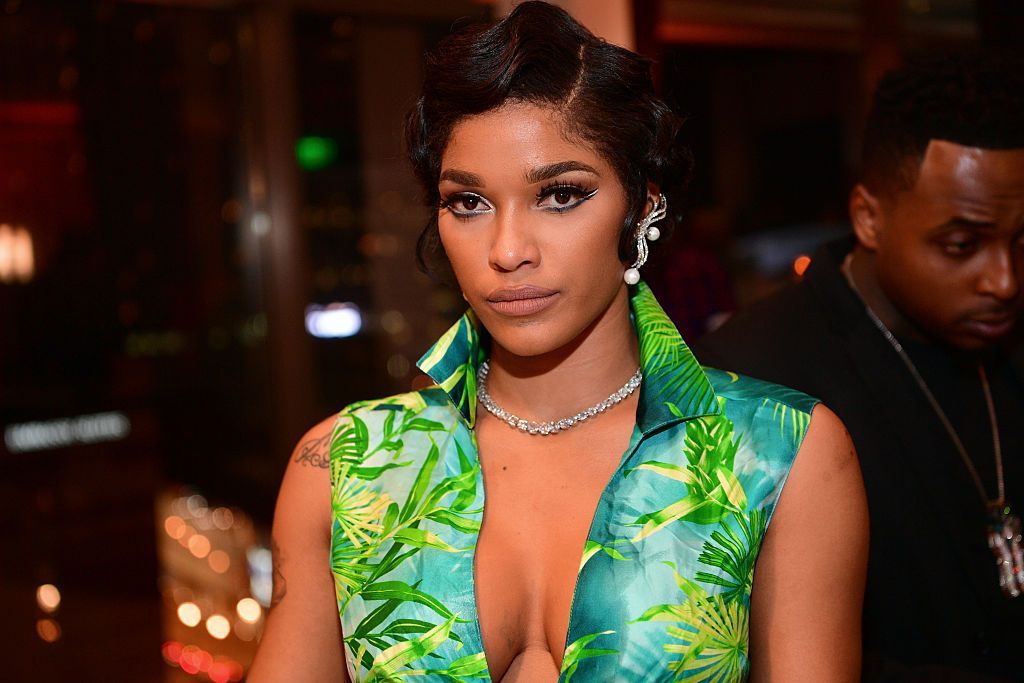 The mother of one later shared a post documenting their time at the venue. A two-slide image showed the onscreen personality posing in a black and white two-piece swimsuit next to her child, who sported a floral-designed pink one-piece swimsuit.
The little princess wore matching flip flops and had her hair roughly packed in a bun, while mommy sported fashionable slides and a head wrap.
Hernandez and her child stood in similar poses, with smiles on their faces as they leaned close to a metal/glass railing that overlooked the blue sea. 
In the second image, Bonnie wore a blue floater and positioned herself next to her mother's lover in a pool. They looked like they had been swimming, considering the wetness of their bodies. The caption read:
"Summer Time."
FANS' REACTIONS
Although lots of clicked on the like button, and a few gushed on the sweet family photos, some noticed Bonnie's bun and complained about her appearance. One fan pointed out that Hernandez takes the time to appear flawless but never pays the same attention to her child's looks.
The person wrote,"@joseline plssss do Bonnie hair. I never seen your hair look a mess every post you post her hair never look right." Another commented: "Why the baby hair ain't done?" While a third fan quipped:
"Yo daughter hair is never done."
ALL ABOUT BONNIE BELLA JORDAN
Bonnie may not have the perfect hair at all times, but she is already making history as a young fashion icon and globe trotter hitting luxury destinations. The celebrity kid who already travels around the world with her mom also twins in stylish pieces with the adult!
That is not all; she is also an incredible model who knows what poses to make once the cameras are on her. Bonnie confidently struck vogue-worthy model poses while wearing colorful and adorable threads from her days as a toddler. 

At age 3, she topped the news after featuring on her dad's Instagram walking like a model in a red babydoll dress matched with kitten heels.
The little angel is the only child and daughter of Hernandez and her former lover Steve J. Unfortunately, a few years after they welcomed their baby, the lovers went their separate ways.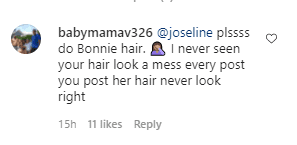 Last year, Bonnie's mom lost custody of her to Steve J temporarily, the news hurt her and the mother of one displayed sad emotions while starring on "Marriage Boot Camp: Hip Hop Edition."
The on-screen diva was later awarded primary custody, and she has been in high spirits, spending time and having fun with the tiny minion.

Bonnie also gets the same show of affection from her dad, who makes sure she lives a lavish lifestyle. She spent quarantine with him after being caught up in his expensive home.
JOSELINE HERNANDEZ NOW
After Hernandez's relationship with Stevie J ended, the reality TV star moved on with Robin Ingouma, aka Ballistic Beats. The couple got engaged a few months later and have been talking about having a lavish wedding.
No date has been set for the ceremony yet, but the couple is taking things one step at a time, despite the pressure from fans. 
They also confirmed that apart from the ceremony to show their commitment, they intend to start a family in the future, which will involve the adorable Miss Bonnie.