Here's Tom Brady's Moving Tribute to Wife Gisele Bündchen on Her 41st Birthday
NFL star Tom Brady celebrated Gisele Bündchen's birthday with a heartfelt post. While they've been married for over a decade, their relationship has been a rollercoaster as it even includes Brady's love child.
Tampa Bay Buccaneers quarterback Tom Brady and Brazilian model and businesswoman Gisele Bündchen make up one of the most adorable couples in the National Football League.
Apart from being married for 12 years and sharing two children, Brady and Bündchen have proven more than once that love can survive even the most challenging and unexpected hardships.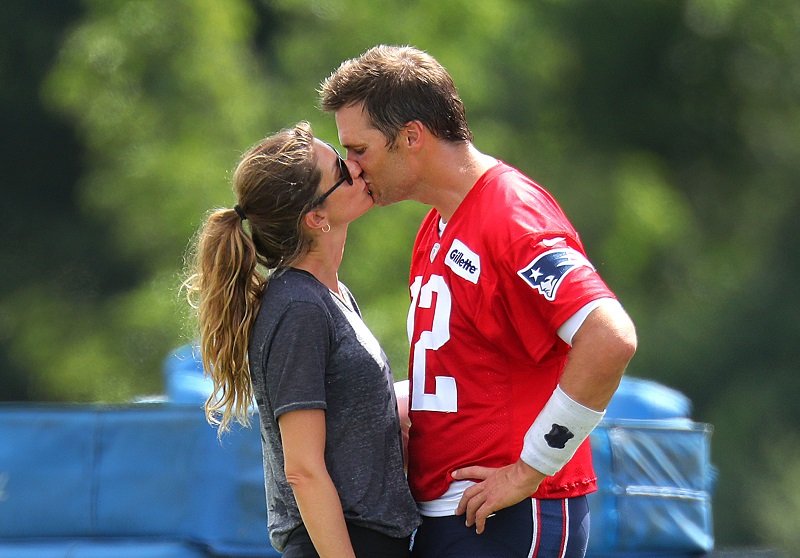 START OF THEIR RELATIONSHIP
Their love story dates back to December 2006, when a mutual friend arranged a blind date for them. According to Bündchen, she knew Brady was the man she would spend the rest of her life with on their very first date. 
As soon as she saw his smile, she noticed it was the "most beautiful, charismatic" smile she had ever seen. Since then, the couple has not gone a day without talking to each other at least once a day.
Before dating Brady, Bündchen was romantically involved with "Once Upon a Time in Hollywood" actor Leonardo DiCaprio. On the other hand, Brady had just broken up with "Blue Bloods" actress Bridget Moynahan.
Things got quite complicated during Bündchen and Brady's second month together as Moynahan discovered she was pregnant with Brady's baby. Only one day after Brady told Bündchen about it, the news was "everywhere." 
Bündchen felt that her world was turned upside down and didn't know how to react. It was such a challenging situation that it almost ended her and Brady's love story as she kept wondering if she had to "just run away."
Fortunately, she stood by Brady's side and now thinks that Jack, born in 2007, has been a "huge gift and blessing" in her life. She even said she couldn't have asked for a "sweeter bonus child."
Speaking of Moynahan, Brady took to Instagram in April 2021 to wish her a happy 50th birthday. The photo he posted showed Moynahan and Jack at the 2018 US Open in New York. 
MARRIAGE, CHILDREN, "DEFLATEGATE"
During a private flight from New Jersey to Boston in 2009, Brady popped the question, and Bündchen said yes! They planned the ceremony in about 10 days and tied the knot on February 26, 2009, at St. Monica Catholic Church in California. 
Only two months later, Bündchen and Brady threw a beach wedding in Santa Teresa, Costa Rica. The couple started having children right away.
"It's hard to imagine loving you more today than I did a year ago, but I do!"
Benjamin, their eldest, was born in December 2009. Vivian, their only daughter, joined the family in December 2012. It is important to point out that both kids were born at home.
Bündchen and Brady's relationship weathered another storm in 2015 after it was reported that they had marital troubles after he was accused of using under-inflated footballs during the 2014-2015 playoffs. 
"Deflategate," how the scandal was labeled, wasn't enough to tear apart the couple's relationship. Bündchen even said that no matter the challenge, they would always be supportive of one another.
CELEBRATING MILESTONES
Nowadays, Brady and Bündchen have been married for 12 years. Much to the delight of their fans, they are not shy when it comes to sharing online how much they love each other. 
On July 20, when Bündchen turned 41, Brady uploaded on Instagram a photo of his wife hugging eight-year-old Vivian. In the caption, he wished her a happy birthday and added: 
"It's hard to imagine loving you more today than I did a year ago, but I do! You love our family the way nobody else can and we all celebrate you on this day!"
Brady's post came only one month after Bündchen honored her husband on Father's Day. She posted a photo of the legendary quarterback and their children on a beachside horseback ride.
In the caption, she thanked him for "loving and caring" for their family and added that they were grateful to have him. Brady and Bündchen definitely make up a power couple!