Gwen Stefani Reveals New Details of Her Marriage Just Days after Her Dream Wedding with Blake Shelton
Gwen Stefani and Blake Shelton's wedding was relatively private, but the "Don't Speak" singer has been sharing some tidbits about it, including how quickly she chose her gown.
Blake Shelton and Gwen Stefani's relationship has been making headlines for over six years. Their love story began in 2014 when Stefani became one of the coaches of "The Voice." 
At the time, Shelton was married to fellow musician Miranda Lambert, and Stefani had been in a 13-year-long marriage to Gavin Rossdale, the father of her three children, Kingston, Zuma, and Apollo.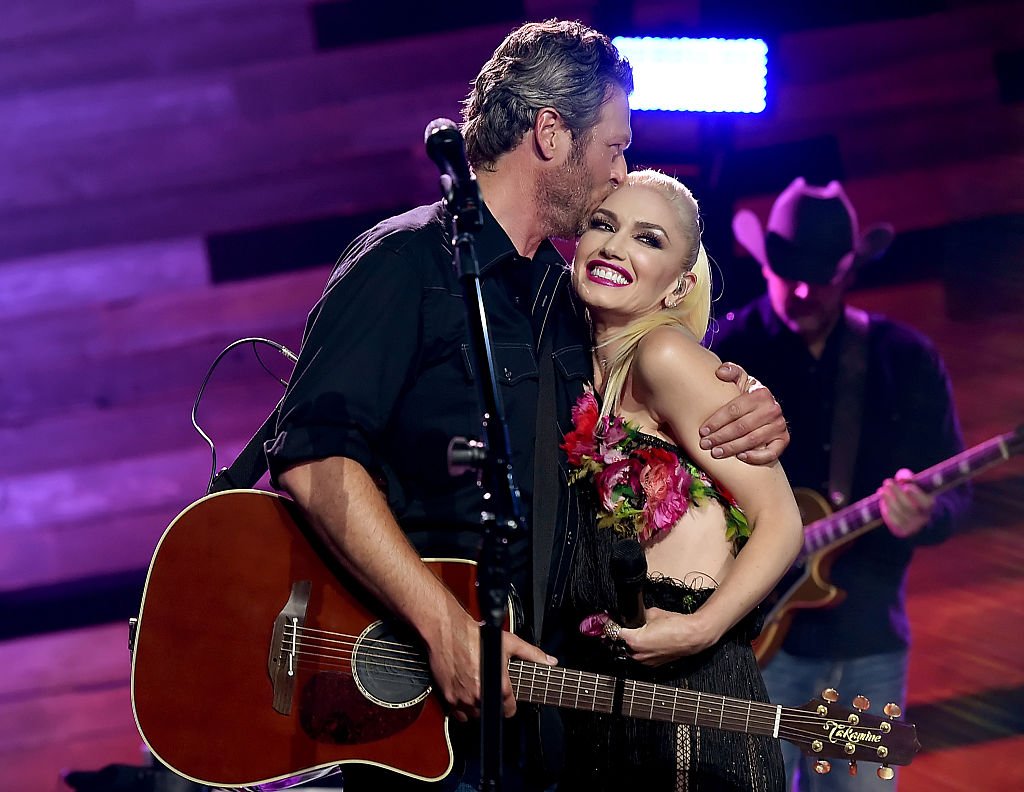 SHELTON AND STEFANI'S ROMANCE
In July 2015, amid several allegations of marital trouble, Shelton and Lambert announced their separation. The following month, Stefani filed for divorce, as well.
Initially, most people believed it was just an odd coincidence, but when they performed a song together during an episode of "The Tonight Show Starring Jimmy Fallon" that October, fans began wondering if they were dating.
Shelton's reps confirmed their romance in November 2015, three months before they made their red-carpet debut at a Vanity-Fair Oscar after-party. 
Ever since, the couple has been pretty much inseparable. They've made some music together, gushed about each other on social media every time they have a chance, and tied the knot in a very private ceremony.
THEIR WEDDING
For months, people speculated that Stefani and Shelton had secretly gotten married, but they actually did it on July 3, 2021. The ceremony was held at Shelton's Oklahoma ranch and had a very special officiant: "The Voice" host Carson Daly. 
Although the details are scarce, we managed to find some, including that the bride wore two Vera Wang gowns – one for the ceremony and the other for the reception.
Talking to Jade Iovine on her podcast, Stefani admitted to feeling "honeymoon vibes" and described her wedding as one of the "greatest" moments of her life. It was "beyond" what she thought it would be, fortunately. About her dress, she said: 
"I tried on one dress and was like, 'I don't know. That didn't feel right.' And then I tried another one and was like, 'Oh! That's the one!' It was like, 'Say yes to the dress!'"
After saying Shelton made her feel like home and that she felt "so lucky," Stefani pointed out that her spiritual journey guided her toward "this place of peace."
Stefani reportedly wants a daughter!
She also praised her husband's authenticity by saying that Shelton was the same person no matter what he did or who he was with. According to Stefani, it is one of the reasons people love him so much.
MARITAL BLISS
Shelton and Stefani's packed schedule has made it impossible for them to go on their honeymoon, but they have found other ways to celebrate their love. 
Two weeks after exchanging vows, Stefani shared a never-before-seen picture of the wedding to commemorate their "2 week anniversary." The black-and-white image showed the couple holding hands in front of Daly and their guests. 
Stefani's post came only a few days after the couple gave a free public concert at Shelton's restaurant in Tishomingo, Oklahoma. They sang some of their hit collaborations, including "Happy Anywhere" and "Nobody But You." 
Shortly after the wedding, Hollywood Life reported that the newlyweds were already talking about having children together. Stefani reportedly wants a daughter! 
Even though Shelton has not had any kids on his own, he considers himself a father to Stefani's three boys. Still, he would "really love" a biological child. Only time will tell if Shelton, 45, and Stefani, 51, actually enlarge their family even more.
Nowadays, she is pretty busy working on her fifth solo album and getting everything ready for her Las Vegas residency. On the other hand, Shelton is filming "The Voice" season 21 and preparing to go on his "Friends and Heroes" tour in August.