Famous Chef Shares Secret to the Perfect Scrambled Eggs
A famous Australian chef, Robbie Bell, went on TikTok and shared a tutorial of his version of the perfect scrambled eggs with dill and on top of toast.
Over the years, several chefs and sous chefs have shared their version of scrambled eggs -- a breakfast staple. A variety of scrambled eggs with different ingredients made it to the top favorites for social media users, including a viral video by a Melbourne chef.
City Larder Charcuterie chef Robbie Bell shared a short video tutorial on TikTok, making his over half a million followers crave his now-viral scrambled egg recipe.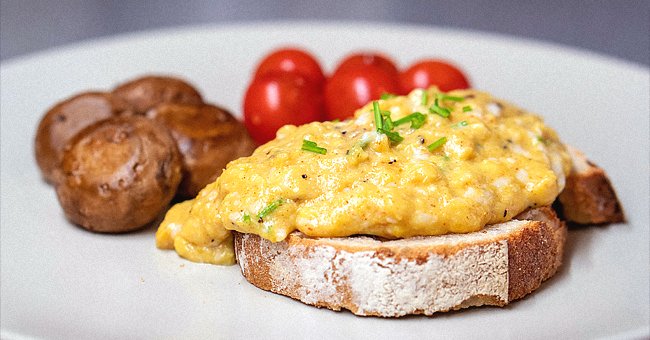 BELL'S SCRAMBLED EGGS
Bell's recipe looked wet and creamy with fresh dill mixed in. Before he used the eggs on top of toasted bread, making a complete breakfast dish, he shared step-by-step instructions. 
First, Bell whisked several eggs in a bowl before heating a non-stick pan with a large knob of butter. Once it bubbled, he added the eggs and stirred continuously and quickly. According to the chef, stirring is key to consistency.
While the eggs cooked a bit, Bell added a knob of creme fraiche, although sour cream will do, and stirred some more. The pro added freshly cracked black pepper, salt, and a handful of fresh dill in between. One user commented on the post:
"The best way."
RAMSAY'S SCRAMBLED EGGS
Another famous recipe is from celebrity chef Gordon Ramsay, whose method is different from Bell's. However, stirring the eggs remains constant throughout.
Chefs, celebrities, and other social media users have since shared their own takes on different dishes.

Ramsay began by placing a cold pan over very low heat and breaking the eggs inside. He then added a knob of butter and continuously stirred for about seven minutes.
The famous chef then added more butter and stirred. Before the eggs were completely set, he took the pan off the heat and stirred in one teaspoon of creme fraiche to reach a creamy consistency. Finally, he seasoned the eggs and served them.
FAMOUS TIKTOK RECIPES
While YouTube is still a go-to platform for food tutorials, many turn to TikTok to try viral recipes. Chefs, celebrities, and other social media users have since shared their own takes on different dishes.
Some of the meals that have gone viral include Baked Feta Pasta made with goat cheese, watermelon white claw grapes, ranch water, pasta chips, and birria ramen.
Other TikTok content has also since gone viral, including a recent video of a baseball player surprising his dad at work, with news that the Washington Nationals signed him.