Check Out Tatyana Ali & Her 2 Little Sons Looking like Triplets Posing on Couch in New Family Photo
Actress and singer Tatyana Ali proved just how similar she and her two children look in a new family photo. She met her husband online, and they've been married for five years!
Tatyana Ali has been on everybody's radar since the 90s when she portrayed Ashley Banks in "The Fresh Prince of Bel-Air." It's been two decades already, but she's still making headlines.
Back in March 2016, for example, the former child star surprised her fans by announcing that she was both expecting a child and engaged. The lucky one? Dr. Vaughn Rasberry.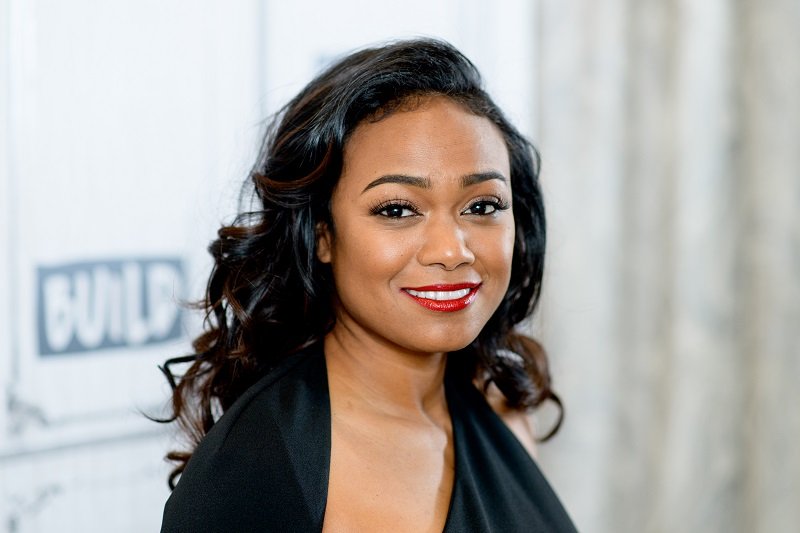 ALI AND RASBERRY'S RELATIONSHIP
According to People, Ali and her husband met on the online dating website eHarmony less than two years before announcing their engagement, meaning that they probably hit it off immediately.
Before the nuptials, Ali confessed she was excited because both families would be present. She also said they felt blessed and were having fun and enjoying their friends and family.
On July 7, 2016, the couple tied the knot during a private daytime ceremony with an "upscale Caribbean vibe" in Beverly Hills, California. After pointing out that she and Rasberry just wanted their wedding to be a "good celebration," Ali said: 
"It's just a little over a hundred people. It's our closest friends and family and that obviously includes a lot of people that I worked with over the years."
The "Fancy Nancy" star confessed she was not nervous in the days preceding the event due to her wedding planner and the spa day her bridal party hosted.
However, she and her husband couldn't agree on the cake as she loves chocolate, but Rasberry is more into vanilla. They ended up having a tiered cake. 
Although Ali prefers to keep most details of her personal life away from the spotlight, she has gushed about her husband on social media a few times. 
On their second wedding anniversary, she described Rasberry as her "intoxicatingly brilliant" and "super sexy love." Ali also admitted to being blessed to share her life with him.
[Ali] recently shared the most adorable family photo on Instagram.
HAVING CHILDREN
On September 16, 2016, only two months after Ali and Rasberry exchanged marital vows, they welcomed their first son, Edward Aszard. The boy didn't have to wait much for a brother, fortunately.
The actress and her husband, an associate English professor at Stanford University, took their fans by surprise after announcing the birth of their second son, Alejandro Vaughn. 
Although the boy was born on August 15, Ali and Rasberry only shared the news publicly in October. They also took some time before posting the first photo of Alejandro, as they were just focused on enjoying the moment. 
UNCANNY RESEMBLANCE
Luckily for Ali's fans, she recently shared the most adorable family photo on Instagram. In the image, Ali appeared wearing dark grey joggers and a black sweater while breastfeeding Alejandro, who looked like he was about to fall asleep.
Edward, who put on navy joggers and a pale blue shirt, was smiling and looking at his mom. One of the aspects that attracted attention the most was how similar Ali and her two boys looked.
In the caption, Ali wrote that she was missing her sons so much that she couldn't stand it. The actress added, "Halfway there babies," with the hashtags "Working Moms" and "Location Life."
Earlier this year, Ali melted her followers' hearts with a beautiful video of her husband tickling and rubbing Alejandro's foot on his beard. Ali could be heard giggling in the background, proving that they all have fun as a family. Way to go!