Tamron Hall Posts Heartmelting Photo of Son Moses Showing Off Growing Curly Hair
Motherhood seems to be going well for TV show host Tamron Hall, who became a mom at 48. She recently shared a photo of her son whose luscious, curly hair caught fans' attention. Scroll down to see the little boy's adorable look.
Tamron Hall is a renowned broadcaster for more than 20 years. She started her career as general assignments reporter in the early '90s, then became a news anchor, and later one of the co-hosts of NBC's "Today."
After her stint on the NBC-led show, she is now the host of her daytime talk show "Tamron Hall Show." Besides having a successful TV career, Hall is a proud mom of her two-year-old only son, Moses.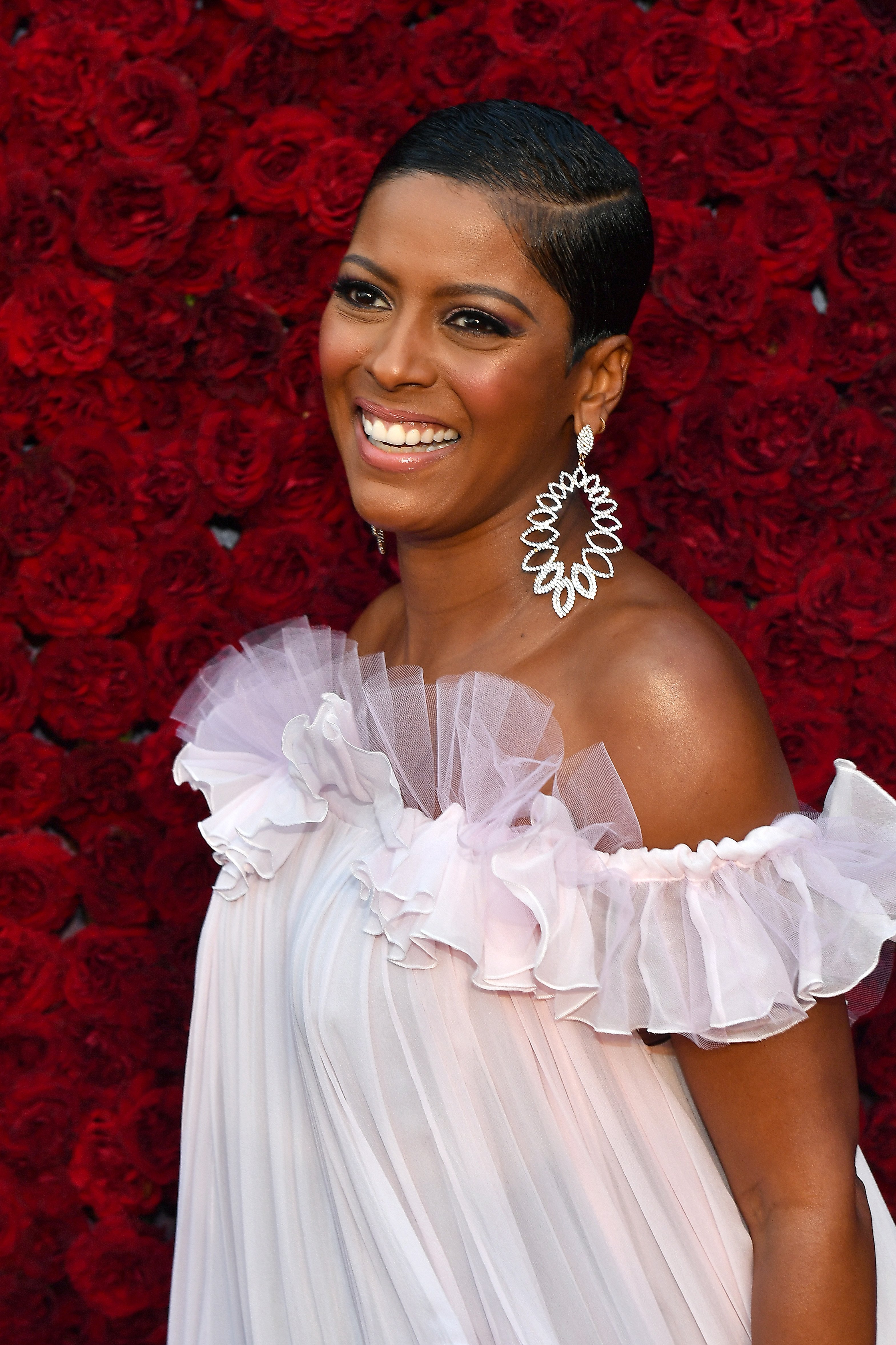 Hall welcomed her adorable son in 2019. The proud mom has not been shy about posting about Moses, as evident in her recent Instagram post featuring her son's picture. A fan gushed:
"His hair is perfect.❤️"
The adorable photo showed Moses sitting comfortably on a bed as he leaned on his back with fluffy pillows behind him. He displayed his irresistible charm while wearing a matching black shirt and shorts.
What added to the little boy's charm in the snap was his eye-catching curls that seemed to be growing beautifully each day. In contrast to his dark, relaxed outfit, his hair stood out perfectly. 
As the wide-eyed boy looked sideways, a part of his curls fell across his forehead. Even though his hair looks messy, thousands of fans marveled at how handsome he looked.
Hall noted in her caption that when she recently co-hosted "Live With Kelly and Ryan" alongside Ryan Seacrest, they debated about  whether or not she should cut her son's hair. 
She stated that at least 81 percent of fans urged her not to cut her son's hair. Some followers in the comment section shared their mixed reactions regarding the 50-year-old TV host's question.
Since having Moses, Hall shared that parenthood has been a unique experience for her.
"Just trim, don't cut," a fan commented. Meanwhile, another one shared that boys like Moses can have fabulous hair, while another chimed in and said, "Definitely keep the curls - he is so cute!!!"
Following positive feedback from supportive fans, Hall has finally decided not to cut her son's locks as she loves them just the way they are. She exclaimed that Moses is going to school with his curls. 
Like her fans, Hall has one supportive friend who is there for her in times of need. In a previous episode of her talk show, she was reunited with "Today" weather forecaster Al Roker on TV.
She has remained friends with Roker even after she left "Today" in 2017. Hall revealed that she called him several months ago while in a panic state as her son needed emergency surgery.
Roker became Hall's immediate rescuer. After she called the 66-year-old TV presenter, she met a doctor at the hospital who attended to her and her son's needs. 
She described Roker as a man that brings her life in a middle of a critical situation. She thanked him for his generosity, to which the latter replied that he was trying to help a close friend.
Even after Hall left "Today," Roker continues to admire her and her recent milestones. He expressed happiness after his former co-star debuted her self-titled show and started a family of her own.
Although motherhood came in late for Hall, embarking on this wonderful journey has been rewarding for her. She shared she had her son through in vitro fertilization procedure.
Since having Moses, Hall shared that parenthood has been a unique experience for her. In a past interview, the happy mom said being a parent at a later age is more of an emotional responsibility for her.
Hall relishes the joys of motherhood and documents her experience online. She previously shared a photo of herself hugging Moses and a baby Yoda stuffed toy in honor of Star Wars Day.
She shares Moses with her husband, film producer and music executive Steve Greener, who she married on the same year their son was born. Besides working on film and music, he is also a businessman.