Woman Mortified to Realize UV Lights Reveal Everything under Her Dress
Deeply humiliated, Rhia Adams nearly found herself running out of a club. The UV lights managed to reveal all, eliciting booming laughter from all around. 
TikTok user Rhia Adams with the username rhiaadams1, from Greater Manchester in England, posted a clip of herself and her friends at a club. The UV lights revealed everything under her dress.
As "Let's Get It Started" by the Black Eyed Peas played in the club, the 26-year-old Adams moved the lens down her floral dress.  The viewer got a peek of her white underwear shining out from beneath her attire.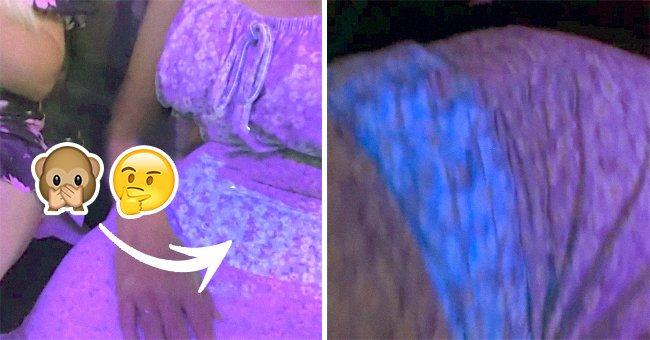 She zoomed into her glowing underclothes while a friend of hers pulled at the white label on her dress to indicate that it was shining through the frock as well. Overlaying text on the clip, she stated: 
"Only I could go out in big white granny kecks and the UV light has lit them up.🙄"
However, although clearly red-faced, the TikTok user took it in jest, sheepishly laughing at herself with her hand covering her mouth. A companion seated next to her appeared equally amused. 

The comment section was full of laugh emojis, with many individuals admitting that it's something that would most likely happen to them as well. 
When Andrea Owen found out her husband was cheating, she cut holes in all his underwear crotches. 
Adams' best friend Monique D. Toseland responded to the hilarious clip, too, laughingly expressing that it was just a matter of time before this happened. Adams replied in agreement. 

Adams said that she and her friend decided to go out for the night despite her apprehension about COVID-19 restrictions. She expressed: 
"Me and my girlfriend Chelsie decided to take a last minute night away and ended up having a few drinks to end our day."
The 26-year-old stated that she had not dressed up in a while and was simply trying to dress for comfort. While singing in the club, she said, a friend of hers pointed out that her underwear was glowing. 
Initially, Adams said that due to her embarrassment, she wanted to leave the club. However, the 26-year-old eventually managed to let the funny situation go and enjoy herself. 
This was when she decided to make a TikTok video, expressing the hilarious side of the incident. The clip has, so far, reached around 64,000 likes and almost 700 comments. 
Another individual also experienced embarrassment related to his clothing, but this time it was combined with shame. When Andrea Owen found out her husband was cheating, she cut holes in all his underwear crotches. 
She also did so with his shorts and pants. Of course, the internet loved it, referring to Owen as an absolute "Queen."